On my childhood farm, we birthed lots of litters of kittens. Often unintentionally. (To be fair, we needed barn and basement "mousers," and Bob Barker's warning was still several years out.) We had so many cats, we stopped naming them, and stopped missing them when they stopped showing up at the back door.
But puppies were a different story. Not sure if our dogs were routinely, covertly "fixed" or just not that fruitful, but a litter of new little dogs was a memorable event.
I have a clear recollection of secretly climbing huge round bales near the farmhouse, after overhearing Dad say our mama dog had her new family hidden near. I remember skipping across the careful rows, searching, then dropping down between scratchy rolls of hay to yelps of newborn pups, a ragtag bunch of excitement and energy. After a half hour of the face-licking fun, I began to regret my mischief. I wanted out of that claustrophobic environment. But I quickly learned I couldn't on my own. Getting down was one thing, but getting back out was something else.
So I started yelling. Somehow, my dad heard me, and it wasn't long before the tip of his familiar boots appeared overhead. As he extended his worn, strong hand, I reached up and instantly knew I would be all right.
OUR BEST HOPE
Reaching is something I've become familiar with throughout my lifetime. It is admitting that we need more than our own arms can access—more resources, more reserves, more resilience.
Reaching is something I've become familiar with throughout my lifetime. It is admitting that we need more than our own arms can access—more resources, more reserves, more resilience.
Click To Tweet
That young puppy lover would later need to reach beyond her capability again, to desperately seek Him in the middle of a dire diagnosis.
From my journal:
I still reach out for my husband several times each night, just to know he's there. Heavy heart meds wield a cruel double-whammy. They bring unbelievable fatigue and also the inability to sleep soundly. After almost six years, I still wake up over and over, surprised to be the owner of this damaged heart. I didn't get the full, lasting recovery I wanted. I knew from the beginning it was a stretch, perhaps one that none of us could actually make, one none of us had a right to expect. Yet, somehow I still do.
Reaching says we can't do this on our own.
Reaching is the very act of believing.
The gospels tell of a desperate reacher, too.
Just three short verses in the book of Matthew:
Just then a woman who had been subject to bleeding for twelve years came up behind him and touched the edge of his cloak. She said to herself, "If I only touch his cloak, I will be healed." Jesus turned and saw her. "Take heart, daughter," he said, "your faith has healed you." And the woman was healed at that moment.

(Matthew 9: 20-22, NIV)
This woman with a chronic bleeding disorder that stumped the medical providers and drained her resources, grabbed the edge of Jesus's clothing in the middle of a crushing crowd. Her disease should have banned her from such a place. Yet she wove within the throng, pressing toward Jesus. Each person who bumped into her could have become unclean, too—including Him. She took a massive risk entering that scene. But, after twelve years of suffering, she was desperate for a miracle. Coming close enough to see Jesus, she stretched her entire wounded self toward Him.
Like a drowning person reaching through waves, or a swallowed up little girl reaching through the hay. Reaching for a lifeline by touching the edge of her Daddy's attire.
This short saga is one of the buried treasures of the gospel. But there are other similar stories of boundary crossers, who like reachers, will do anything to get to Jesus. They push through any barrier to be near Him:
Jewish leader Jairus risking humiliation in hopes of healing for his daughter.
Faithful friends digging through a neighbor's roof then lowering a paralyzed man to the Healer.
Blind Bartimaeus shouting at the top of his lungs for Jesus's touch as the crowd tries to hush him.
The unwelcome woman with her jar of precious perfume, barging into a house just to pour her life savings on the Savior's head.
Each desperate person's part was small but risky: a reach, an ask, a pour, an entry.
Hoping I wouldn't be scolded for the unapproved puppy visit, I risked it, too. And Daddy might never have found me between the bales without my courageous yell.
Any time we're in an unscalable chasm, a dangerous reach toward our Father is our best hope.
Any time we're in an unscalable chasm, a dangerous reach toward our Father is our best hope.
Click To Tweet
REACHING FOR A BETTER END
As believers, we've all been this bleeding woman: a desperate outcast who dared reach out to a busy Man, with a deep conviction that He could help. And a spark of hope that He would.
Faith grows when we step forward in the dark, or reach out in fear or even in doubt.When we have no other option.
Sometimes this desperate faith is the strongest, truest kind.
Sometimes desperate faith is the strongest, truest kind.
Click To Tweet
Cleaning out Dad's closet after his passing, I found an "As Seen on TV" grabber tool I didn't know he owned, and I smiled. It seemed so appropriate. I watched him reach for God the last few years of his life. Because I was reaching with him. It's instinctively what we do when we're in trouble.
If only I could touch Him.
It's uncomfortable, even excruciating, to long for something just out of reach, to graze a toe but never catch hold of that which you hope and believe will make everything right.

– Teri Ott
But real hope was never meant to be easy or comfortable.
And the Spirit wanted us to know that being in a position to need to reach is how we get hope in the first place:
…we also glory in our sufferings, because we know that suffering produces perseverance; perseverance, character; and character, hope.

(Romans 5:3-4, NIV)
I've snagged some of this hard-won hope as my suffering arms stretch toward Him and a better tomorrow.
Hope isn't what I thought it was: a story about us. Instead it's a story about God that's dropped like an anchor in the future. God is pulling us toward it, and that feels like a someday in which there will be no more tears.

– Kate Bowler
The very essence of hope is reaching past what is, toward what could be.
Hope does the hard work of wanting grandchildren, a legacy, a long life, when it looks uncertain. When we reach, we're hoping to grab a different conclusion to our circumstance.
For all of us who, in hope of healing or a second chance, have ever touched the hem of the medical system, or the court system, or the school system:
We are looking for a better end to our story.
WHAT WE GRASP
Often the word used for "healing" in the New Testament means something closer to "made whole" or even "forgiven." It seems spiritual wholeness, rather than physical relief, should be our highest hope in reaching out to God. And it seems it's always more about His constant companionship than our current condition.
In the middle of things seemingly not working out for us, God is working out something in us.

— Ann Voskamp
The hard truth is, we may reach and not get ahold of what we first wanted or asked for. We don't always get a better end to the earthbound chapter of our story. But we always get a clearer view of our God.
Like the bleeding woman in the Bible, a reach first touches His hem, but it ultimately turns our heart to Him.
On my best days, I'm a reacher, too.
And bit by bit, with each attempted grasp, I'm starting to see this God who my prayers constantly reach for.
So maybe the desperate reach has always been less about pulling me out and more about pulling Him in.
When Dad showed up at the top of those hay bales, I was relieved to see him. As he reached in to pull me out, his broken-in farm boots slipped and he ended up down with the wiggly ones, too.
As Dad picked up a tiny pup and put it in his pocket, I knew I was experiencing a better ending to my story.
Suddenly, like with my heart failure, it didn't matter so much about getting out.
I was content since my Father was right there with me.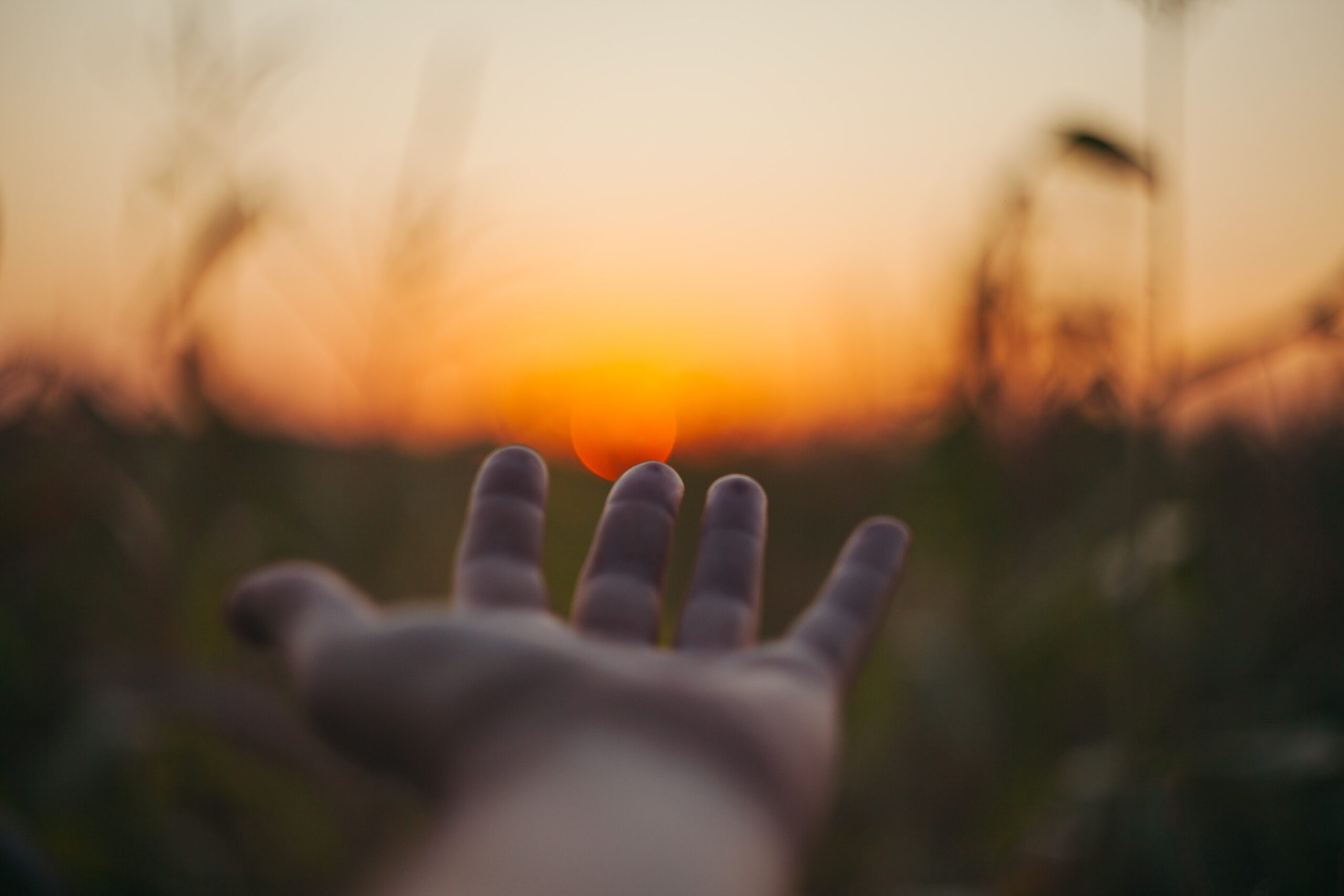 Please follow and like us: