Driving home from college for Thanksgiving, my dad and his buddy got stuck in a snowstorm.  The naïve teens should never have been on the roads.  Without cell phones and with limited emergency services in 1951, the three days they spent in the car, turning the engine on every few hours for warmth, created a catastrophe at home.  My grandma wondered if she'd ever see her only son again.  She would have done anything to get her boy home. I imagine her scanning the horizon constantly, waiting for the sight of his car coming up the snow-packed driveway.
This tidbit of family history conjures up thoughts of the Prodigal Son.  As in all of Jesus's parables, that son is every one of us:  an overconfident child naively and frivolously spending a life and an inheritance.  And ultimately just looking for a way to go home.
Most of my life, I have identified with the lost child in this story. As prodigals, we shoulder a certain regret:  we have disappointed our parents, disappointed our God, disappointed ourselves. But sometimes we focus too much on what we have done or failed to do, and our own importance in the story.
Perhaps all along the story, our story, has been much more about what He does and very little about what we do. Maybe it was always meant to be about the Father.
Travel-wise I grew up in a different time.  When the world existed only on one side of the globe.  And while troops and products crossed the oceans, people didn't.  In fact, when I left my Kansas home to attend Oklahoma State, I thought I was studying abroad. For me, for my dad, and especially for the prodigal son in the bible, families stayed close and worked on living and surviving.  So when that boy in the parable left his daddy for the far country, it was likely a family crisis.
This got me thinking about that prodigal parent.
Lately, I have felt the loose tether of my children to home.  Wanting them to come, but more importantly, wanting them to want to come. God, the perfect Prodigal Parent, wants that, too.
Tomorrow marks the beginning of Lent, the 40-day anticipation of Easter.
While Advent is the first, babysoft whisper of God's invitation home, Lent calls to us in a more mature voice. Beckoning us back from a difficult journey, Home to God, where we are loved and safe.  Back with the God whose arms are fully open.  Into the embrace of a God who runs toward us.  Even in our sin.  Especially in our shame.
Lent reminds us that because of the Resurrection, our good God continually searches the horizon for His prodigal.  Hoping for us to want Him.  Hoping for us to walk toward Home.
Lent reminds us that because of the Resurrection, our good God continually searches the horizon for His prodigal. Hoping for us to want Him. Hoping for us to walk toward Home. Click To Tweet
My child was dead and is alive again. 
Just as Jesus came to reveal the Father, Lent gives us a glimpse into the heart of the Prodigal Parent.  He could never have seen us from a distance unless He had been intently waiting and expecting.  And He would have never been looking in the first place unless He desperately wanted us Home.
While we were visiting a city in another state, I lost my three-year-old son in Target.  My eyes left him in the toy aisle for mere seconds and he vanished. A frantic search culminated with the heavy, grave sound of the front doors locking as they announced a "Code Adam."  Blood froze in every vein in my body as I prayed for him to be on my side of the locks.  I ran up and down every aisle calling his name, scanning for a little guy in a striped ball cap.  All I wanted was that boy back with me. Nothing that he had done or hadn't done mattered.  And I never quit looking for him until I saw him being escorted to the front by a gray-haired woman.
True to the bible's overarching theme of exile and homecoming, the prodigal parable is the saga of the entire human race.  But perhaps most importantly, it is the story of God's long-suffering, His patient plan to bring us all Home.  Jesus took on the ultimate exile in death so every one of us could be Home with the Father.
And He did this was while we were still figuring it all out.  Not after we were sinners, but during:  in the ugly, messy middle of our rebellion and distrust and uncertainty.  While we were still finding our way Home.  While we were still a long way off.
From my journal:
We have a special sonographer at Cleveland Clinic. It is a God-thing in this massive campus that we draw her each time to do our echocardiogram.  The test that determines how well I'm really doing.  From the very first time we came here, she quietly shut the door, took our hands and prayed with us.   Somehow she can sense that every desperate test outcome drives another wedge between me and God.  And this time will be no different as we see in her face the poor results and hear in her prayer what she cannot tell us directly:   "Please, God, heal Mrs. Lori's heart.   I know this is the top heart hospital, but you are the top doctor and we trust you in all things."  As if she were on a mission to make sure this didn't consume my faith.  I am almost old enough to be her mother.  And yet, in so many ways, she is mine right now. 
At that moment, through the words of this medical messenger, God was already anticipating my journey back to Him, just as the Father did in the parable.
So if you've had trouble finding Home this pre-Easter season because of misguided choices, naïve rebellion, or the circumstances of life, know where He is.
While you are still a long way off . . .
He is keeping vigil at the 1950s farmhouse window.
He is running through the aisles of Target.
He is holding your hand as the test results come in.
He is continually scanning the horizon, waiting for His child to come Home.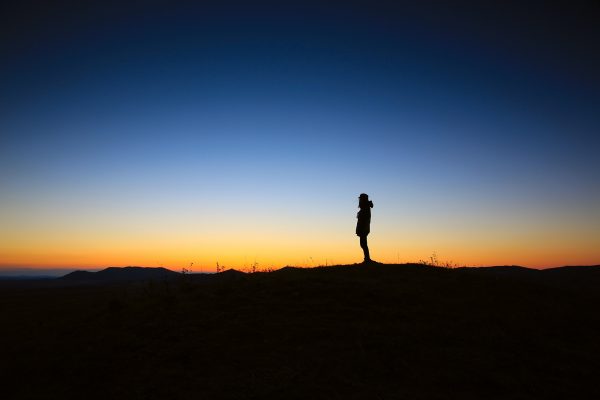 Please follow and like us:
---