After we remodeled a house, we needed rain for our un-irrigated grass seed to sprout in the summer heat. The exterior door into the new mudroom was installed slightly below ground level.  Every time we got a hard rain that summer, the mudroom flooded.  And every time my husband and I would be in there barefooted (usually around 3:00 am), desperately and unsuccessfully, pushing water back out the door with brooms.  In the aftermath, we lost school projects, a dog dish, baseball cleats, and a cat or two.
It seems the water we need to survive sometimes threatens to destroy us.
Growing up in a farm family, I learned this lesson early on.  The same rains that we prayed to fall so we could grow the crop, we prayed to end so we could harvest it.  And ultimately, we surrendered to the precipitation that seemed to control the entirety of our lives.
Water, like my life, has often appeared to have two opposing sides:  good and bad.
My introspective son frequently surprised me with quips far beyond his years. At eight years old, he confidently told me, "There's a little bit of good and a little bit of bad in everything." How could that little boy know that life's good and bad always flow in the same stream? He must have realized that the water we were fighting in the mudroom had some good in it.
Author God uses this dichotomous idea extensively. Water metaphors appear hundreds of times throughout the bible. And they all take on one of two themes:  trouble or salvation.  Because water represents the good and the bad in life: it ruins and it restores; it contaminates and it cleanses.
Save me, O God, for the waters have come up to my neck.  Psalm 69:1

With joy you will draw water from the wells of salvation.  Isaiah 12:3
Through my illness, I have discovered that rather than representing individual contradictory ideas, these water images actually reflect a process: setback to salvation. Water bookends any spiritual journey.  It represents trouble we can't humanly control so we can be washed in His saving current.
Water's two sides are the full picture of God's plan to bring us close to Him:
He knew we'd have to feel the rising water to need a rescue.

He knew grace would mean nothing if we aren't saved from anything.

He knew we'd have to experience hopelessness to appreciate Holiness.
Still, most of us would rather avoid the treacherous side of water and skip right to the saving stream. But our God never allows spiritual shortcuts.
Many times in God's continuing story, trials that were not averted, floods that still came rushing in, drew the sufferer nearer to the heart of God: Paul in prison, Daniel in the den, Joseph in slavery, Jesus in Gethsemane.
And even me, in the rising waters of heart failure.
Indeed, in our hearts we felt the sentence of death.  But this happened that we might not rely on ourselves but on God…  2 Cor.1:9
God wants us to know firsthand that He is far greater than anything we will face, far greater than our pain. So He allows uncomfortable, even bruising parts of life to happen. As Rick Warren says, "God is more interested in our character than in our comfort." God wants more than anything to develop in us a character that will see us through Eternity. Into Everlasting with Him.
And our good God knew that such intimacy would require both sides of water.
So I am learning to appreciate the difficult side of water.  Charles Spurgeon put it this way, "I have learned to kiss the waves that throw me up against the Rock of Ages."
Near the end of the remodel, we were up to our necks in stress.  My husband and I were uncharacteristically at odds with one another. Family members had tragically died far too young. Construction costs were blowing past even the highest estimates. Life was spinning out of control.  And somehow I got tickled during another early morning mudroom flood.  Maybe from exhaustion, maybe from the sheer ridiculousness of the task. Maybe from the sight of my husband in his underwear and flip-flops, holding a push broom.  It was the kind of tickle that cramps your stomach to try to contain.  Before long, we were both laughing. I suddenly remembered how much I loved that carefree high school boy turned devoted dad. And I knew, in spite of everything we were facing, I'd choose him all over again.
But I might not have seen it if it hadn't been for the flood.
On our way back from a disappointing check-up on my heart failure, I made this journal entry:
The trip was both good and bad. Always good to spend uninterrupted time with my best friend. The first part of the trip was carefree, as we were unsuspecting of the bad news we were about to receive. We are driving through hard rain in Indiana now. We have no umbrella.  And it occurs to me that storms often catch us off guard. So it is probably no coincidence that gallons of water are pouring onto the pavement as we drive.  The health storm is here again. But this time, I am less afraid.  I'm remembering we have an ark.  We just have to choose to climb aboard. Again.
Good and bad continue in intermingling streams.  And my God and I have become closer because of it all.  Just like my husband and I did in that mudroom.
The mudroom should have been a weak link in our relationship, a bad memory.  But the mudroom, my illness, your detour, are the points where we consider our options.  To give up on this God or choose the relationship again. To climb aboard the Ark or face the flood alone.
Through life's storms, I have gained a better understanding of who He is:
Not a God who gives me everything I want,

but a God who will part the seas to bring me closer to Him.
After all, the rainbow doesn't promise it will never rain again.
It promises when it does rain, even when it seems all of life is flooding, He has it under control.
This God who works in both sides of water.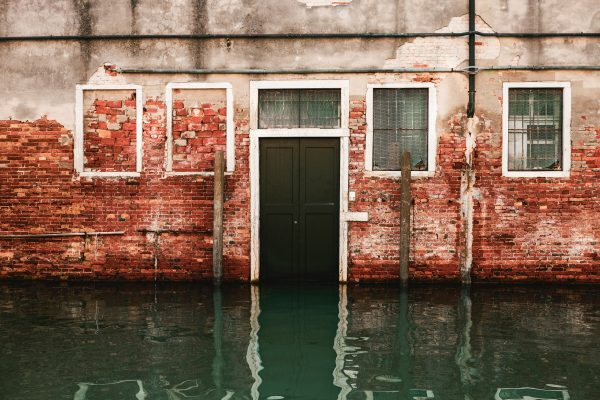 Please follow and like us: