Shielding the California sun from my eyes for a glimpse as my daughter received her college diploma, I remembered something my husband said four years ago as I sat on these same crowded bleachers.
I was wearing my cardiac life vest back then. My older son was graduating from the same university that day. My husband looked at my device, "Let's do this again in four years." I nodded, but we both knew it was a long shot. A simple enough desire that seemed an impossible dream at that point. None of my doctors would have bet in our favor.
And yet, here we are.
Living in the results of yesterday's prayers. Sort of.
NOT LIKE WE HAD ENVISIONED
Standing at the kitchen sink eating more banana bread wearing the same yoga pants on another unnumbered quarantine day, I blink hard. Everything seems a bit out of focus because that was a daydream. I am not in California. My family is not together. Graduation was cancelled for the containment of the coronavirus. My heart aches at the disappointment of not being able to sit in those bleachers again like we'd prayed, and say, "Look! We did it!"
Four years ago, I just wanted to live long enough to see these kids of mine graduate. Now I feel slighted. I had vowed to never get the device that lives permanently inside my chest. My heart still isn't functioning as normal. I missed a ceremony I had hoped to attend.
Like so many times in my life, prayers have been answered but I don't recognize them when they're at my door. They don't look like I envisioned, so I assume God blew me off. I'm not the first to harbor grandiose hopes that didn't perfectly align with God's eventual handiwork. I'm not the first to feel disappointed by God.
When Jesus rode into Jerusalem on Palm Sunday, the people who had seen his miracles and anticipated His prophesied appearance were expecting a deliverance from the Roman Empire. They had their own ideas of what that would entail. But the fulfilled promise ended up looking very different. The construction of His Kingdom took a path through an unbelievable crucifixion by way of a donkey of peace rather than a horse of war.
Jesus didn't do what people expected, but instead, what He promised.
And that's always been His way.
EXPECTED vs PROMISED
I brush banana bread crumbs from my mouth, and glance at the kitchen table, remembering the day not long ago when it was covered with a painful mix of hospital floral arrangements, mysterious prescription bottles, and a framed prayer chain.
And I remember that dreadful binder.
From my journal a few months after my diagnosis:
It's on the kitchen table next to my newly acquired collection of high-powered prescription meds. The spine in harsh dark lettering shouting: "End of Life Care." It has been there so long I'm not seeing it anymore. The shock factor has worn off. I wonder what to do with it. Should I leave it out in case we need it? Should I put it on the coffee table next to the family photo album and our monthly magazines?
"Though I walk through the valley of the valley of the shadow of death, You are with me…"
I keep rereading that Psalm and hoping it's true.
And then a journal entry more than a year later:
Today I decided to finally give myself permission to stop waiting to die and start to live again. I took that hospice binder off the kitchen table and put it in a file. One day I might need it. But that day is not today.
It was a triumphant day because I realized God's promise was fulfilled. He walked with me through the dark valley, and continues there with me. And yet, every time I tell my story, I forget about that part. Because I envisioned something totally different. I expected Him to take me out of the valley.
Jesus doesn't promise an easy or even a resolved life.
We can't reshape God's promises into our expectations. But like the palm-waving crowd, we do.
This pandemic season and my own illness have been teaching me something my entire faith life could not: Some of our promise-backed prayers will always seem unanswered. Because, in our lifetime, the completion of His promises often won't look like we expect.
Some of our promise-backed prayers will always seem unanswered. Because, in our lifetime, the completion of His promises often won't look like we expect.
Click To Tweet
And that may be by design.
WAIT FOR IT
We live in a world where parents bury children, innocent people are punished, families desert us, and stories don't end in the way, or the time, we prayed.
It is human to yearn for every request to be met, for all of our expectations to be fulfilled. But it is a faithful person's challenge to understand this: Completion can never be achieved here. Not out of cruelty or punishment. Quite the opposite: It is our tether to Eternity. It is our tie to Him.
And sometimes that tie feels like waiting.
Many of us are still waiting for a memorial service or a wedding that should have taken place months ago. I am waiting for the graduation ceremony that will likely happen later this year, and the full healing that probably won't. I want clearance to visit my parents before Dad's next chemo treatment, and I want to hold a grandchild someday.
All of that is expected, none of it is promised.
God owns tomorrow, I simply steward today.
And we are bound together by the tension of this working, waiting relationship.
God owns tomorrow, I simply steward today. And we are bound together by the tension of this working, waiting relationship.
Click To Tweet
One day when I pull out that hospice binder because I need a phone number or next steps, I will remember something my husband told me:
I am trading what I can't keep for something I can never lose.
Meanwhile, the unmet expectation, the waiting, is pulling me toward Him and that ultimate promise.
LIVING A FUTURE PROMISE
We can't expect what God never promised, but we can always expect what He did.
He doesn't promise to save us from life's suffering but He does promise to use our suffering to eventually produce hope (Romans 5:3). And that's exactly how that binder left the kitchen table.
Author Jay Wolf wrote,
"Hope is a future promise lived out in the present."
God used my suffering to instill hope in His eternal healing, and I started to live the coming promise.
Four-year-old prayers have been answered but they don't look like I thought they would. I didn't sit in the Malibu sunshine with my family to see my girl in her graduation gown, wearing Pepperdine's signature flower lei, crossing the stage with the Pacific Ocean in the background. I didn't escape this device or my disease.
But I am still alive. My daughter graduated and is headed to a PhD program a bit closer to home. God is good, and He answers prayers. And Hope is alive at our house.
Even when He rides in on a donkey.
Even when disease and disappointment linger.
Even when the fulfillment of His promise looks nothing like we expected.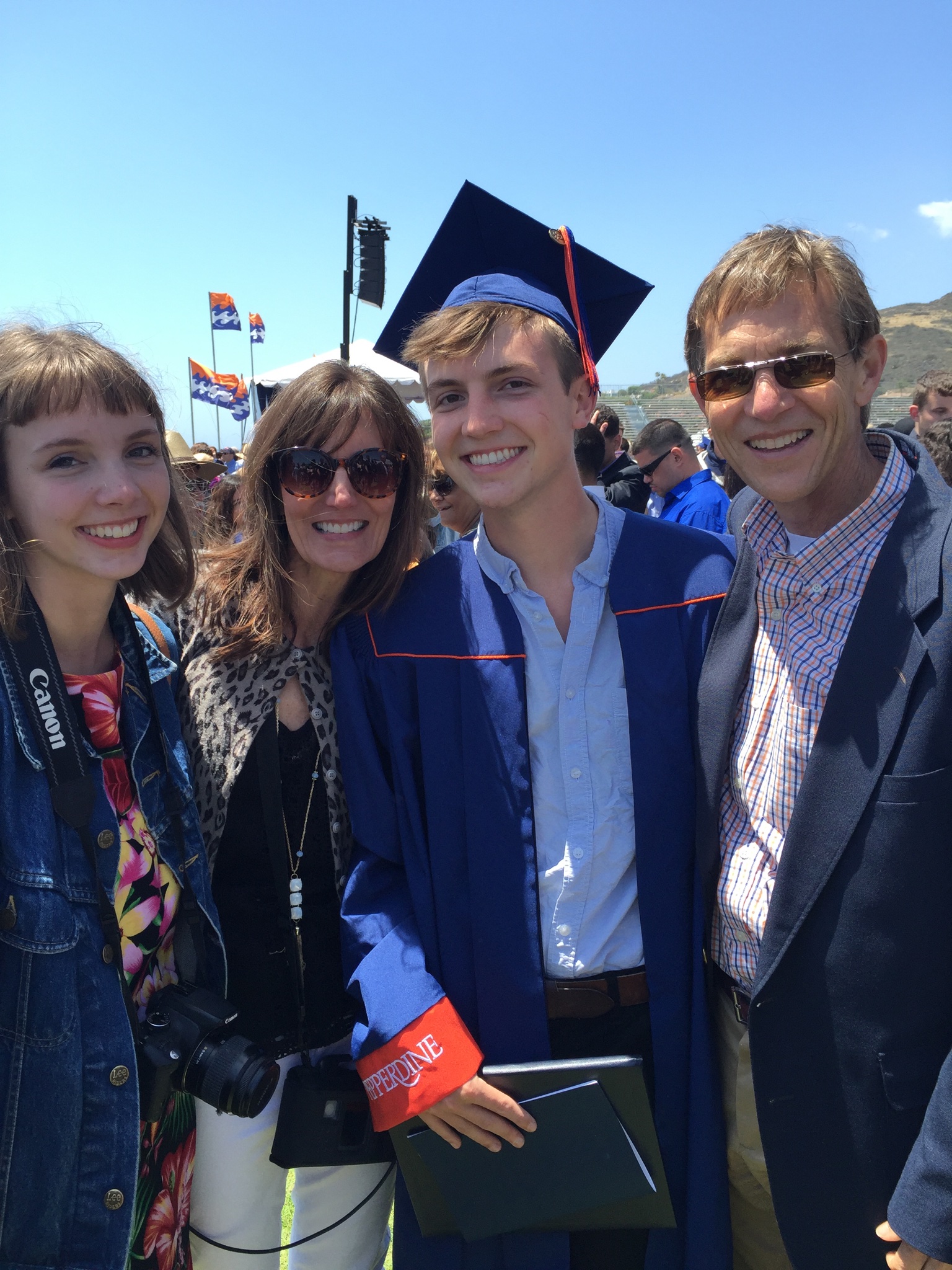 Please follow and like us: