Following graduate school, my husband and I had a dream.
We wanted to open our own accounting practice together, raise children in a small town, and grow old in a tight-knit community, closer to extended family. So, we started praying, hard. We applied for positions in smaller firms to get our foot in the door, to establish ourselves before putting out our own shingle. We had all the right motives. And we were near the top of our graduating class at a large university. We got several offers from the Big Eight national firms, but we got few bites from the smaller ones. Finally, we got an offer from a local office, just under market value. It was still a bit low, but in the area we wanted to live and someday build our practice.
We breathed a sigh of relief until the interviewer said, "That's for the both of you," indicating he was pricing us as a set. I remember looking at my young husband and wincing. Just like that, our expected salaries had fallen in half.
Well, needless to say, we weren't ok with that.
After months of praying, we weren't sure what to do. The clock was ticking on accepting a job. Should we keep praying? Should we pray even harder?
I've always embraced the pit-bull-approach to prayer: Get ahold of it and never release until you get the result you want. Because God honors desperate, determined petitions, like Hannah's for her long-awaited son Samuel. Or the parable's widow, pestering the judge.
So,  I latched onto this career vision and I had a tough time letting go. But looking back, it may have been the right time to voice a prayer of relinquishment.
WHAT IT IS
The dictionary says "relinquish" means:
To voluntarily cease to claim. To hand over willingly. To consider the situation, and make a decision to stop pushing forward.
Spiritually, relinquishment yields to circumstances just as they are, with God as Overseer. When we relinquish, we agree to be satisfied, we agree to give up our quest for change. We agree to stop asking for what we assume is God's best will.  We agree to be ok with what we can't fully grasp.
I don't understand it, but I accept it. Because I trust You, God, I'm ok with setting this request aside.
Jesus prayed a prayer of relinquishment in Gethsemane. He knew the burden of desperate prayer. And He knew about letting it go. Others in scripture knew what relinquishment felt like, too: faithful Abraham relinquishing his plans for raising Isaac, guilty David relinquishing his infant son's life, teenage Mary relinquishing her known future.
Relinquishment is different from resignation.
Resignation hunkers down in fear and steels itself for the worst.
Relinquishment looks fully at the painful situation, releases demands, but clings to hope.
Relinquishment is bigger than surrender.
Surrender is stepping back, laying down weapons, and admitting defeat.
Relinquishment is letting go with expectation, pressing forward with a new vision.
WHEN TO DO IT
Sometimes the calendar or circumstances call for us to relinquish: the job is filled, we get past childbearing years, our "ex" remarries, the casket is closed. But other times, there is no resolution in this realm. And our tendency is to keep asking.
But perhaps the Spirit urges us differently sometimes.
Ecclesiastes tells us there is a time to give up, not on God, but on searching.
Searching for a wholeness, a healing, a homecoming.
Searching for the issue to be resolved our way.
Ecclesiastes tells us there is a time to give up, not on God, but on searching. Searching for a wholeness, a healing, a homecoming. Searching for the issue to be resolved our way.
Click To Tweet
Sometimes what we are pursuing is hurtful or destructive, even though it started out differently. Sometimes we have placed our identity in the idea of this pursuit, instead of in God. Sometimes where we are headed is simply outside of God's best for us, mysterious as it may seem.
Relinquishment is not an everyday prayer. It is not the first prayer we pray, but it might be the last. It comes only after we've petitioned tirelessly. We have to get to the point past desperation. We have to be prepared to give up the very thing we value most for God's greater planned good. When we do, a settled peace arrives as the desperation lifts.
From my journal just after my heart failure diagnosis:
We're nearing two weeks in ICU. Things continue to spin out of control so fast I am dizzy and heartbroken. My husband, not blunted by the gift of medication, is feeling the full force of this shocking situation. Tonight, he shared with me that as he was praying for my survival, he felt a certain peace that everything would be ok even if I wasn't healed. Let's just say it hit me wrong. I'm lying here fighting with everything I've got. And he's already giving up on me? I shot back at him, "I'm not gonna die!" I asked my husband to leave my room. Some disappointments don't allow room for company.
Turns out, as he usually is, my husband was way ahead of me in his spiritual expedition. He had already given the situation to God and taken his desires off the table. He had reached relinquishment. I think about that moment maybe more than any other during that harsh stretch of time. It made me a different kind of Christian. Less a Christ petitioner, more a Christ seeker.
WHY DO IT
When we find ourselves bent in two over the weight of our continuing request, we may be at the point of relinquishment. Once we get there, we can become more than ok with it.
We can reach a new level of intimacy with God.
Doug Groothius has nursed his wife (and his own war-torn faith) through the dark tunnel of dementia. He has reached relinquishment with her incurable disease::
"Rather than feeling like I'm always beating God with my fists, now I feel more like I'm resting in His arms."
And given enough space, those arms can direct something bigger than our own request.
Ann VosKamp advises:
"Hold space for ways that are higher than yours, the ways of the One who never stops holding you."
Maybe the goal of prayer is not so much to gain control of God's hand, but to open up his arms with possibilities we can't even conceive. Though the decisions we make in prayer never change His love for us, they may be key to releasing the next part of His plan for us.
Writer Catherine Marshall says,:
"A demanding spirit, with self-will as the rudder, blocks prayer."
God has never been in the business of overriding our free will, so until we lay that down, He may, by nature, remain silent or still. His best for us may remain untapped.
For those of us who take comfort in calling the shots, it's a challenging charge.
As difficult as it is, relinquishment runs deep in our faith. Setting aside self is the core of the gospel message. But that same gospel hinges on hope. So we know our acceptance of His sometimes-meandering way can never preclude ultimate hope. We know God's road never ends in disappointment.
Setting aside self is the core of the gospel message. But that same gospel hinges on hope. So we know our acceptance of His sometimes-meandering way can never preclude ultimate hope. We know God's road never ends in disappointment.
Click To Tweet
GETTING OK WITH IT
We walked away from that two-fer job offer because it made no sense. We just couldn't get ok with it. But we held onto our dream for many years until we finally relinquished it. My husband and I never did open our own CPA firm. I switched careers (a couple of times) and he has been successful in accounting going another route.
But perhaps by not getting the jobs we wanted, God was laying the groundwork for me to survive the heart failure He saw coming long ago. I am grateful for the flood of care and support I've had on this unexpected path. Who knows, maybe I wouldn't have found it under the plan I was doggedly holding onto.
But the detour continues.
For full disclosure, I still pray every day for my heart to be healed. And, as you might expect, I pray hard. But, just as with that post-grad school dream, it's possible that someday I may stop asking.  At that point, I would fully anticipate something even better, as my request steps aside.
Now, maybe for the first time, I can imagine my intense petition shifting one day to a prayer of relinquishment.
When that day comes, I hope I will finally be able to say:
Because of Him, I am more than ok with that.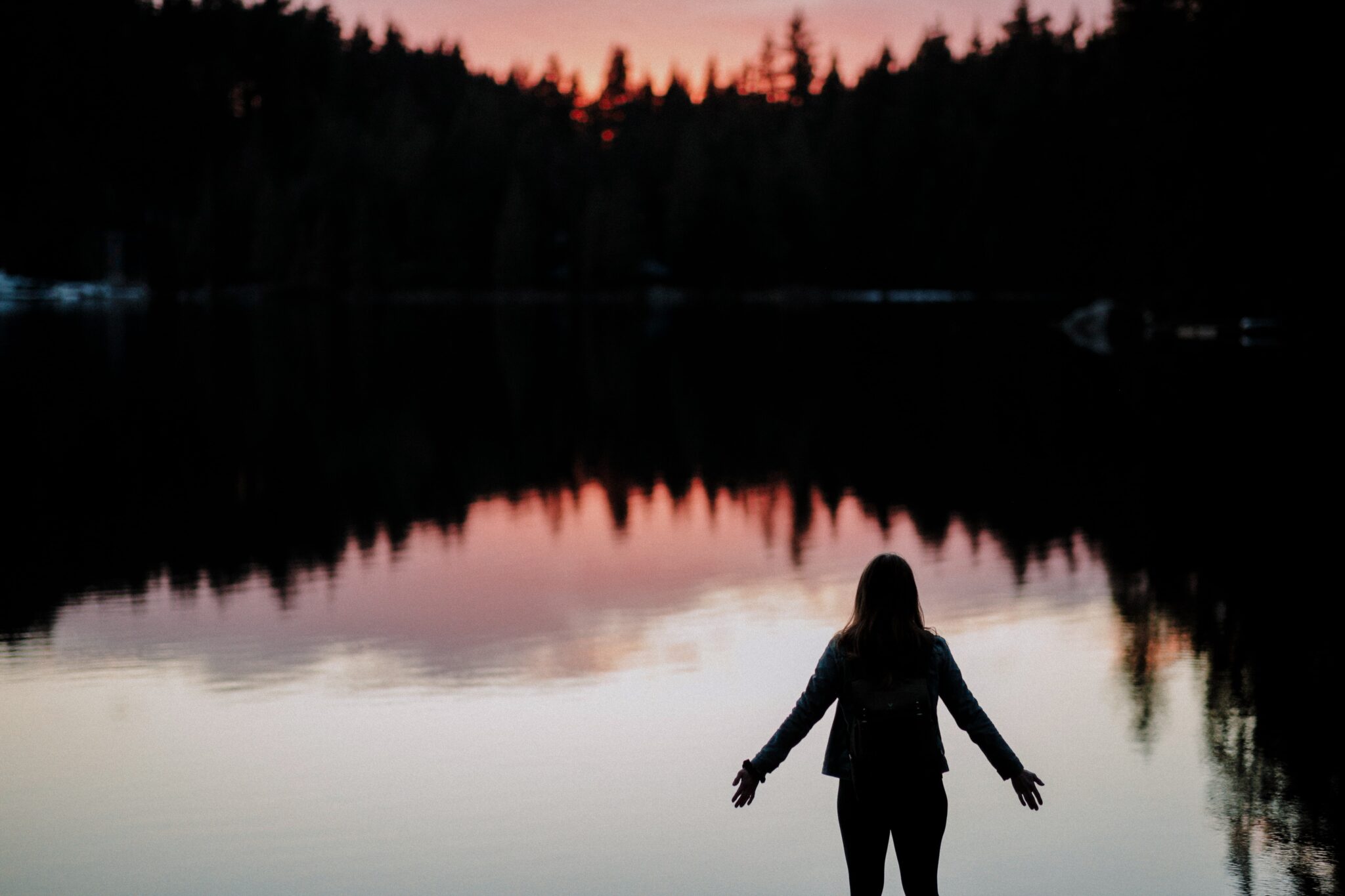 Please follow and like us: