In Between: How to Have to Faith in God in the Midst of Uncertainty
How do you have faith in God in the midst of uncertainty? We've all experienced those moments where we feel like we are totally lost in the fog, bereft of any sense of direction, wondering if God has finally abandoned us. But the truth is, God does His transformational work in the uncomfortable, in-between, liminal spaces. We serve a God we can trust… but that doesn't mean we won't feel anxious, unnerved, or vulnerable in the process.
That "Worst Case Scenario" Feeling
I knew the look on my husband's face as he started turning his pockets inside out.
Thinking about breaking for lunch from the long theme park lines, he made the realization.
Our keys were missing.
And not just our hotel key.
It was an Airbnb key (and a remote gate key) along with the rental car key.  After a few hours retracing our steps, scouring Lost and Found, then combing through attraction queues, ride seats, and auditoriums, we began to add up the worst-case scenario.
Our Airbnb host said we would have to pay for a new house key and if the old key wasn't found, to have the lock changed on the house.  Also, the gate would need to be rekeyed.  The car's smart key was not cheap, either, and we would have to get the car towed from the Universal parking lot back to the Hertz office.  Not to mention the Ubers to get around and back to the airport.  In Southern California, we were easily looking at four figures to get out of this mess.
We knew we would eventually get back home, with an interesting story to tell.  But we had no idea what would unfold in the interim.  And the prospects of what might happen had us fretting a bit.
For someone who should have a punch card with Pop-A-Lock, it was a familiar feeling.
Having Faith in God and Embracing Tension in the Liminal Space
It was not so much the expense of the worst case; it was that unknown period. Suspended in limbo for most of the day, not knowing whether to be delightfully carefree or deeply concerned. We tried to have a good time, but we kept running to the front of the massive park to check Lost and Found. A dark cloud stalked our family the rest of the day.
Ruth experienced a much deeper, darker gray space:  the loss of her husband and father-in-law, her home in Moab, her way of life.  On a smaller scale, I've felt it, too, with my heart failure battle.
As God-followers, we are charged to live the story, trusting Him to finish it.
And sometimes that means hanging out for a while in between, in liminal space.
Liminal space is the space between two points of existence.
Physically, these spaces might be stairwells, elevators, hallways, parking lots.
Nonphysical liminal spaces could be
the space between losing a job and finding a new one,
leaving a home and settling into another home,
ending a relationship and starting another,
being diagnosed and being healed.
We are familiar with the place we are leaving, and we can envision where we will end up. Liminal space is the transition, a place of waiting. It's after God shuts one door, and before He opens another:  the hellish hallway. We may anticipate bad days, but we loathe the days when we aren't sure what to expect at all.
Above all, liminal space is a place of not knowing.

It is where faith lives.
Anytime we experience loss, we enter liminal space, the tension between the familiar and the foreign. God's design is that the old is often not immediately followed by the new. He builds in a buffer to prepare our hearts. During the low times when we sit in the unknown and struggle with gratitude, He is expanding our capacity.
I'm sure Ruth was ready to get on with her life, to skip the gray: the gleaning, and the growing.
Most of my Type-A life I've seen liminal space as wimpy, wavering, wasted. But I'm learning to look at those in-betweens differently now. I'm discovering what it means to have faith in God in the midst of uncertainty.
The Place of Uncertainty Is Where God Does His Transformational Work
My husband and I enjoy a good Netflix series.  It all started with Stranger Things.  We didn't realize at first how much of that story unfolded in the alternate reality, the "Upside-Down." If I could write a spiritual sequel to Stranger Things, I'd include the "In-Between" in place of the "Upside-Down."  It's where the most important part of our Christ-following story unfolds.
Spiritually, liminal space is a gift that slows the film reel, allowing transformation to occur.  A space where we grow in patience and other spiritual fruits, get to know God better and trust Him more.  The place where we become closer to Him than we ever thought possible on the shores of certainty.  We eventually realize that the tension of the unknown is far better than life alone.
And in-between is the only place where a new reality can be born.
Author and theologian Richard Rohr describes this sacred space: "where the old world is able to fall apart, and a bigger world is revealed."
In Ruth's liminal space, she had an opportunity to solidify her commitment to Naomi.  This is exactly what Boaz noticed and loved about Ruth.  And by faithfully leaning into that in-between, Ruth married Boaz, and their son was born into the lineage of Jesus. She had faith in God in the midst of uncertainty. Her life was never the same.
And there were many others.
Gethsemane was liminal space.  So was the Israelites' desert.  And Paul's prison.  Also, Miriam placing baby brother Moses in the Nile, and Abraham placing hope in God's ancestral promise.  We are blessed to see more than just the in-between of those stories.
The same God is still in the business of finishing stories today.
From my journal:
In two months, we will go back to Cleveland Clinic.  We know the journey well.  Physically, we have our usual stops, and medically, we've got the routine down.  What we don't know is the part of the story we're living right now, in these slow-motion months while we are between visits. I don't know if I'm at the end of something (being a "high-functioning" heart failure patient) and at the beginning of something else (becoming a transplant patient).  Or still squarely in between. 
We have lived most of the last four years in this limbo.
I have often wondered why the nurses and doctors who first treated me would leave my room in tears. They saw so many patients, many suffering more or closer to death than I was. I realize now that they were crying about something I didn't even know to mourn yet, more of a living loss.  Heart failure, with its unspecific prognosis, had ushered me into a sort of gray space, for the rest of my life.  Now all I can do is live my best story, to make sure these middle chapters aren't wasted. And wait to see what God does next.
In its original Latin, liminal means threshold, the point of entry, the beginning.
That same word, that same space, that we can experience as a dark, silent bunker, can also be a brink. Faith requires that we see liminal space not as a holding cell, but as a threshold with a unique view of what God has next for us in His story.
What Lies on the Other Side of Uncertainty: The Perfect Future God Has for Us
Some responsible soul turned in those keys to Lost and Found the next day.  They fell out of my husband's pocket on the Harry Potter and the Forbidden Journey ride. (He still asserts that ride was worth all the stress.)
We were spared the worst of our fears, as we so often are in this life.
Still, like the theme park fiasco and Ruth's hazy future, right now, I am living in liminal space. I choose to have faith in God in the midst of uncertainty.
In Between.
On the threshold.
Maybe you are, too.  Mourning a loss, gleaning in foreign fields, waiting for healing.  Know that you're not forgotten in your liminal space.
Because our God has a perfect ending in mind.
For every story.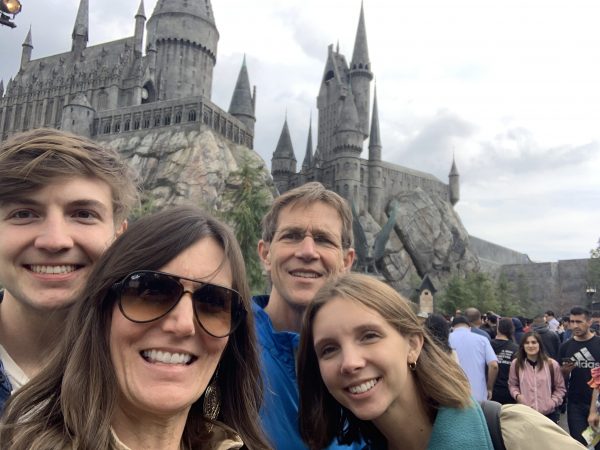 How are you learning to have faith in God in the midst of uncertainty? Leave a comment below… I would love to hear from you!
Please follow and like us:
---