"Don't forget to check on me!"
Every night my four-year-old daughter would stand up in her bed, open the door, and stick her piggy-tailed head into the evening hallway with this not-so-gentle reminder.
"Checking" was more than being tucked in.  We did that first.  Hours later, she expected us to open her creaky door and let the hallway light and older sibling sound into her dark, quiet room. I refused, because it seemed it would wake her up rather than calm her down. So I "pretended" to check on her. But she always knew the next morning: "You didn't check on me!"  So it was her dad who decided to comply.  Every single night.  And because of that routine, she knew she could count on her dad when something big came up.
While this good father was routine, I always believed that Father God is not. Most of my life I associated God mostly with raising people from the dead, multiplying loaves and fishes, and parting seas. I couldn't conceive of Him as mundane because He seemed unpredictable, and so far from human-ordinary.
The definition of "mundane" seemed to support my belief:  monotonous, unvarying, repetitive, routine, everyday, expected, conventional, earthly. Its antonyms include extraordinary, imaginative, heavenly, spiritual.
It is true that much of life here is mundane.  It is uneventful and dull.
Paul David Tripp says there are not many grand moments in this life.  We live in the utterly mundane:  in the hallways and laundry rooms of life.  But there is good news.  This is where our character is set.  And most importantly, this is where we develop faith.
Traveling was a rare event for the farm family I grew up in.  Our first vacation was a trip to Pikes Peak when I was about nine or ten. I recall being shocked when we got up 14,115 feet and it was snowing that July.  But honestly, I don't remember much else about that vacation.  Even after all the planning and driving and squabbling in the backseat that surely took place, it just doesn't stand out in my memory.  Honestly, without the picture, I might have forgotten that we even went.
But I do remember in detail how Dad wrote with a sharpened yellow pencil on a white paper napkin every morning drinking coffee from a glazed ebony cup.  Figuring and calculating his day, even if he had gone to sleep in the wee hours of the morning, weary from harvest.  Sitting in the same chair when I came down the stairs to catch the bus from the time I was in First Grade until I graduated from high school. And I vividly remember Mom making dinner from scratch every night and setting the table for the entire family, even when she had worked at another job all day. I remember the careful casseroles and loading the olive green dishwasher with the Corelle salad bowls.
As if it were Ground Hog Day again and again and again until I got my part right.  I could count on Mom and Dad for their part, and I knew it.
Children thrive on consistency, on ordinary.  Especially children of God.  Faith thrives on the mundane.
The very fact that something is mundane makes it beautiful. Like my husband doing every bit of our once-shared housework for over three years now.  Its very ordinariness makes it special.  Because that means it's a constant.  Which is its own kind of extraordinary.
It is in our mundane that we discover our extraordinarily beautiful and faithful God, continuing to check on us.
He works and lives in the ordinary, sad, wonderful rhythm of human life.
Yet His miraculous goes on behind our everyday scenes, weaving into the fiber of our faith.  The mundane shapes faith and prepares us to understand and trust the Source of the unexpected.
Like God's constant pillar piercing the Israelites' dark journey.
Forging their faith as they approached the Promised Land.
God was working behind the mundane when I came down with ordinary appendicitis.  I left the hospital knowing that my heart function had been greatly restored.
From my journal:
The day after my appendectomy my cardiologist NP visited me. She high-fived me and I said, "I have so many questions!"  She said, "We do, too.  You had us pretty worried." She was tearing up and I said, "You were standing at the end of my bed when you told us the bad news 16 months ago.  Right about in that same spot." She said, "I don't want to say we had given up on you, but the window of time for you to improve was getting pretty darn narrow.  I don't get to see miracles every day, but you're definitely one of them.  I'm so glad I got to be a part of this."
It wouldn't have meant anything to my NP unless she had been there for every heartbreaking test and consultation.  She had to be with us in the mundane, unchanging months for this event to matter at all.
Our God checked on us routinely through our family, our church, and our medical team for 16 months with no improvement.  16 months with my doctor holding her breath. And now over three years in the scary dark room. This constant comfort has wrought our faith and prepared us to understand the Giver of that extraordinary news.
My daughter's relationship with her dad, like mine with the Father, was formed by countless ordinary moments, and only a few extraordinary ones. We have snapshots of the exciting times, but we have a faith built of the mundane ones.
So perhaps the biggest truth in our world is something mundane and yet spiritual:  the God of the miraculous is the God of the ordinary. And perhaps He is most present in the everyday moments of our life.
Just as certain as He will be on the rare snowy mountaintop, He is there in the dark hallways and the doubt-filled hospital rooms.
Consistently checking on us every night.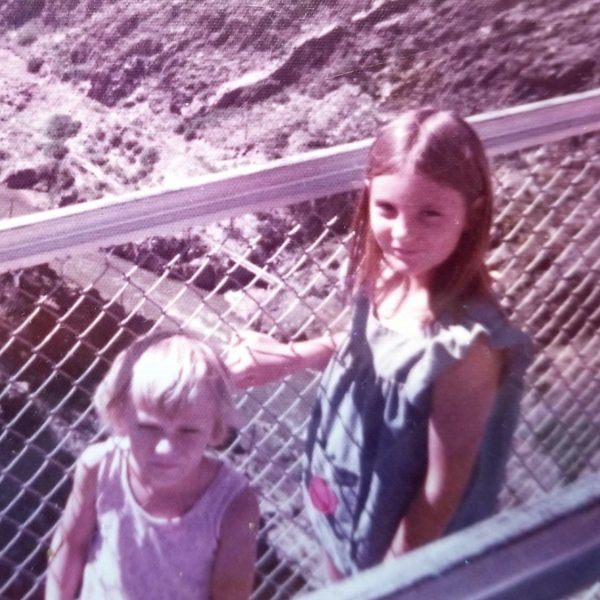 Please follow and like us:
---