Oh no, the light is out. I'm in hot water.
Rolling onto the crunchy gravel drive long past my high school curfew, something seemed off. The familiar porchlight that was always on until our last family member was safely inside, was dark. Either there had been a family emergency and they'd forgotten about me, or they hadn't forgotten about me and I was the family emergency.
The porchlight shone in contrast to much of our frugal farm ways. Mom washed and reused every plastic bag and container that entered our house. Windows were open more than the air conditioner was on, and lights were often switched off before I had even left a room.
But one light my parents were generous with was the porchlight.
Whether arriving home from harvest breakdowns, weekend debate tournaments, or college finals, that light was always on. Even most times when I blew past my curfew, it was still mercifully lit outside our brick ranch house in the country.
It's different arriving "home" now. When I return to the wheat-farming mecca where I was raised, I drive to the house my parents purchased long after I was on my own. It's an in-town address I looked up each year to mail them a package or card. But it still felt like home because the porchlight was on, no matter what time we pulled into that quiet concrete drive.
LIGHTHOUSE PARENTING
My momma and daddy have always been like author Kenneth Ginsburg's "lighthouse parents." Pillars in the close-knit community where I grew up. And they are who I've always known them to be.
According to Ginsburg, "lighthouse parenting" involves a stable presence on the shoreline a child can measure themselves against. Such parents look into the waves and trust children can eventually learn to ride those rough waters on their own.
A lighthouse stays in one place, a beacon that has ongoing communication with passing ships. From a known location, it warns of danger and provides informed guidance.
But it never chases down the ships.
I've had far-away people to meet and hard stops on my own path that were never part of my parents' desired itinerary for me. I can see now that they must have bit their tongues and bound up their hearts each time as I moved further and further away from them. But Mom and Dad never stopped parenting me, whatever distance lay between us. They never required or pleaded that I move closer. They just gave wise advice. Sometimes I listened. Sometimes I didn't.
I'm now realizing how my parents lived the words of Gracy Olmstead,
This is the challenge of (parent)hood: to love wildly, fiercely, determinedly – and then, by God's grace, to let go.
THE LIGHT THAT GETS US HOME
This lighthouse analogy is more like how God parents His free-willed children.
And though lighthouses were all but unknown in bible times, the Spirit used similar references to guiding lights. God led the Israelites through the desert nights using a pillar of fire. His illumination showed up at the consecration of Solomon's temple, and in a bush on Mt. Sinai. Once Jesus, the Light of the World, came on the scene, the Star of Bethlehem guided people to Him.
The only way any type of lighthouse works is if we know it's there, and reliable. Always working. Always on call. Then once our world goes dark, we instinctively look for its familiar illumination.
It is hard-wired in every one of us to get back Home.
It is hard-wired in every one of us to get back Home.
Click To Tweet
Even nights I wasn't home to see my parent's porchlight, it was always on. Same with God's light. Times we're not turned toward Him, He's still there, beckoning us back.
PORCHLIGHTS WORK, TOO
Raised in landlocked Kansas, I didn't have much experience with lighthouses. But we all knew about porchlights.
A light on outside a neighbor's house meant
You're welcome,
We're home,
We're awake if you need anything.
At your own house it meant
We're waiting for you,
We're incomplete without you,
You always belong here.
The porchlight was like a family's own lighthouse.
I was raised on this generous, stable light.
WE NEED THE DARK
Even so, somehow I expected a different kind of Parent when I was first diagnosed. I wanted God to direct me and the doctors, marionette-style. From my journal:
It's been four years since they declared my battered heart's function "near normal." Now, after several significant dips, I'm trying to understand what I should be learning from this. Truth is, people aren't supposed to survive the kind of heart failure I have. So this is all new ground for the doctors, like it is for me. I've been known to scream, "God please tell me or the doctors what to do next!" But no one has a map. I have a distinct feeling all of my life has been like that and I just didn't realize it. In my younger life, I thought God was directing me toward a story of blessing, and then once I got heart failure, toward a story of Divine healing. Maybe my story has been more about preparing me for uncharted trust. Maybe every believer's story is.
When disease lingers and spouses leave, when jobs disappear and friends divorce, when children rebel and bad habits rule, it seems much easier for God to parachute in from a hovering aircraft. To fix it, or at least use the aircraft's loudspeaker to walk us through, to help us make all the correct turns so everything could be on course again.
Surely, He has a clearer perspective.
But Father God knows and my parents did, too, that preparation is the best protection. In fact, it's the only protection. We all need Someone who, from a foggy distance, we can still see. But darkness has to roll in or we never experience the guidance of that Light Source.
Rather than saving us from the storms, He prepares us to handle them.
Without turbulent teaching, I may never be able to navigate the choppy waters that surely still lie just out of view with my ongoing illness and my unmapped life.
And perhaps more importantly, there's a light you don't see until you're standing in the dark. We've left ours on plenty of times during the day, so I speak from experience: We don't notice the porchlight's beam on sunny days.
Maybe that's why I'm just now understanding my parents' policy of Parenting by Porch Light.
I'm learning that Porchlight Parenting is what God modeled throughout the bible and my parents modeled throughout my life: preparation and constancy in the beginning, and grace in the letting go.
Porchlight Parenting is what God modeled throughout the bible and my parents modeled throughout my life: preparation and constancy in the beginning, and grace in the letting go.
Click To Tweet
RELIGHTING THE TRADITION
Turns out, that night I arrived late and the porchlight was off, the bulb had actually burned out before I made it home. (Remember incandescents?) But I didn't figure that out until it was time to turn it on again for my dad or one of my brothers later that week. The bulb was replaced immediately and the porchlight tradition continued.
Growing up, I didn't appreciate it, but regardless of any offense or difficulty between us, the porchlight was a constant. As if continually extending grace to their children. Mom and Dad were to me the parents of again. As Beth Moore said of the ultimate Father,
Our God is the God of Again.
Like Spring always waking up after a long winter.
God has shown up for us again and again, and He has forgiven us again and again for not showing up.
Like Spring always waking up after a long winter. God has shown up for us again and again, and He has forgiven us again and again for not showing up.
Click To Tweet
Similarly, every night when one of our family members was out in the dangerous world, even long after we should have been, the porchlight was lit again.
I may revive the porchlight tradition in my own family. I have a new appreciation as a parent of far-flung children and as a wandering child of a constant God. A reformed helicopter parent, I feel like I've come full circle back to the porchlight again. But I'm different this time. As Terry Pratchett says,
Coming back to where you started is not the same as never leaving.
Mom and Dad both passed away this past year. This will be the first year I won't address a Mother's Day card or a Father's Day card. But even worse, now when we visit, the porchlight is off, because we're arriving at an empty house, preparing it to sell.
I have a feeling I'll spend the rest of my life missing that extravagant gesture.
But while we're there for the weekend, in honor of all the children not yet Home, I'll be turning on that porchlight myself.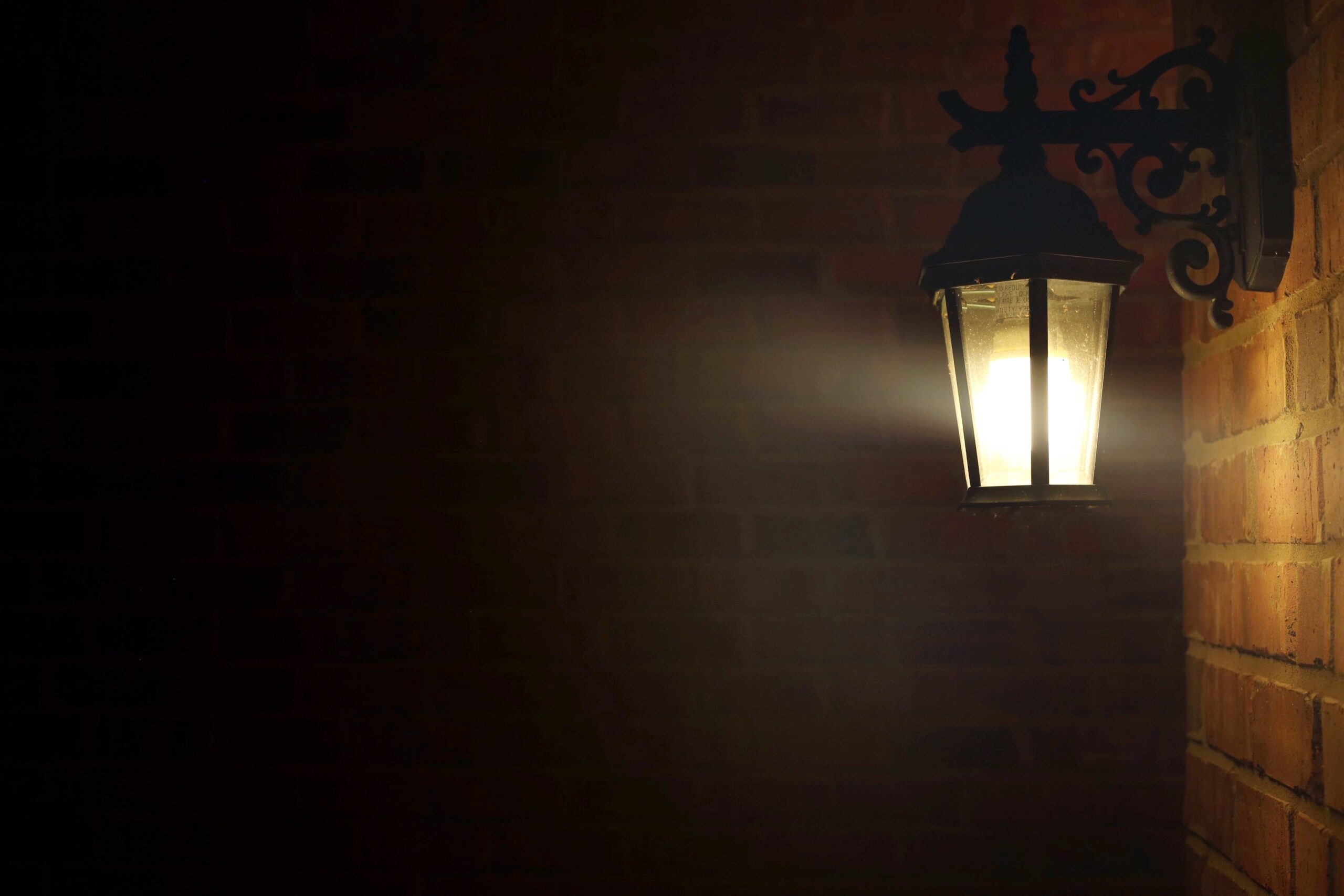 Please follow and like us: