Three weeks ago,  a 5000-square-foot sinkhole unexpectedly opened up near a hospital in Indonesia.
We've all seen the disturbing photos of houses and cars sucked into the ground while everything around them stands untouched.  Sinkholes emerge when a structure is built on soft bedrock.  Eventually the rock erodes or rivers form and change, and the sinkhole widens.   The surface rock is thin and cannot support the weight of the building or road.
Back in November, viral footage captured the terrifying moment an emerging sinkhole swallowed a woman in China's Gansu Province.
Weeks before, researchers there investigated a "world class" cave complex beneath a sinkhole of 236 million cubic feet.
A few months ago, a dozen sinkholes opened up in a neighborhood near Orlando.
Sixty sinkholes emerged in Michigan in June.  One even appeared on the North Lawn of the White House last May.
Sinkholes are a common occurrence:  a dangerous problem grows unseen, beneath the everyday surface of our lives.
In 2015, we visited the cenotes in Mexico. One of the most popular attractions in Yucatan, these water-filled caves were magical, like finding a secret treasure. We walked right over the top on green grass, peered into a small opening in the ground and saw the massive cave with beautiful blue water as large as a public pool.  These cenotes are actually sinkholes.  Sandy limestone collapses and exposes the groundwater underneath.
We marveled at the breathtaking presence of the enormous hidden holes.  We swam in their perfect, transparent water.  I would never have guessed that it would soon become a personal metaphor.  Just months later, I learned that heart failure symptoms I had been ignoring beneath the surface would crater my life.
It didn't catch God off guard, and it didn't happen overnight.  Years of discounting and excusing the worsening shortness of breath slowly created a hole that would suddenly suck me into it.
Just like the eroding earth covering the sinkhole, my thin excuses could no longer cover the underlying truth. I had reached the devastating tipping point.
Out of sight might be out of mind, but not out of power.
We can make excuses about circumstances, we can ignore pain, we can lie about our own shortcomings. But these flimsy veneers only cause the collapse to threaten.
According to Pastor Jon Tyson, David's life collapsed for similar reasons. He was a man after God's own heart, but cracks in his character were visible throughout his life. Even when he volunteered to fight Goliath, he asked about the reward.  He seemed interested in the wife he could win.  Repeatedly throughout the Old Testament, David took additional wives, each time ignoring the law that forbid a King from having many wives.
Sinkholes always start out small.
The hole in David's character started as a hairline fissure, but became a fatal flaw when it grew into the well-known encounter with Bathsheba.  It seemed out of nowhere for David to kill her husband on the front line. But it was a small secret sin that turned into a sinkhole.
We may never see the sinkhole coming.  Given enough time, pressure, and opportunity, the tiny fault develops beneath the surface until it swallows us alive.
The Good News is this: because of grace, the sinkhole won't kill us.  But covering it up will.
Like the beautiful cenotes we swam in Mexico, the hole itself can be made useful by a loving God. In Yucatan, what could have been a national tragedy turned into a natural treasure.
The danger instead lies in the fragile, deceiving overlay.
This is the paradox described by author Marvin Williams we find most difficult to embrace:  "When we uncover our shortcomings, God will cover them."
So perhaps the real problem causing the collapse is that we don't fully grasp grace.
That we don't believe the all-knowing God will forgive what He knows, that He will still love who He sees. We can't fathom that this steadfast God loves us, holes and all.  So instead we tend to believe the Enemy:  that our true deep self is unredeemable.  And we tiptoe across the surface on the thin, shallow upper crust.
Worse than covering the early cues of my disease, I had ignored the growing hole in my belief in an always-good God.  A much more dangerous sinkhole had begun to form. Yet even in my sinkhole of doubt, God's grace was deeper still.
From my journal, nine months after diagnosis, one week before my ICD surgery:
Starting to get a little anxious.  I had a moment last night as I was getting ready to fall asleep, asking God to show me that He is real.  I can do any of this if I just know He's there:  adult children, parents' health issues, empty nest, diagnosis, prognosis… "I do believe, help my unbelief!"  I don't like this about myself, but I need to touch His hands and feel His breath on my face.  I guess that, like Thomas, I need to reach out and feel that He's there in my time of greatest need and greatest doubt.  I need Him to take hold of my hand in the dark and lead me through. I struggle with not knowing what that looks like.
Although it is not what He wants for any of our lives, deep-seated flaws of doubt, sin, fear, or other shortcomings don't surprise God.  He sent His perfect Son, knowing that the tiny cracks can make us reachable, and the sinkholes can make us redeemable.
As I look forward to a new year, I can't help but reflect back on the year that changed my life forever. God's sturdy grace was preparing me to survive the threatening sinkhole.  Like the crystal sapphire water of the cenote, He was planning to use my imperfections for good.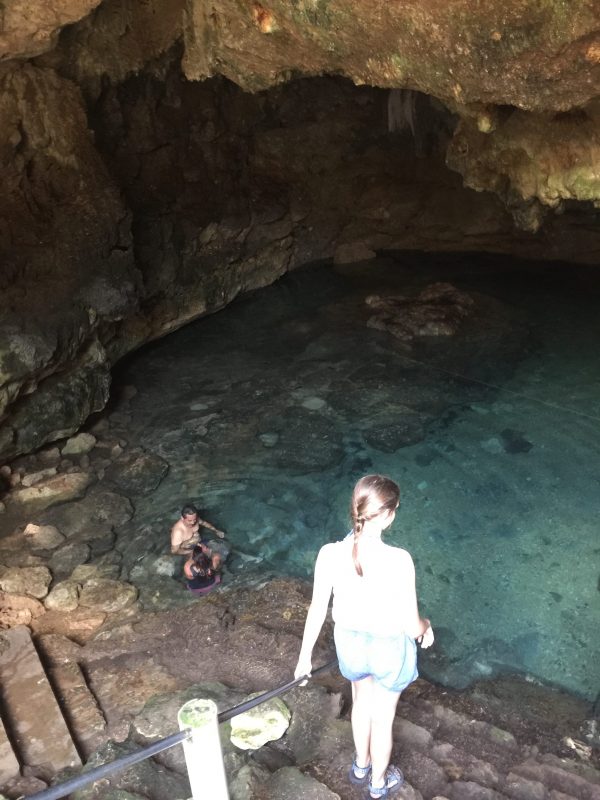 Please follow and like us: