When we were growing up on the farm, for reasons too complicated and too political for my six-year-old mind, the school bus picked us up and dropped us off a half mile from our home at the intersection of four wheat fields.
Usually Mom drove us up to the corner a tad early, because the bus driver was cranky and didn't like to be kept waiting. In fact, several times, she left us because I forgot a book and would have to run back into the house before driving up to the corner. The bus driver was also notorious for kicking us out of the bus at the end of the day if Mom wasn't there to pick us up. My siblings and I then walked home on the busy blacktop road.
One day after school, I was on the bus by myself since my older brother and sister had after school activities. When we pulled in to the half-mile spot, my mom was not there. It was frigid and windy and starting to spit ice. The weather had made a dramatic change during that early spring day. And in the crazy rush of the morning, I had forgotten my coat.
I remember shooting a glance at the driver, trying to read her mood. I felt myself coming undone. Would she make me walk by myself? I pressed my face to the fogged window, imagining every millisecond that the avocado-colored Pontiac would appear. Where could she be?
The same question arises in our faith journey: Why isn't God showing up? And sometimes in the excruciating waiting, we begin to question the nature of God and His timing.
Jesus waited two days before returning to dying Lazarus. When He did arrive, it seemed obviously too late. Lazarus had died.
Author of "When Life and Beliefs Collide," Carolyn Custis James explains: "Every grief is two-dimensional – the loss itself, along with the nagging thought that it could have been prevented if only God had acted." If only He had acted in time. In our time.
If only You had been here, my brother, my career, my dream, would not have died. Where were you? What took you so long? Have you not been listening to my cries?
Early in my diagnosis, I struggled with how to connect my beliefs about God with what was happening in my life. Or more accurately, with what wasn't happening.
Almost immediately, I became obsessed with being healed. My day and every thought centered around meds and side effects, diet and exercise, rest and research. We had done everything the doctors had asked and everything we could think of spiritually. My six-year-old face was pressed against the foggy window for 16 months.
But God did not appear. Or at least healing didn't.
Sometimes I miss the blissful, hazy comprehension of childhood. Back then, I knew enough to know I didn't know. And I accepted that. Lately, I've been trying to revive this childlike faith that Jesus admired. Such unassuming faith is always what sustains us in our most desperate times, when we can't possibly understand what's happening.
Simply taking God at His Word: I will be with you day after day, right up to the end of the age.
On that bus, I was thinking about my mom and how much I loved her. How I had always depended on her. How she was worthy of my faith in her. But for months in my health journey, I was focused on the outcome instead of on God.
Without realizing it, I had made my problem bigger than my God.
I made this journal entry on Easter Sunday, one year to the day before my heart function ever measurably improved:
At church I had to face all the people who had been praying for me for four months. Most already knew the bad news we got in Cleveland and just wanted to be supportive. I tried to hold it together but wasn't 100% successful. Something about a sympathetic hug or smile was breaking my heart. They wanted it as much as I did and I wanted so much to celebrate a victory today. Maybe mostly for them. I spent a good deal of the service biting my bottom lip to hold back the tears. I told my husband later that I don't even know if what I'm truly wanting is to be healed. I just want to see His hand move.
I would live another full year before beginning to understand the waiting. I didn't realize it then, but waiting was starting to transform me. My focus was shifting from the result to Him.
When the dust of desperate pleading cleared, I just wanted God's undeniable presence. I wanted Him to be real.
In the waiting, we begin to realize what we truly desire, what we're really waiting for is Him.
During those tense moments waiting in the bus with the scary bus driver, I knew with every fiber of my being that Mom was on her way. And watching the ice collect on the bus windows, I was thankful to have her in my life.
After what seemed hours, Mom's car pulled in and I hurried off the bus. Trying to walk too fast to hear the driver threaten, "Next time, if you-ens don't have a ride, I gottta leave!" Mom had arrived just in time, and her faithfulness demonstrated that I could depend on her. But I wouldn't have realized it without the wait.
My biggest lesson from heart failure: Waiting builds dependency on God.
When God says Wait, He is saying, Cling to Me. Rather than on an outcome or result. He puts Himself above the request. Which helps us see that He is our only hope.
The most difficult and most important spiritual work of your life will happen in the waiting.
Sitting on that bus.
And sometimes that takes more time than we'd like.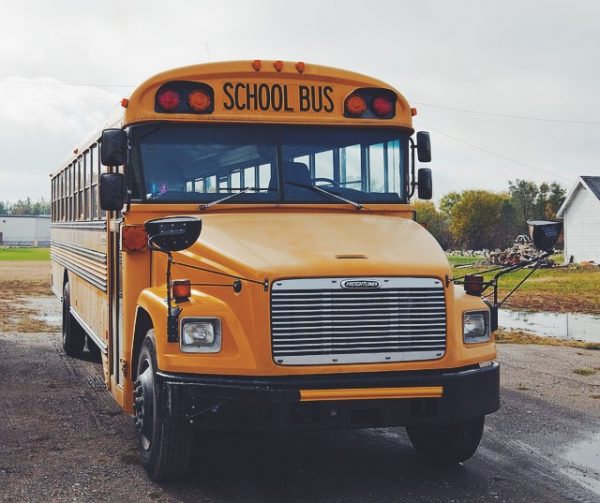 Please follow and like us: