For nearly a decade, my mom and I shared a twice-yearly tradition/obsession.
We met in a small town between us for their semi-annual city-wide sale called "Crazy Days." We woke before dawn to beat other bargain hunters to the mall or the gift shop or the local boutique. Both of us owned furniture we didn't need that was too great a deal to pass up.
I later learned it was one of her favorite memories. And mine.
Except for one incident.
One early August morning, we arrived as mall security turned the key in the lock. We had staked out the territory the night before, so we knew where we were heading—the upscale department store on the end. As we walked through the doors, I felt giddy at the 90%-off opportunities. I glanced over at Mom just in time to see her starting to stagger. She walked into a rack of clearance clothes and collapsed.
A mini-emergency ensued. Mom was unconscious. With no cell phones, store clerks and I tried to figure out what to do next. I was scared, my mind was spinning. We were both hours from home. Eight months pregnant with my first child, my immediate thought was I can't navigate the scary next years without her.
Barely 26, I couldn't imagine a life after that kind of collapse.
TYPES OF COLLAPSE
I think I've heard the word "collapse" more in the last few weeks than I ever have in my life.
Right now, it feels like our whole world is crashing down: Delta deaths, the 9/11 anniversary, the Afghan government, Florida's Surfside condo, Hurricane Ida, the Tennessee and NYC floods, California wildfires, the NOLA power grid.
Just recently, the new sunroom on my next-door neighbor's house collapsed during a re-roof. Under the weight of the new shingle stacks, it just fell in. Broken windows and twisted metal everywhere. We stood in shock as we took in the ruin from our adjacent yard.
Most collapses catch us by surprise, like the disaster next door or Mom's fainting episode. Others we fear but they never happen. Remember the Y2K computer scare that was supposed to bring down the world's infrastructure?
Any kind of collapse can be traumatic. But the worst is a spiritual one. It happens when we can no longer reconcile what we're experiencing with what we believe. It happened to me. The fault lines and weak fittings of my faith were revealed. Life started to collapse, and I felt powerless to prevent it.
From my journal:
The cardiac nurse practitioner had introduced herself the day before, as I was being admitted and undergoing tests. Today, she walked quietly into my room saying, "I'm about to pull the rug out from under you." I didn't know what else she was going to say, but I knew it was serious. She stood at the end of my hospital bed, gripping my ankle. I had known her for 24 hours, yet she had sympathetic tears in her eyes. I felt my chest caving in. "Heart failure" echoed in my ICU room and down the hall and all the way back to the secure home I had left.
CAUSES OF COLLAPSE
Physical collapses can be blamed on construction, corrosion, or cracking. A force of evil or a force of nature. It's not much different for our lives in general.
(Mom's collapse turned out to be low blood sugar. In our haste to the mall, we had skipped breakfast. My health collapse, undiagnosed for years, has been attributed to a virus.)
Our carefully-built every day can survive until it must bear a heavy burden: loss, illness, disappointment. Then what supports it is revealed. If that support is faulty, our world can collapse.
Everyone who hears my teaching and applies it to his life can be compared to a wise man who built his house on an unshakeable foundation.

(Matthew 7:24, The Passion Translation)
These were Jesus's words, but as we live them off-paper, in real-time, it gets confusing. Like His entire Sermon on the Mount, they seem to represent some unfulfilled promises in my life.
After my diagnosis, I ransacked the scriptures for answers and realized we all carry some translation of this construction story. And I realized I may have held a faulty assumption. Jesus's teaching couldn't mean we are protected from the collapse itself. Every major player in the Bible went through some sort of devastation:
When Solomon's Temple and its treasures were destroyed under a cranky king or when the cross came down holding the Savior's lifeless body. When the whole world flooded or when Job's whole world did.
We all know that even well-built structures sometimes collapse. We've seen it with tornadoes and terror attacks. No matter how we try, the force of this fallen world can tear down what we've built. Even what we've built in faith.
THE FOUNDATION REMAINS
Something I've noticed in all the collapses lately—always only what's left is the foundation. The solid part. And in those laying down times, we begin to rely on Him.
Something I've noticed in all the collapses lately—always only what's left is the foundation. The solid part. And in those laying down times, we begin to rely on Him.
Click To Tweet
As one chronic pain sufferer has experienced:
This is my hope…that when I have lost everything that makes me who I am, I will still remain, because I am held up by something more solid than myself, than my body, than my very consciousness. I am held up by a love as strong as death.

– Liuan Huska
This foundation is God's safety net. And maybe that's what Jesus was saying in His Sermon after all. The Beatitudes describe several collapses which always end in God's care. When it feels like all is gone, you can only fall so far. He never promised it won't be painful, but He did promise a threshold in the Father's arms.
What my cardiac NP didn't know, and I didn't either as plans were crashing and futures were shattering, is that even when the decorative rug was pulled out from under me, there was something underneath that would keep me from falling too far. Though I didn't see it for months, when the walls of the familiar fell in, the foundation remained.
It's often not until what we've built has collapsed and the debris is cleared that we notice the solid foundation that has been holding us all along.
It's often not until what we've built has collapsed and the debris is cleared that we notice the solid foundation that has been holding us all along.
Click To Tweet
A PLACE TO REBUILD
My neighbor is putting up a new sunroom on the same concrete slab. A re-imagined version on the exact site of the original one.
After "god-with-us" Jesus left the earth, "god-in-us" Spirit arrived on His same footprint. Job's solid faith allowed Him to begin reconstructing a life post-tragedy, too. Same thing happened with the Temple:
Let its foundations be retained.

(Ezra 6:3, ESV).
Built precisely at the place of the first one, the restored Temple marked a fresh start—the renewal of Jewish life after the devastation of exile. It signaled a new role for the people themselves as builders. And the second Temple would occupy a greater place in Judean life than Solomon's Temple ever did.
Every collapse clears the site for what's next and gives us a place to start looking at a blueprint again. After all, as author Katherine Wolfe says,
We're all living some version of a second chance.
There would be other family collapses in the thirty years that followed that mall incident: a string of unexpected early deaths, clusters of financial hurts, numerous health crises, scattered life disappointments. But somehow, we always survived. Even when all that was left was the foundation. We only fell so far.
I lost both Mom and Dad this last year and I feel no more ready for that collapse than I was that crazy day at the mall. But now I can clearly see the faith foundation they laid for me.
And, with my heart failure stable and my first grandchild on the way, I feel ready to begin building again.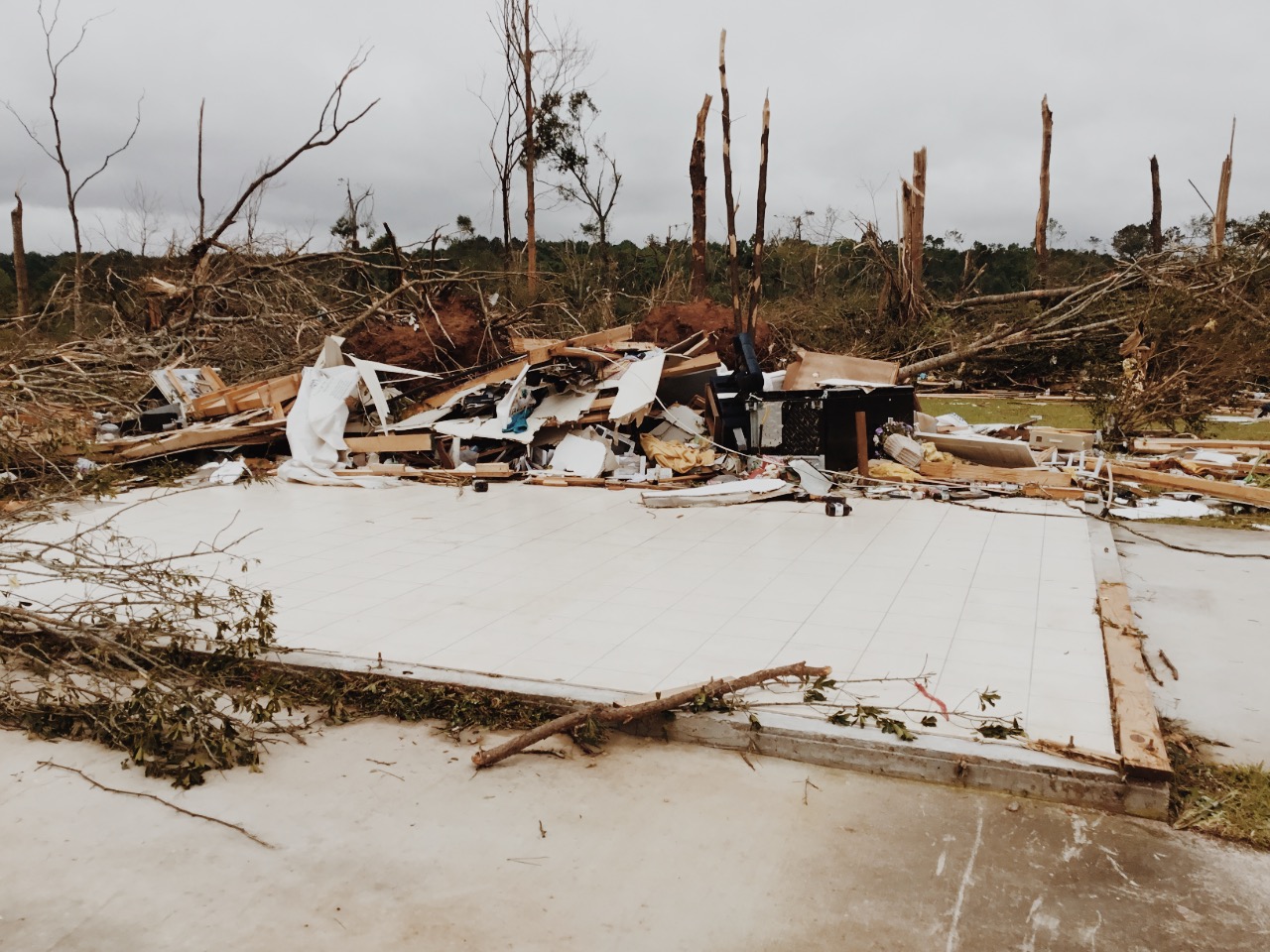 Please follow and like us: