I am an ardent fan of trees, especially large, old ones.
We searched for almost two years before we found a house with a yard full of mature oaks. My daughter was even married beneath their branches.  It was my happy place.
But like grown children leaving the nest, they have gradually begun to disappear. Some trees are gone due to age, a few because of disease, still others following ice storms. Losing one every couple of years didn't seem to be that painful, or noticeable.
Last week, five 100-foot oaks fell in our backyard and consumed at least as many smaller trees in their wake. The wet, shallow root balls were no match for a strong August straight wind. One succumbed to the weight and then dominoed into the others. Collapsing one by one, our yard became a graveyard for trees older than anyone in my family.
It is a sobering, humbling scene.
I am reminded again of loss and how it can be swift and crushing and out of our control.  Those mammoth horizontal trunks make me feel so small and powerless, as they lay like slain dragons across our backyard.  It seems as though the kingdom has fallen.
The devastation of the entire yard seems too much to take in.  Right now, while we wait for overbooked tree crews to arrive, I am trying to look away.  Pretending to not see the withering leaves and the craters from uprooted decades of growing. To protect myself from a loss I can do nothing to redeem.  No money or skill or pleading could make it right again.
Even after the mess is finally cleaned up, nothing will seem quite the way it used to be.
But in the middle of the hurt, I tell myself,
It's only trees. Thank God no one was injured. Others didn't fare so well.
The same week, a seven-year-old girl lies in a hospital in Wisconsin, with thousands praying her through a traumatic brain injury from a freak accident.
My daughter texts pictures of another Malibu fire she can see from her college campus.  That community still shudders in the wake of the massive Woolsey fire from ten months ago that devoured 97,000 acres, 1500 structures, and three lives.
As I write this, Dorian threatens to hit the east coast as a Category 4 Hurricane.  Dozens of cities scramble to prepare.
Funerals begin for victims of yet another shooting in Texas.
A family friend is battling through cancer with her husband for the second time. Another dear friend reimagines life without her husband lost to cancer a few months ago.
And I'm worried that my backyard is destroyed?
I have felt this comparison trap with others in my own illness.  From my journal:
It continually amazes me that people with their own lives and worries and heartaches still pray for me every day. I can actually feel guilty about that. I have had my stint on the prayer list, and it should be time for someone newer, sicker, needier. Sometimes it is good to have the focus of attention off my health, but I can never take comfort in someone else's illness or life situation being worse than mine.  Because I feel like I carry part of their worry in my heart as well. And that trap snaps both ways. Sometimes, after almost four years in heart failure, I think people are afraid to confide in me with their hurts because they think, "How can my concerns compare to hers?"
Our loss can never be compensated by another's greater loss. And feeling our own loss doesn't discount someone else's pain. Because somehow we all share each loss. It's why mass shootings and childhood cancer hurt so much even when we don't know the victims.
Loss makes us all part of the same Divine story in distinctive ways.

Even when our loss seems humanly insignificant.
Scripture tells us who this Author is:  a God who rather than loving us from afar, always chooses to be part of the smallness of our lives. A God from whose care nothing escapes. A God who knows when a single sparrow falls from the sky, or when a single hair falls from my head.
Or when trees fall from my yard.
Jesus never said Qualify for My peace and grace by proving the size of your loss. He said "Come to me, ALL who are weary and burdened, and I will give you rest." He treated the wedding wine miracle with the same care and investment as He did in raising Jairus's daughter.
In Jesus's economy, there are no deductibles.

All loss is significant and worth covering.
Because He knows that with any loss, it is more than the thing that is missing. It is memories of what was, and plans of how life was "supposed" to be going forward. Like planting a tree, we expect to always be there to provide shade and shelter and beauty.
My trees matter to God.
After all, trees have always had a main role in His story of loss and redemption.
They are mentioned in the bible more than any living thing other than man and God Himself.  As Matthew Sleeth noted in his book "Reforesting Faith," every important event in the bible was marked by a tree or some part of it: a branch, a seed, a bush, even a stump.  Trees speak to us of our lives and our place in growing God's kingdom.  A tree is a long-term project, like sharing faith.  Hoping it takes root, hoping it provides refuge.
And both Eden's tree and Calvary's tree usher in the deep loss necessary for understanding the power of God through that faith.
God never asks us to ignore a loss. He never looks away, and we shouldn't either. Because in feeling the loss, in seeing the emptiness, we come to the understanding of our great need for Him, in all aspects of our lives.
So I will experience my loss and be different for it. I will be thankful for those who planted or preserved my trees all those years ago. I will commit to plant a tree that will take a century to grow. One that I can never see a child climb or a family rest beneath. Stepping into the future with a foot that will never touch its foreign soil, but with a shared faith that will help another on her loss-laden journey.
Whatever loss we're facing, even if it seems small in comparison to others, it's not small to Jesus.  And we can know that our mighty God is already at work making everything new.
Recovering from all kinds of loss, we are each a unique part of His redemptive story.
Just like my yard will be for years to come.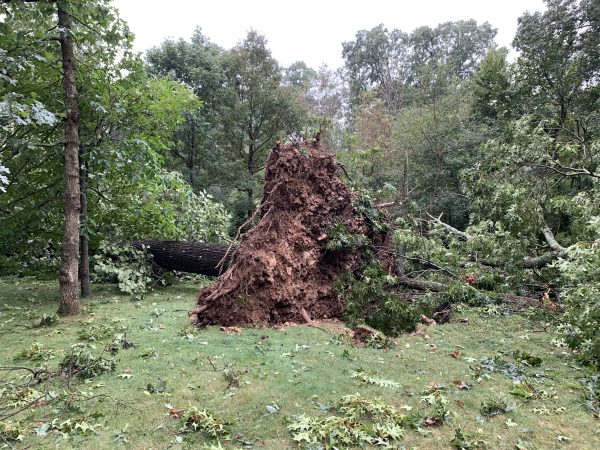 Please follow and like us: