"Let go!  Let go!"
Our young adult friends yelled in unison from the swollen river's bank, some reaching a panicked tone.
The canoe my thrill-seeking new husband and I were floating in had taken a corner too fast, and capsized.  He immediately let go, went under, and then popped up on the far side of a downed branch. I, on the other hand, was holding tightly to said branch as the sideways canoe slammed repeatedly into my torso.
Unwilling to release my grip on that tree, I clung for several minutes. My husband pleaded, my friends urged.
I had my reasons for not letting go. I didn't trust my swimming ability. I was wearing contact lenses (the kind you replaced once a year).  I didn't want to get my freshly permed hair wet.  But more than anything, I refused to release my last shred of control.
Finally, after I could no longer hold myself up, I let go, still petrified that I would drown in the fast-moving water or get tangled in more branches under the canoe. Amazingly, I went under and popped up right about where my husband had.
When my ears cleared, I could hear everyone clapping.
And I could feel my husband's arms securely around me.
I was safe even in the middle of the rapid river.
But first, I had to let go.
Somehow, in all of life, continuing the struggle often seems easier to do.
When I got bad news about my heart function last month, my first instinct was to draw the battle lines and rally the troops. I was primed for a fight.
From my journal:
At least we don't have to fight the battle that my decrease could be due to inadequate care since Cleveland Clinic is the world's heart authority.  But there is still plenty of struggle. With this chronic, progressive disease, I'm winning when I can slow it down, or hold it steady. The reality is, right now I'm losing. I'm going to double down on low sodium, rest, and walking my daily 10,000 steps until I return to Cleveland in a few weeks.  At least I'll be doing my part to get my life back.
But the truth is, after three and a half years, this warrior is weary.  (Or as we are becoming accustomed to saying in our house, "Momma is tired.")
When we're in a perpetual fight, with chronic illness or anything else in life, we wear ourselves out.  The ongoing burden becomes too heavy to carry.  But the fight, the burden, was never meant to be ours.
The Lord will fight for you; you need only to be still.  Exodus 14:14
It seems the striving part for me comes naturally. Sometimes I feel like I've been fighting all my life.  (My husband might use the word "stubborn.") Fighting for a ranking in grad school, a position at work. Fighting deadlines or budgets or decisions I have no real control over, or just plain injustice.  And in all that struggle I have learned something.
At some point, you have to let go of the fight.
Because sometimes to win, you have to surrender.
I have practiced some letting go:  remnants of time or money or possessions. Even in the canoe fiasco, I released my grip on our garage sale cooler (after some coaxing), not knowing if it would end up with a new family downstream.  I am good at surrendering what I want to surrender. Which, in the end, is no surrender at all.
God wants us to yield to His all-encompassing plan, to the complete package.
Total surrender is a difficult concept for a fighter.  I resist surgery and airplane travel and even pedicures, because giving up that much control is painful and risky.  And often difficult to understand.
The completely-human nature of Jesus questioned God's plan at Gethsemane:
Going a little ahead, he fell on his face, praying, "My Father, if there is any way, get me out of this. But please, not what I want. You, what do you want?"
Matthew 26:39, The Message
Jesus knew to feel the safety of the Father's arms, we have to let go.
We have to surrender to the One who has always been fighting on our side.  The One who has already won.  It should be an easy sell.  The problem is, fighters are wired to resist surrender.
But I've been learning to see surrender in a new light:
Surrender is not a passive giving in, but an active going on.
Surrender is not a defeat, but a detour from our own plan.
Surrender is not giving up, it's giving it over… to Someone stronger.
Surrender is showing devotion to God by trusting that His way is better than ours.
Instead of limiting our options or confining us, surrender breaks open God's glorious potential for our lives.
The active trust of surrender propels us into God's story.
Since my last trip to the Cleveland Clinic when my canoe capsized, I've been clinging to a branch:  the outcome. The water of trouble is pulling hard, threatening to drag me under.  But as Eckhart Tolle says, it is an act of far greater power to let something go than to hold onto it.  And the power we tap into is from God.
Rather than the outcome, I should have been clinging to God, trusting Him for the end of the story.
As with Moses's staff-turned-snake, we first have to lay down what's in our hand:  we have to surrender our own strength to gain His. We must do what we can, but leave the final result in God's hands.
In doing this, we begin to realize what God wanted us to know all along:  the outcome doesn't depend on our power or ability, but His.
When I finally let go of that branch on our ill-fated canoe trip, it was one of the most difficult things I'd done in my 25 years of life.  Decades later, as the rushing waters of heart failure have swept in, I've had to re-learn how to let go.
So, what is the new plan, post-heart-failure diagnosis? That's just it.  I don't know. And I get frustrated when it seems the doctors don't know either.  But the Holy Spirit is laboring to help me find peace even without answers.
A complete surrender also requires that.
And I have a feeling when I get enough courage to let go of that branch, He'll be right there to catch me.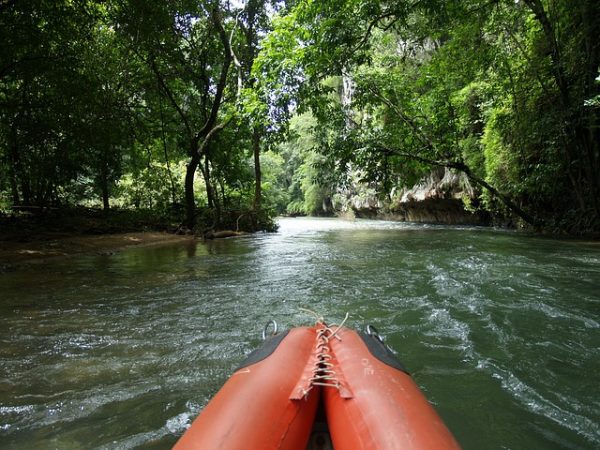 Please follow and like us: