Functional rather than attractive, it never seemed odd or significant that we called it the "utility room" growing up. After a major remodel gobbled up our one-car garage, this tiny room became both a laundry room and miscellaneous storage. It was where our washer and dryer and muddy boots lived, and it's where my miniature dachshunds mostly lived, too.
The days they weren't tied to the clothesline to guard their short, wandering legs from the path of farm trucks and machinery, I sequestered them in the utility room.
For practical, purposeful protection.
Even though I grew up on a sprawling Kansas wheat farm, I shrunk their world into 24 square feet. I did the same with other pets, too: rabbits forced into a tiny hutch, kittens shut in the small milkshed.
I've thought back many times on my consuming fear that my animals would die. Turns out, every single one of them did. Some even on the same road I tried to protect them from.
FEARING DEATH
Becoming a mom or a heart failure patient didn't do anything to quell this fear. Though I was sure I didn't leave a forwarding address, the familiar fear found me again in adulthood.
In Hebrews chapter 2, the writer was talking about me when pointing to those who "cower through life, scared to death of death." (MSG)
Something tells me the Spirit included this verse because He understands our struggle:
Death is inevitable, it feels final, and it feels unknown. 
Perhaps it's where we've all been this last year, trembling in a world filled with reminders of our own mortality. Jarring images of refrigerated trucks gathering bodies in New York City confirmed that even highly-developed nations encounter unexpected, uncontrollable death. Our fear grew as the monster virus closed in on us.
According to some translations of the bible, this fear of death can make us more like slaves. Even when our fear is warranted.
Fear of death can make us more like slaves. Even when our fear is warranted.
Click To Tweet
And often it's not just our own death we're cowering from. We could be constrained by the fear of losing someone we love, like my little dogs in the utility room.
Either way, we pull in and do anything we can to try to control that fear.
SHRINKING TO COPE
A doctor friend told me early in my heart failure diagnosis that the heart is the only muscle in the body that can't repair itself. Once damaged, it can compensate in other ways or rely on meds or mechanical devices, but it doesn't heal. Instead, it forms nonfunctioning scar tissue. Unlike bones that mend or tendons that self-repair, the heart doesn't produce new heart tissue. Once it's gone, it's gone. The heart can't regenerate.
When I learned that, I did a hard pull-back. I cowered. I wanted to believe I had half my life ahead of me and yet, my heart could never be what it was. It could only limp along. So, I set out to preserve the number of beats I had left. I lived short, eventless days to save up ticks of my heart.
I felt things go into slow motion in my life. I felt my days go from flourishing to something much smaller.
As I'm sure all my pets did, I soon learned that was dangerous and tight territory to set up permanent residence. For me and all those I love.
Months after suffering through his own case of COVID, my husband finally laced up his beloved running shoes, against my advice. As he did, I remembered his newly-diagnosed Mild Aortic Aneurysm, and I remembered the words of a favorite writer:
You're going to have to figure out how to live without knowing when you die.

– Ann Voskamp
HE'S BEEN THERE
God understands our tendency to cower and shrink. His Book has plenty to say about fear and death. But even more than these worries, its pages overflow with unbridled hope.
And the most hopeful news is this: God is at His best when we are at our worst.
He is greatest when our own world seems smallest.
God is at His best when we are at our worst. He is greatest when our own world seems smallest.
Click To Tweet
Throughout the book of Hebrews, the main message is Jesus is greater—greater than any tradition, any person, any fear. Even death. By breaking the power of death, He broke us out of our small, fearful world into His boundless realm of hope. This One who dove deep into death for us showed us we have nothing to fear.
By embracing death, taking it into Himself, He destroyed the Devil's hold on death and freed all who cower through life, scared to death of death. Hebrews 2:15 MSG
Still, Jesus did die, and most of His closest followers also died. He didn't set God's children free from the expectation of physical death, but from the fear of death.
Here's the catch: We can't be free from something if we've never felt bound by it.
So, it seems we can't be set free from fear if we don't first feel it.
FEELING THE FEAR
Even on their best days, my lively little dogs were clipped to a 20-foot run of clothesline—my ingenious idea to allow them a measure of freedom during the day.
It was a feeble attempt to expand their world.
By the time I got home from school, the dogs could move merely inches. They inevitably wrapped themselves tightly and helplessly around the end poles. I never understood why they couldn't unwind themselves from that predicament.
We lived much of 2020 this same way. Wound up tight, running ourselves in circles to escape fear:
Fear of the virus.
Fear of life forever changing.
Fear of some things never changing.
But chronic illness has taught me something I couldn't see back in my pet-protecting period— Sometimes feeling that fear is just what we need…to remember to live.
From my journal:
Every time my heart lurches or has a spasm, every time my defibrillator alarm warns, I stop the busyness of life for that brief second. I put my hand over my failing heart and I remember how short and unpredictable life can be. I remember the gift that it is. I remember the thin line we walk between the grocery store and Eternity. I remember the people who will remember me. I remember to remember. That is the gift Jesus wanted for us at the Last Supper and when Noah was liberated from the ark to the fabulous rainbow and when the Israelites stacked rocks along the shores of the Jordan river. If we can remember, we can hold on to what we know about God and His short but sweet miracle that is human life. And we can move on while straddling the line this side of Heaven.
Hope is a story we can't fully remember without recalling fear. By reframing this fear, by spending less time shrinking back in fear and more time feeling it, we remember to remember about our good God. And an even bigger transformation happens within us.
GETTING FREE
Admitting our powerlessness over death unleashes us from the fear of it.
Psychologists agree: Fear is instructive, and it points out hazards. That's never more true than when we're wrestling the fear of death.
When we open up to the fear and reality of dying, we are freed from the bondage of carrying the heavy unknown. Recognizing our inevitable death releases us to live, rather than constantly preserve and protect. As we move from defense to offense, we shift our focus from escaping demise to encountering the Divine.
On hard days and easier days, amid joy and pain, I've come to embrace mortality reminders as strange but good gifts. They can ground me as a mortal before God.

– J Todd Billings
But it's not an easy assignment. It takes deep hope and broken-in faith to know the state of our bodies will not be the measure of our lives. And in this realization, we are admitting that the narrative of God's Story is much larger than our own life's brief chapter.
Whether we live a few years or a dozen decades, we must view it all through a wide-angle lens:
Everyone comes naked from their mother's womb, and as everyone comes, so they depart. Ecc 5:15 (NIV).
THE REAL UTILITY
Besides the dogs, our farm utility room contained a closet full of hand tools and warm, worn coats. It held two pungent green trash cans and an aqua blue sink with a well-used bar of Lava soap in the corner. If you needed a can of WD-40, the ice cream freezer, or a clothespin, you could find it there.
Utility refers to something practical and useful. But my business degrees remind me that the concept of utility is also used to model worth or value. That little space was handy for containing my dogs and farm essentials, but maybe there was more to its true value.
Maybe the real utility of that room is how it modeled the transformation of my faith, from one like that small pet prison, cowering and fearful of death, to one more complete:
A faith for real life, most days still more functional than attractive.
Yet now a faith unleashed and unconfined.
An expansive, fear-facing, death-accepting, hope-producing one.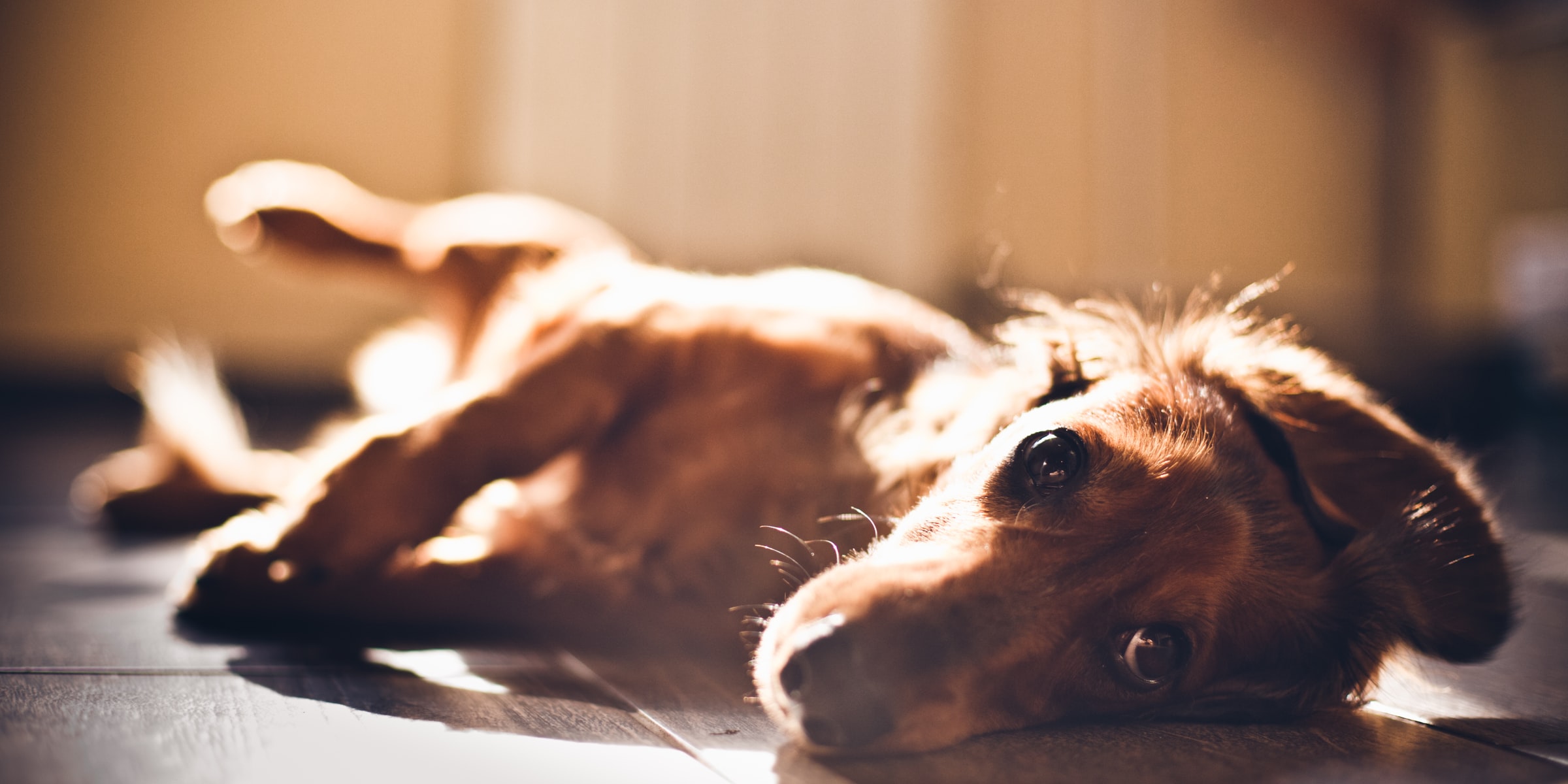 Please follow and like us: