by Lindsey Bell
As a child, it never occurred to me that life might not work out exactly as I planned. 
Maybe it should have. Maybe most people don't dream in fairy tales.  
But I certainly did. At least back then. 
I'm in a new season of life now. One that no longer expects the fairy tale happy ending. 
But I'm getting ahead of myself. 
Let's back up to the beginning of this new season, which actually started about 10 years ago for me. 
FAIRY TALE VS. REALITY 
My husband and I had our first child when I was 24 years old. We had some complications during that pregnancy, but I was able to carry him full term and he was born healthy and happy. 
Fast forward two years, and we found out we were expecting our second child. All three of us were thrilled. 
Once we saw that healthy heartbeat, we shared the news. Baby Bell #2 was on the way….
Until he wasn't. 
A few weeks after that first ultrasound, we went back in for a routine scan and saw a still baby on the screen instead of a healthy, wiggling one. Our baby – that we couldn't wait to hold – was gone. Over the next year and a half, we lost 3 more babies that we dreamed about, prayed for, and longed to hold. Four miscarriages in two years shattered my dreams about our family and our life. 
For several years after that, I fought our reality. I still wanted the fairy tale, and I tried everything in my power to force that happy ending. 
A NEW SEASON OF ACCEPTANCE 
Eventually, though, I began to accept our reality. 
It is this new season of acceptance that I am walking in now.  
God didn't fix our secondary infertility. We never got what people in the miscarriage community call a "rainbow baby" (or baby after loss).  
What we did get, however, were other blessings in the midst of our pain. Blessings like the foster children we were able to give a home to for a short time.Or like our friends and family who showed us the love of Jesus through their kindness and compassion during our season of grief. Or like our other son we were able to adopt, whose adoption was the direct result of our miscarriages. 
No, God didn't fix our infertility, but He didn't leave us alone either. 
And I'm learning to accept this new reality…this reality that God might not give us the life we imagined.  
He might not organize events like we wish he would or give us our unspoken desires. 
But maybe that's okay.  
Maybe there's something to be said about NOT receiving everything we desire on this side of heaven. 
Maybe there's something to be said about continuing to long for more. 
Because maybe that "more" we are longing for is actually HIM.  
I can't pretend to understand God's ways, or why he does or does not do certain things. But I do want to share some things that have helped me during this season of learning to accept the life we have (even when it's not exactly the life I imagined). 
With the new year upon us, it's the perfect time to begin implementing some of these strategies. 
HOW TO ACCEPT THE LIFE YOU HAVE  
 The first step in learning to accept your reality is to look for the blessings. 
Focus on those things, rather than on the things that are missing.   
For the longest time, I focused on what God WAS NOT doing in my life (ie, fixing our secondary infertility), and I failed to focus on what he WAS doing as a result.  
I lost so much precious time wallowing in what I didn't have when I should have been looking at what (and who) was right in front of me. 
Another thing that helped me accept my reality was to simply keep doing what I knew I needed to do.  
For a few years after our miscarriages, I stopped regularly praying and reading my Bible because it felt empty and useless. I felt abandoned by God…like my prayers didn't go past the ceiling anyway…and these feelings led me to stop doing the spiritual disciplines I used to do on a daily basis. 
During this new season of acceptance, though, I have learned to do "the next right thing," especially in regard to my faith and especially when I might not "feel" like doing it.  
After all, we don't read the Bible and pray so God will give us what we want; we read the Bible and pray so we can know Him more.  
And in knowing Him more, I am slowly coming to accept that He does still love me, even when my feelings might suggest otherwise. 
Finally, I remind myself often that I cannot see the full picture. But God can.  
I don't know how my life story is going to turn out, but God does.  
In this new season of acceptance, I am telling myself often that I can trust the author of my story, even if at times it feels like I'm on the losing side. (Spoiler alert – I'm not!) 
The truth is, when we are on God's side, there will be a happy ending eventually.  
No, it might not be that fairy tale ending I always imagined, but it'll be happy nonetheless.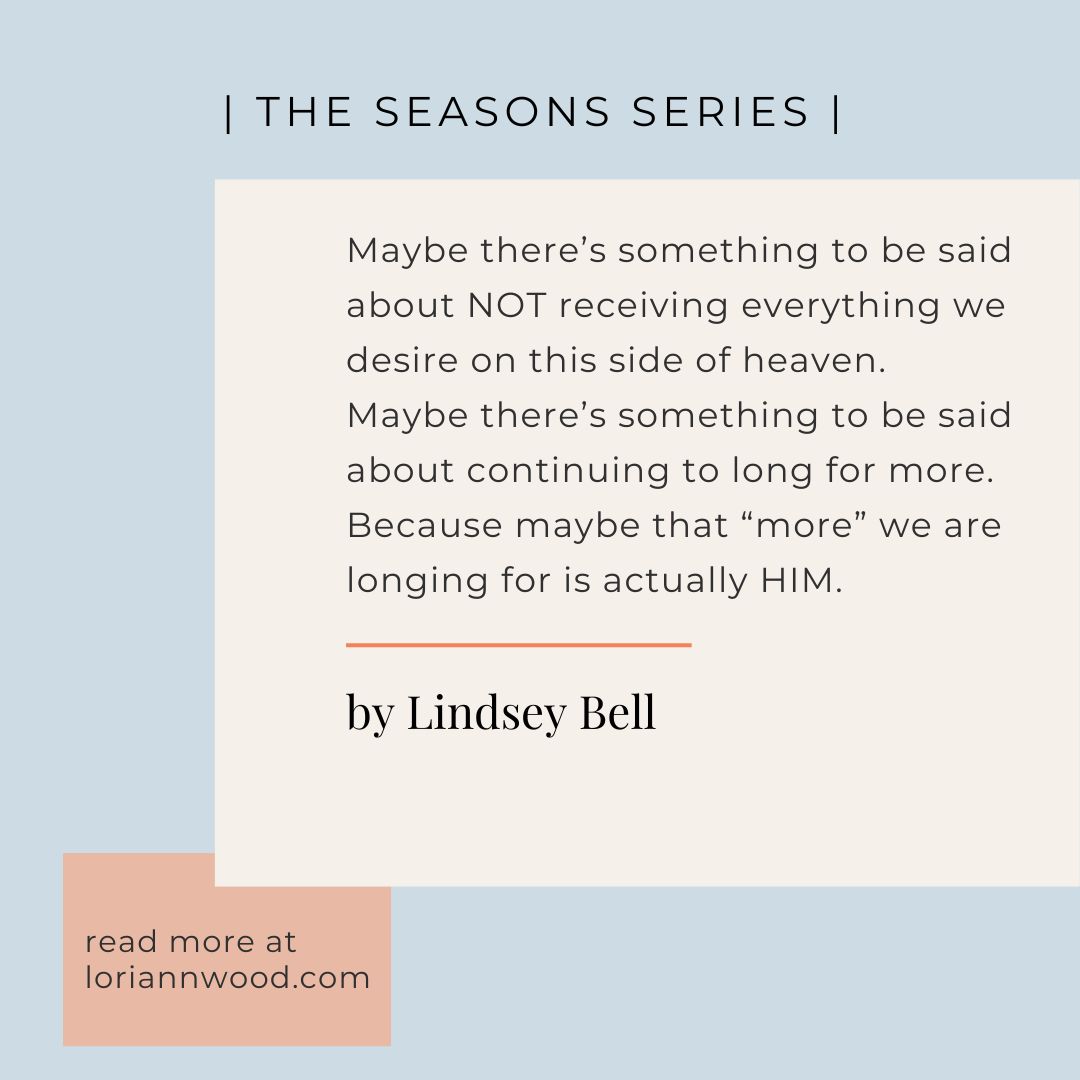 ---
About Lindsey
Lindsey is the author of two stand alone books, Unbeaten and Searching for Sanity. She is also a contributing author to various other books including: Hello Mornings Bible studies, the Abba's Heart devotional collection, and the Big Dreams from Small Spaces devotional. Lindsey's desire is to inspire and encourage women through honest dialogue about faith, family, and learning to love the life she's been given. 
As a woman who has lost four babies to miscarriage, Lindsey loves helping others find God in the midst of heartache. Find Lindsey online at www.lindseymbell.com or on Facebook, Instagram, or Pinterest. 
Lindsey lives with her once-high-school-sweetheart-now-husband, Keith, her two children, and her dog that never leaves her side, Champion. She's an avid reader and a lover of all things chocolate. With teenage children, Lindsey is busy shuttling them around to their various activities, attending baseball and football games, and watching them grow up WAY too fast!
Please follow and like us: