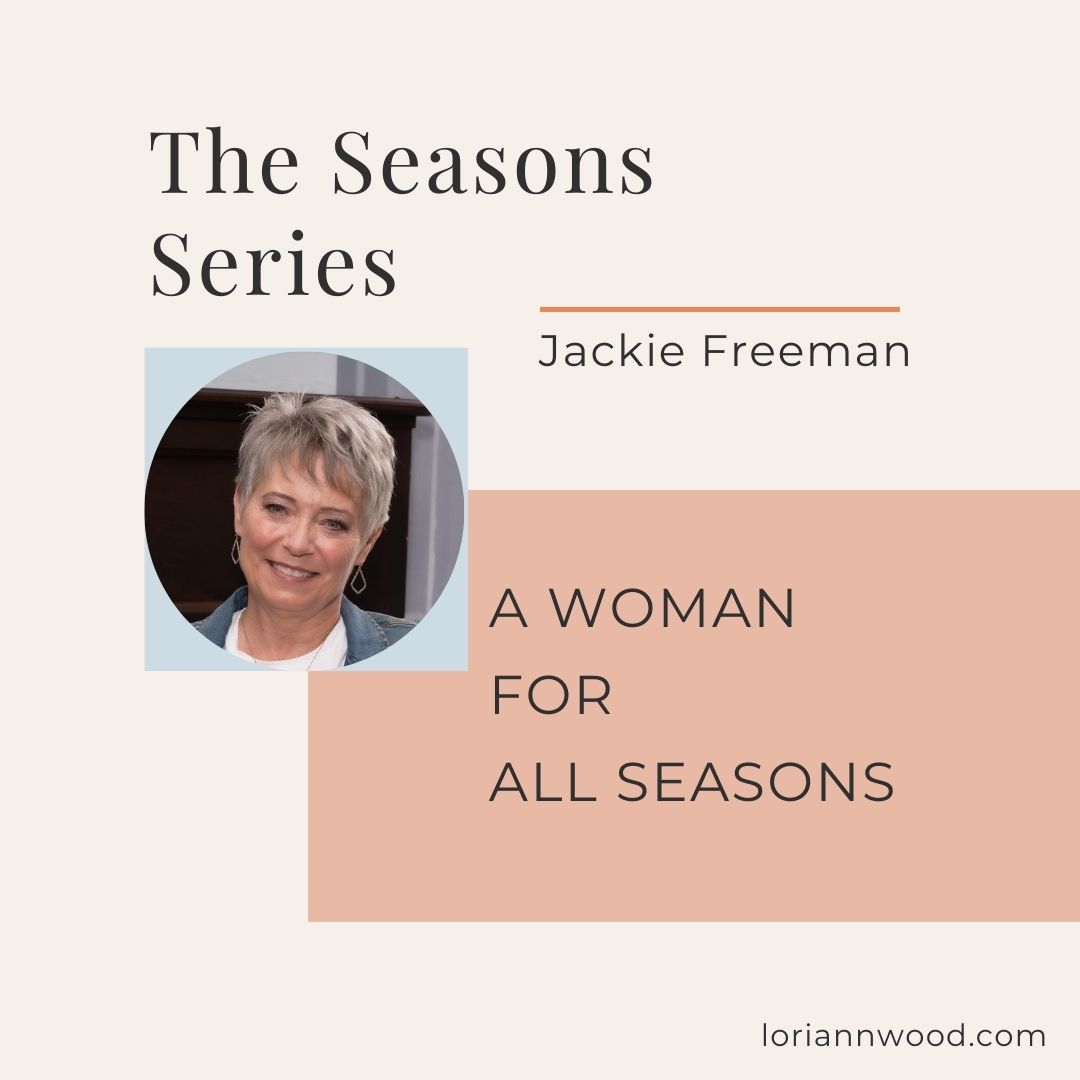 By Jackie Freeman
For everything, there is a season and a time for every matter under heaven: a time to be born, and a time to die; a time to plant, and a time to pluck up what is planted.
(Ecclesiastes 3:1-2, ESV)
"What is your favorite season?"
When I was asked that question recently, I struggled for an answer. We native Michiganders are blessed with four distinct and very satisfying seasons, and I appreciate them all.
Each quarter of the year provides us with just enough delight to anticipate the next with its unique features. Spring offers newness, growth, and a promise of beautiful things about to happen. Summer bursts with those glorious things – along with 'lazy-daisy' days. Autumn is a time for harvests, as our attention turns from flowers to fruit crops. And Winter offers quiet times for meditation, contemplation, and preparation.
MY CURRENT SEASON
Right now, I find myself literally and figuratively in Autumn, having recently passed my seventieth birthday. The world outside my window has turned its attention from the fading plants in my flower beds to the crowns of sugar maples, which advertise a forthcoming firework display of gorgeous golds, ruby reds, and rusted oranges. The first falling leaves have begun dancing in the still-warm breezes, a sure sign of what's ahead.
"But why did Summer have to disappear so quickly?"
For years, I asked that question, worried that I hadn't worked hard enough, enjoyed enough sunsets, or played with my grandkids enough. I would cling to memories of my 'young mother' summers filled with active, noisy boys who needed me to supervise swims, pierce marshmallows on sticks, and tell ghost stories by a campfire. Yet, just as my boys have grown up and formed their own families, I realize the baby birds, buzzing hummingbirds, and gorgeous butterflies I watched just weeks ago have flown away now – and so must my regrets.
In the Spring and Summer of my life, my steps had attitude, and jumping puddles was a frequent pastime. Now, I worry about creaking knees and breathless moments as I stroll up the hills on my farm. But while I cherish memories of bygone summers, I'm squaring my shoulders and entering this new season with a sense of curiosity and contentment. Like other seasons, this one promises new adventures – although it will, admittedly, place new demands on my body and mind.
Fortunately, Scripture reminds us:
Do not say, "Why were the old days better than these?" For it is not wise to ask such questions.

(Ecclesiastes 7:10, ESV)
And then the Apostle Paul reassures me:
Therefore, we do not lose heart. Though outwardly we are wasting away, yet inwardly, we are being renewed day by day.

(II Corinthians 4:16)
WORTH IN EVERY SEASON
Now I'll answer my friend's question. I won't choose one season; I'm a Woman of All Seasons. I will continue to relish the sense of wonder and anticipation I knew in the Spring of my life. I'll continue to embrace the notion of learning new things, meeting new people, and enjoying new experiences, as I did in Summer. Now, in my Autumn, I'll share my harvest of wisdom that seven decades have provided. I eagerly anticipate what lies ahead. Autumn challenges me—and, I hope, you—to adapt and continue to grow inwardly as we seek to fulfill God's mission for our lives. I am content right where I am, with who I am.
You may ask why.
Well, I wasn't always content. I once was a woman driven by too-long-to-do lists, hungry for praises, and striving for – and failing to achieve – perfection. I used to believe if I said "YES!" more often, worked faster, harder, and smarter, I could have it all. I wanted it all, and I wanted it now!
But finally, I discovered God's truth in Ecclesiastes 3:1:
For everything there is a season, a time for every activity under heaven.
CELEBRATING IN TRUST
I learned the hard way that trying to rush or alter circumstances goes against God's plans for me. Our Creator provided cycles for our benefit – seasons of anticipation, sowing, planting, harvesting, and contemplating. Accepting God's perfect timing is the source of my present state of peace. After all, Isaiah 26:3 (NLT) reminds us that the Lord will keep in perfect peace all who trust in Him, all whose thoughts are fixed on Him.
Today, there is no shortage of reminders of how precious – and fragile – life is. Just look at the news. Still, too many of us forge ahead, pushing through incredible obstacles, believing we need more money, accolades, and successes. By doing so, we fail to enjoy the wonderful Here and Now with which God has blessed us. Today is our gift – which is why it is called the present. Let's live a life of purpose now—don't lose it to an uncertain future!
I invite you to join me in nurturing a new sense of wonder as we welcome this new season. Let's celebrate —not mourn or regret—the length of our journey. After all,
Those who hope in the LORD will renew their strength. They will soar on wings like eagles; they will run and not grow weary, they will walk and not be faint.

(Isaiah 40:31, NLT).
When all else fails, remember that Autumn is the season when the trees here on the farm lose all their vibrant, colorful, dancing leaves – yet not one tree worries about its future or past. They trust in the Lord to renew their strength.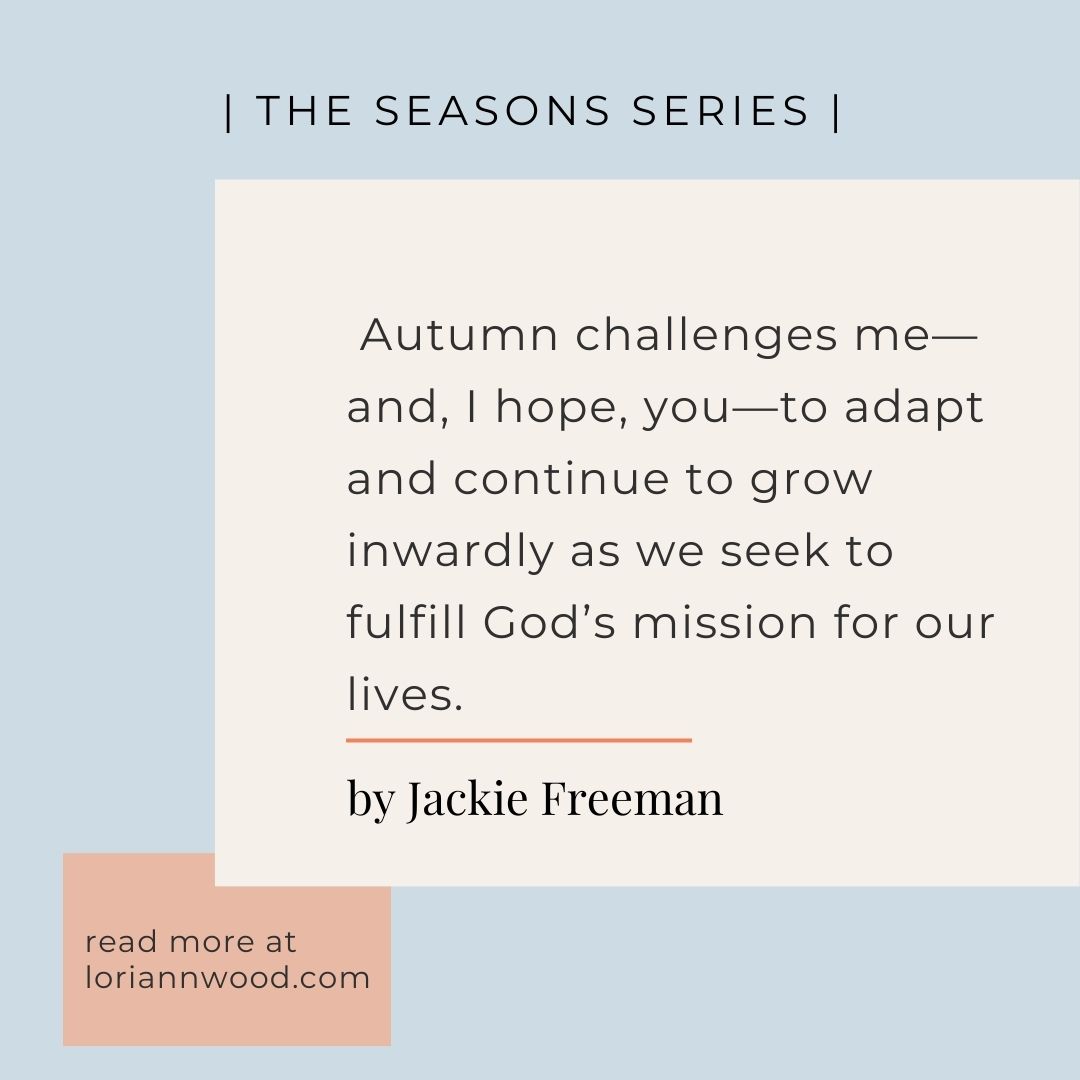 About Jackie
Jackie Freeman encourages women to walk confidently in the center of God's will, no matter the season of their lives. She holds fast to God's promises to complete the good works He began long ago and aims to help others do the same.
Jackie is an educator, speaker, and vocalist. After losing her husband and parents, she added writing to her repertoire to deal with her losses, grief, and unexpected new life. Jackie created a Joy Journal to help others reclaim joy in the midst of grief. You can Download a free copy today.
Jackie's writing addresses topics ranging from grief and loss to caregiving, family values, antics on an old Michigan farm, and contemporary women's concerns. Her devotional, Keep a Song in Your Heart, shares the wisdom embedded in the gospel songs she performed with her mother. She is also the author of two children's books: I'm Okay, Momma! and Bend Your Knees, Louise! A Pickleball Primer.
Where to find her . . .
Please follow and like us: