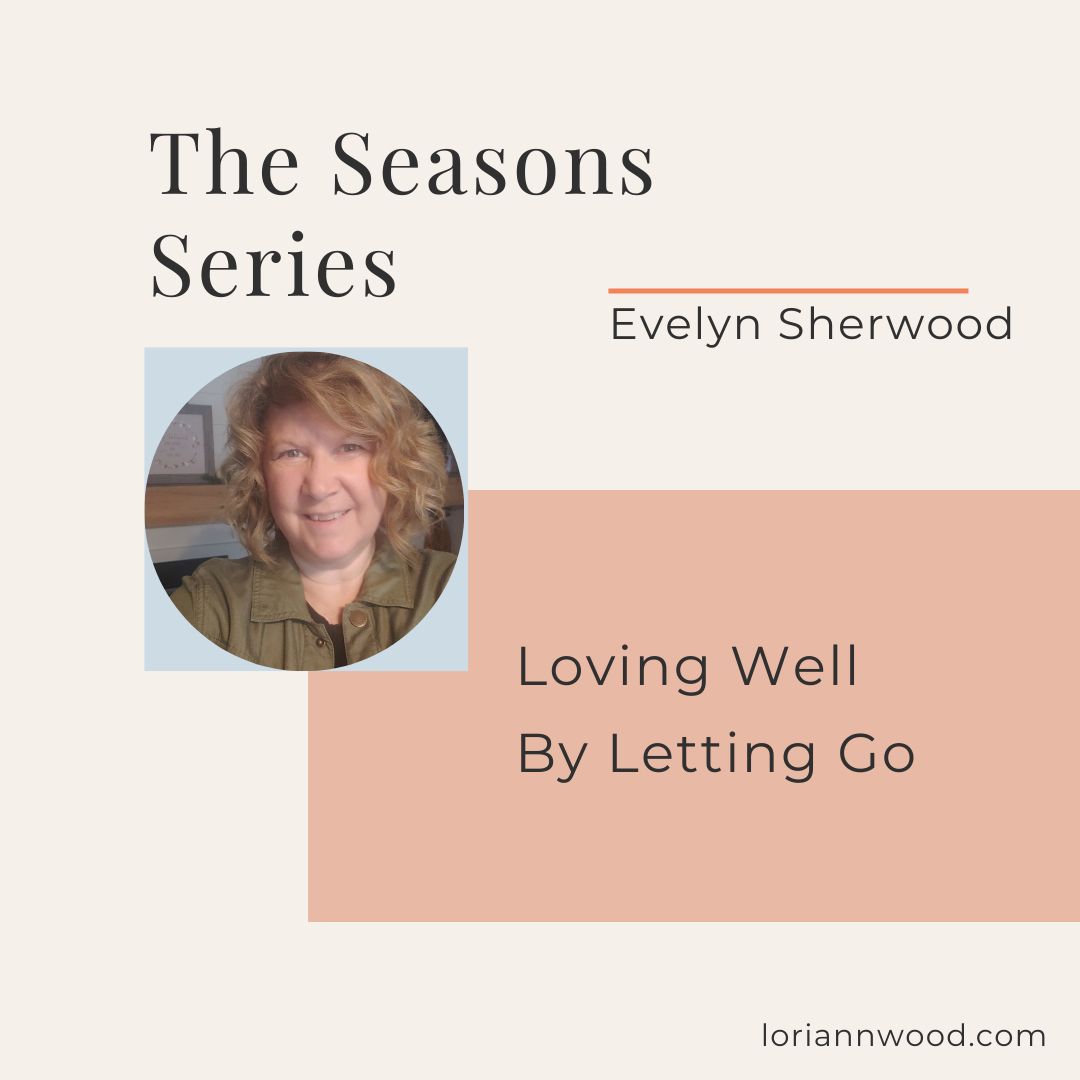 by Evelyn Sherwood
When my dad moved in with us back in June of 2019 due to congestive heart failure, I had one prayer on my lips. "Lord, help me to honor and love my dad well." Simple right? After all, how hard can it be to love and care for the one who spent decades looking out for your needs? 
In the first couple of weeks, we were all adjusting rather well. Then something shifted in me, and it was not a pleasant shift. For those on the outside of the window looking in, I was rocking this caregiving call.  I could put on the "good girl" face. 
But on the inside, my anxiety level was at a record high. What was that about? I began to pray like David, "Search me, oh God. Why am I struggling so hard to love? I don't understand where this is coming from. What is holding me back? Why am I so guarded?"
UNMET EXPECTATIONS
After weeks of crying out and letting God search my heart's motives, I was shocked when the answer came-Expectations. I had been doing all the right stuff to serve my dad. But in the secret place of my heart, I had sketched some beautiful scenes of how this new living arrangement would play out. 
We would sip coffee each morning and enjoy heartfelt conversations. The walls of our home would resonate with the laughter of grandkids laughing at Gramp's silly antics. We would gather in the living room in the evenings around a roaring fireplace, sipping hot cocoa, just to hear stories from dad's childhood. 
Over the past several months, I had unknowingly started a collection of unmet expectations. Each time a desire was unfulfilled, I gathered it like a heavy stone and added it to the pack on my back. The weight began to chafe my heart.
Have you ever been there? You love your kids but are disappointed when they fall short of your standards. You believe your spouse is going to complete you until they don't. You work hard to get a promotion, then discover that a less qualified, less experienced newbie won the coin toss. 
Hope placed in our expectations will only constrict our ability to love freely. When Jesus went to the cross, bearing the weight of guilt and sin, He did it willingly. He knew some would reject while others would receive His gift of grace. He loved not to get results but selflessly, sacrificially, and lavishly.
Unwittingly, I have been loving, hoping for a return on my investment. OUCH!!!
A PICTURE OF LOVE
So, what does love look like, and how do I live it out? 
The answer to the first question can be found in 1 Corinthians 13. Here Paul paints a beautiful picture of real love. Though I grew up hearing this chapter repeatedly, the past few months have found me leaning in and listening to the richness whispered in this chapter.
Love never gives up.
Love cares more for others than for self.
Love doesn't want what it doesn't have.
Love doesn't strut,
Doesn't have a swelled head,
Doesn't force itself on others,
Isn't always "me first,"
Doesn't fly off the handle,
Doesn't keep score of the sins of others,
Doesn't revel when others grovel,
Takes pleasure in the flowering of truth,
Puts up with anything,
Trusts God always,
Always looks for the best,
Never looks back,
But keeps going to the end.
It is the second question that plagues me. How do I live out loving well? I am still trying to figure that one out. But there are some things I know to be true about living a life of love:
It requires surrender. I must lay down my expectations, control, and life to pick up love.

I cannot do this in my strength or determination. Christ has to do this work in me and through me.  

Surrender to Christ and His greater work of love is something I must do daily, step by step if necessary if I am to be a conduit of His love. When left to my striving, I will always default back to self-preservation. 
Hanging on to that bag of expectations is exhausting. It leaves one frayed around the edges, unable to walk in freedom. So today, I choose to let go of myself and follow those nail-pierced feet along the path of love. And tomorrow, I will start all over again. Will you join me?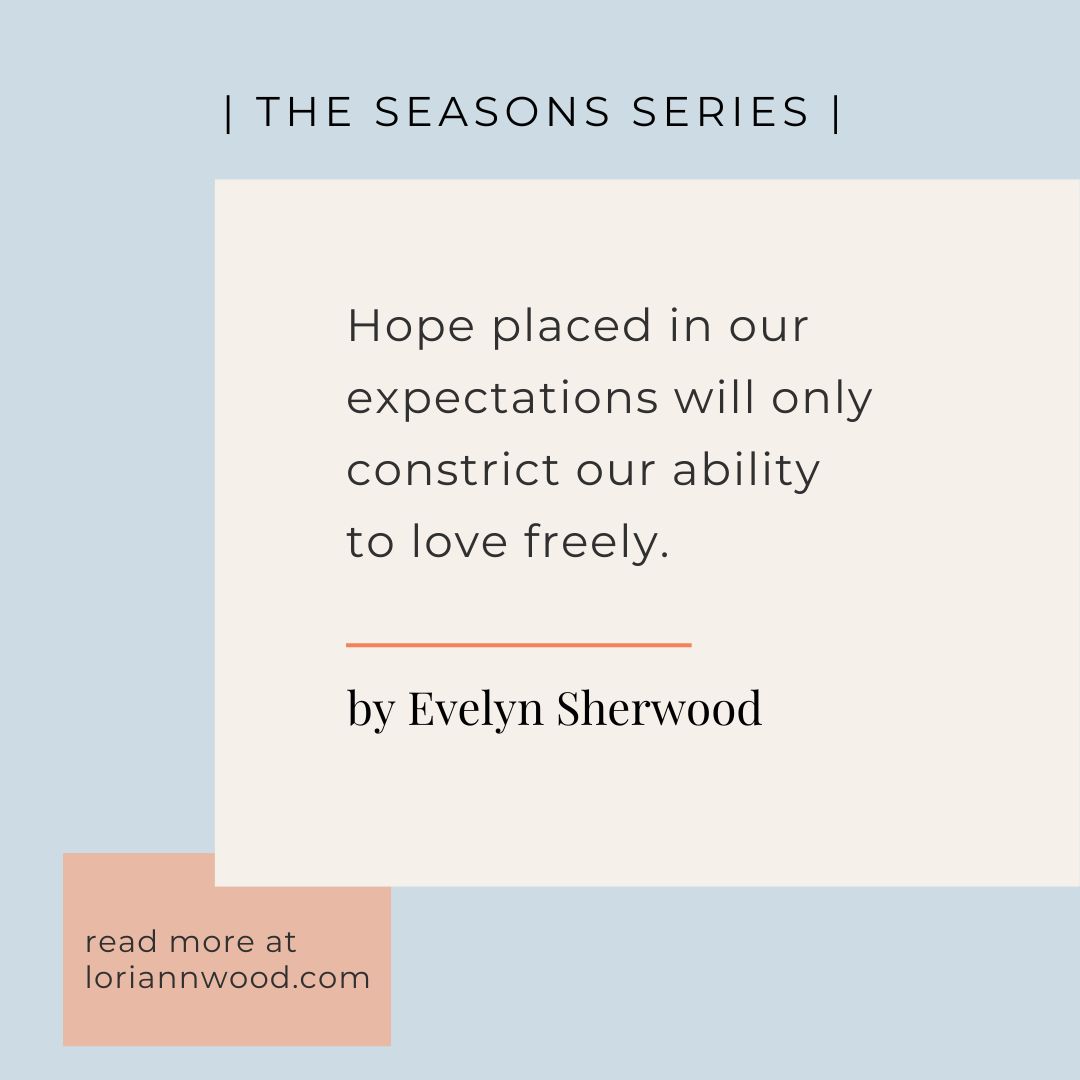 ---
About Evelyn
Evelyn Sherwood is a trusted soul-care guide, speaker, and blogger who has served in pastoral ministry for thirty-five years.  She serves an active and growing audience through her blog, evelynsherwood.com, and her bi-weekly subscription devotional Hope for the Journey, encouraging her readers to grab hold of hope in the trials by helping them recall God's work in their past. Nothing puts a smile on her face more than sharing about the faithfulness of God with a friend over a steaming cup of cappuccino or iced peach tea. On a summer evening, you might spot Evelyn and her husband, Steve, driving through Indiana farmlands in a canary yellow '47 Ford pickup or enjoying an outdoor movie night in their backyard with their eight grandkids.
Connect with Evelyn:
Please follow and like us: