Every year when temperatures pass the mid-8os, I remember.
My childhood summers always involved long days spent with my younger brother, and boredom-born adventures we dreamed up for ourselves. Sometimes it was a simple game of The Price is Right using canned vegetables from the pantry. Some days it was imaginary friends in the basement or elaborate games in the yard. We were even known to dress up a reluctant kitten for a photo shoot, or conjure up a script that featured our hamsters.
But no matter what we did, we always stuck together.
Well…we usually did.
Except for the instance I can't forget.
As June melted into July and July slipped into August, my brother and I started to run short of novel ideas. One regular weekday afternoon, I talked him into riding our banana-seat bicycles into new territory, past the sticky blacktop road that our family traveled often between home and school and church. Into the unknown land just north of our wheat farm.
Though I proudly led the expedition as the protective, older sister, with more knowledge, on a bigger bike, I wanted him to be in front so I could keep an eye on him. I remember feeling like I had our little guy's back in this new territory.
As we passed a foreign farmhouse, aggressive dogs took notice and then gave chase. I ordered a quick turnaround. My larger tires gave me an edge, and I gladly embraced it, passing my brother's frantic pedaling. I left him in the dust, within nipping distance as the dogs bared their teeth, growling at humans on wheels, a sight I'm sure they'd never seen before. Speeding as fast as I could away from the crime scene, I hoped (but never checked) that my younger sibling was doing the same.
I've thought many times what my brother must have thought as he watched me pass by, my back fading into the horizon. What about the promised protection and leadership and trust?
A FAMILIAR FEELING
It's a feeling any seasoned Christian can relate to. We have prayed and pleaded but though God at first seemed present or at least on His way, He now seems neither protective or caring. Our ongoing request remains unacknowledged and unanswered. We have no peace and the problem persists. It is though God has turned his back and passed on by, headed to other—perhaps more pressing or interesting—problems.
Meanwhile we are left pedaling against the dogs.
As anyone with chronic illness or longstanding difficulty knows, the constant drill can eat away at our belief that God cares at all. Our place of suffering can feel like a permanent address. From my journal:
Seven years into this heart failure journey, I wonder if I have already had my miracle and God has moved on to others who need it more. I wonder if my prayer warriors have run out of room on their punch card for me. I wonder if my own pleadings have exceeded their "use by" date. Perhaps I need to accept that God is no longer interested in doing anything about this long-standing condition. Maybe He has shown His majesty by keeping me alive this long, and I need to realize that He is moving on to newer problems in fresher pastures.
My thoughts bring to mind a much more seasoned believer. Moses could only see God's back and must have wondered where his protection was headed when that Protector said:
I will put you in a cleft of the rock, and I will cover you with my hand until I have passed by. Then I will take away my hand, and you shall see my back, but my face shall not be seen.

(Exodus 33:22-23, ESV)
TIGHT PLACE ON PURPOSE
What I've been learning, and other believers have learned, too, is that sometimes God puts us in a tight place to protect us, or our faith. Scripture gives us several peeks into how our God shields through difficult circumstances: Queen Esther in the dangerous castle, Noah in the ridiculed ark, even baby Moses on the threatening Nile.
His hand always covers, and sometimes keeps us from seeing the untidy workings that we don't need to know about or to be distracted by. Maybe it takes an unforgiving crevice to provide the very protection our faith needs.
Only in living in those hard places do we fully realize that we are not in control of our lives. And only there can we fully appreciate Who is.
Sometimes the miracle of God does not happen in the "healing from" but in the "living with." Sometimes, just sometimes, the "living with" is the protective tether keeping us connected to the source of our strength.

– Carla Arges
But as any passed-over-feeling believer knows, those difficult days are the ones when God feels most missing. We are squeezed into a tight circumstance, we can't fathom a way out, and we don't see Him coming to our rescue.
Trouble still exists.
And He is not here.
Only in living in hard places do we fully realize that we are not in control of our lives. And only there can we fully appreciate Who is.
Click To Tweet
PROTECTION IN PLACE
The challenge is to never mistake our suffering for His apathy. Or His absence.
It is when things go wrong, when the good things do not happen, when our prayers seem to have been lost, that God is most present. We do not need the sheltering wings when things go smoothly.

– Madeleine L'Engle
So why when He is most present, does He feel most absent?
It's a radical thought shift: Perhaps when we feel that God has turned His back on us, His protection has already been given. Sometimes, all we get to see, all we need to know, is that He's been there. When we only see God's back, He may have already shielded us and passed on by.
When we only see God's back, He may have already shielded us and passed on by.
Click To Tweet
Still, it's a difficult distinction—not here yet vs. already been here.
It's hard to tell the difference.
And we know from Scripture that sometimes God's provision doesn't look like protection until much later on. From the life of Joseph to the apostles' fate, we know many times the promised protection crosses into new generations before being recognized.
To make it even more complicated, sometimes God's eventual help doesn't look like we were expecting. We are left holding on mid-miracle, without understanding His shelter might consist of something other than a physical healing or a resolved circumstance. So like Moses, we keep pleading, "Show me your glory!" (Exodus 33:18).
We are desperate for just a glimpse into the nature of God.
Meanwhile, we are left wandering, and wondering how much longer we can survive, without seeing His forward-facing goodness in the land of the living. Not realizing it may already be there.
AN UNFOLDING OUTCOME
That day on the country road, the dogs were much more attracted to the handlebar streamers on my bike than to my brother's scrawny ankles. The dogs passed him and pursued me instead. I inadvertently took them down a side road on the way back to the house. The dogs soon lost interest and retreated. I arrived home guilty and alone, having ditched my younger sib. Ten minutes later, he showed up, pedaling casually along the road in front of the house. He thanked me for throwing off the dogs. His faith in me as lodestar and protector was intact.
I wish I could say that had been my plan all along, that I knew he had to be left behind, to see my back, to be protected. I can't claim such foresight and knowledge. But I know Someone who can.  And thankfully the Plan is already in place.
Maybe rather than having passed by, nose in the air, God has already laid the ground work for all of us. And rather than being ignored, we are just in the middle of an unfolding outcome. Where we are getting stronger, more faith-filled, and more ready for all He has prepared for us.
Rather than being ignored, we are just in the middle of an unfolding outcome. Where we are getting stronger, more faith-filled, and more ready for all He has prepared for us.
Click To Tweet
If I'd had the courage to turn and look at my brother, I'd known he was ok, that he found the nerve (and leg power) to dig in deep and survive. And looking back at him just behind me in life, I know he was always near, actually watching my back for me.
I want to commit to seeing God's back differently now, too. That instead of coldly passing me by, perhaps He is way out ahead of me, and already taken care of what I can only see looming large.
So if you're still in a hard place, feeling like God has turned His back on you, consider this:
Maybe He's already been here.
Maybe the planned protection is in place.
Maybe you are living safe—in the cleft of that difficult, solid rock—without even realizing it.
And when you see His back, maybe those nipping dogs are already in check.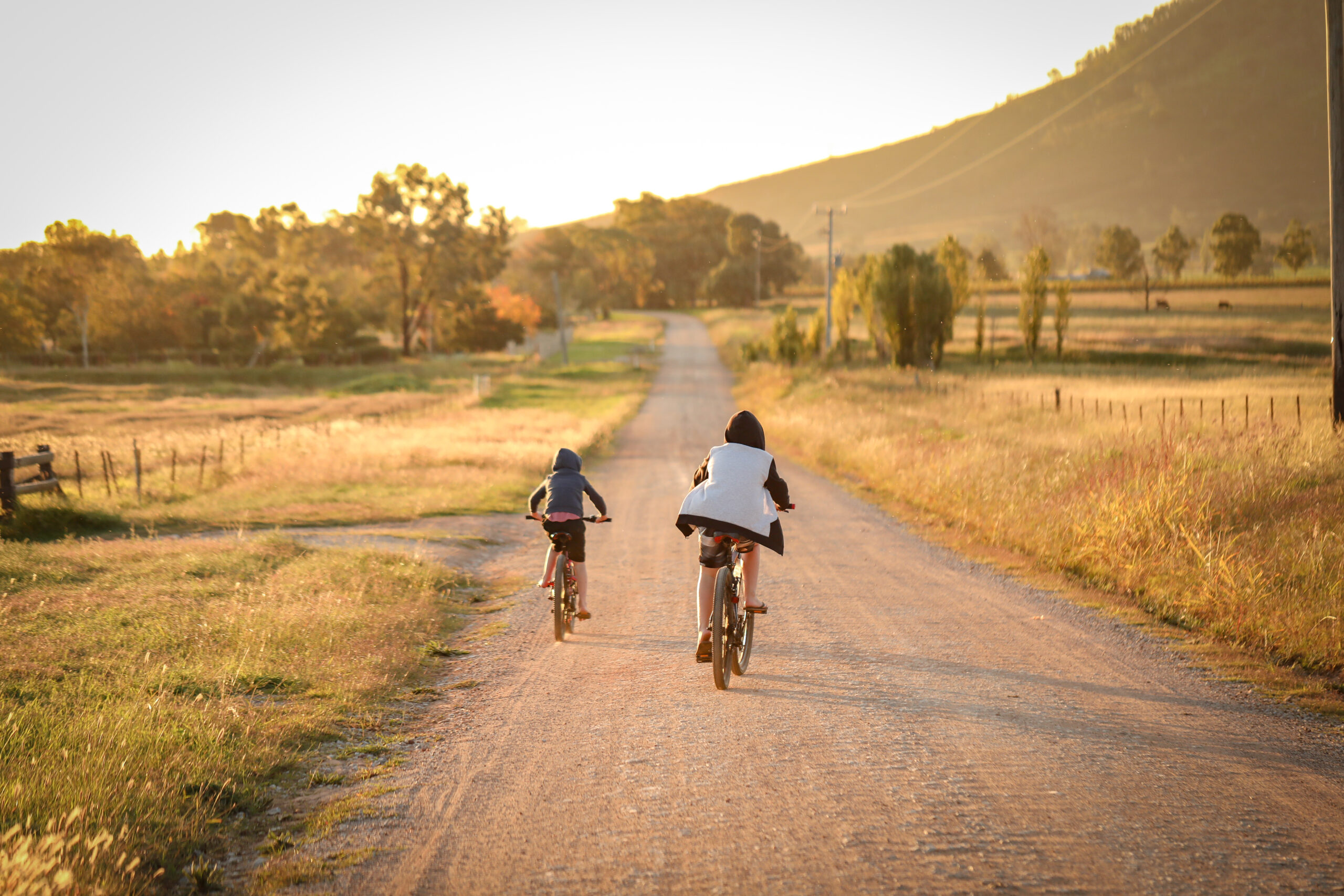 Please follow and like us: