Getting dressed for Midnight Mass as a child holds many memories:  the honor of being able to stay up past 9:00 pm, the anticipation of Christmas edging ever closer as the minutes ticked by, the excitement of seeing the neighbor's silo adorned in lights like a flickering candle.  But one memory stands out now:  the red lace cover.
We wore head coverings in those days.  Mostly simple ones, usually a lace veil or crocheted covering.  In our house we had three of them:  a black mid-length one, a red circular one, and a longer white veil. My mother, my sister and I rotated among those options according to our outfits.  My mother would choose one for us as we were leaving, and bobby pin it to our heads.  I always hoped for the long white veil.  It made me feel like a princess, covering my short brown pixie with glorious lace.
This particular Christmas my dress was mostly white, so I thought I had a good chance.  My sister's colorful dress could support any of the three.  So I closed my four-year-old eyes and waited for Mom to pin on my cover.  When I opened them, I glanced in the mirror to see it was the red one, my least favorite. It threatened to ruin my Christmas that year.
I have always thought red was a rather loud, obnoxious color.  It screams for attention and usually gets it.  I was painfully shy and the red cover made me self-conscious. Sometimes I could take it in stride by forgetting what was up there, but for Christmas?  I sulked, mostly secretly.  The last thing I wanted was to be noticed.
Schindler's List is a black and white film set during the Holocaust.  The occasional image of a little girl in a red coat is the only color seen in the film.  We see the little coat hiding under a bed from the Nazis, in a group of children playing, or in a mass of people being herded into freight cars. And then finally a flicker of red in a cart carrying dead bodies.
The little girl in the film didn't want to be seen either.  But by being seen, by being noticed by Schindler, she made a difference in a larger cause.  She made the bigger story a personal one.
Not everyone agreed with the use of the red coat icon in Schindler's List.  Movie reviewer Philip Martin said, "I did not like the way Spielberg spotlighted the girl in the red coat; it seems unnecessarily melodramatic and condescending in that it implied that the audience needed to latch on to an individual tragedy beyond the larger crime of the Holocaust."
Amazingly, that is precisely what God does.
He latches on to each of our personal stories as if we are the only one in the movie.  Not beyond the larger story, but as an integral part of it.
We've all heard the concept of an Audience of One.  Meaning we should live our lives as if only God is watching.  To take it a step further, perhaps God parents us as if we were His only child.  He literally has all the time in the world for each one of us.  And against the backdrop of this dark world, He sees each of us individually, perfectly, clearly.
Just as the universally-read red-letter words of Jesus are for the world and yet for me alone, "Are not five sparrows sold for two pennies? Yet not one of them is forgotten in God's sight."
One of my favorite authors, Frederick Beuchner, says of Schindler's girl in red:  "God sees each of us as the child in the red coat, just as His eye is on the sparrow. "
His Eye is On the Sparrow.
These may seem like strange sentiments for the Christmas season.  But it is the essence of the loosely held love the Father had for us individually, in sending His Son into this world.  Deep love bled out in red for each of us every day, felt most keenly in times of deep trouble.  My friend gave me this CD for our drive to Cleveland to get my device installed.
Remembering the little girl in red helps us as we struggle about our place, our importance, our purpose.  When we are tempted to let the "why" of living enter our minds and then tumble from our lips.  The red covering gives us assurance of His protection, outside of our understanding.
From One tiny Babe to one tiny person.  One tiny person in a world of warring politics and world plans, global warming and garnered wind farms.  He can see us in all His plans.  He walks with us and works within us.  Every single day.  Just that one little child in red.
At Mass that Christmas Eve, the church was more full than usual.  So we traipsed up the tight staircase to the choir loft for seats. Following the final carol, I got up quickly and left a mitten in my chair.  When I noticed and went back for it, I got separated from my family.  Everyone looked unfamiliar.  And so much taller than I was.  Panic was starting to set in.  Suddenly, I felt my mother's firm hand on top of my head, steering me.  Instantly, I knew it was the red cover that had identified me in the elbow-to-elbow crowd.
The red head covering I wore that Christmas Eve was not a mark of shame.  It was a mark of claim.  It didn't save me from the pain of getting lost, but it helped me get home.
I am His, bought with the blood. Borne by the Babe.
I think I'd see that red covering differently now.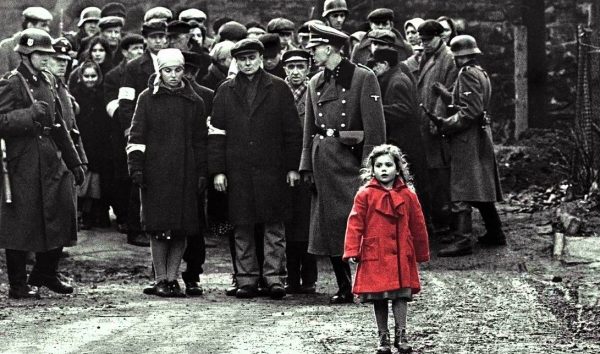 Please follow and like us: