My husband loves magic. He loves to watch Penn and Teller on TV and just about any magician on stage.  He even has his own bag of tricks.  Each child had a magic-themed birthday party when they turned seven. Mostly for their dad.
So ever since our son first started college in California seven years ago, my husband has been trying to get into the Magic Castle in Hollywood.  It is the mecca for illusionists, mentalists, and lovers of all things mysterious.  You must be invited by a member of the Academy of Magical Arts.  A bucket-lister for my husband, I was starting to give up on it.  We finally got in a few weeks ago, but it took a name.
Names open doors.  For good or for bad, this world operates like that. It always has. Melchizedek, Deborah, Solomon.  Bill Gates, Ariana Grande, Queen Elizabeth.
People often ask me how I got into the Cleveland Clinic so quickly.  I was so sick, I honestly don't know.  I do know it took a name.  Someone who knew someone had to call someone.  Names matter in this life.
Every time there is a tragedy, we want to see the names of the victims.  We agonize and research our baby names, and even our dog names.  We take polls among our friends and family, realizing the weightiness of the decision.
And we hear, on repeat, painful names earned by a hard life:  Divorced, Alcoholic, Criminal, College Drop-Out, Bankrupt, Recovering Addict, Widow. And perhaps even more damaging: Failure, Regret, Defeat.  So many names and labels we wear (and bear) in this world.
I remember seeing my chart for the first time after my diagnosis.  From my journal:
Heart failure.  I hate that label.  I've never failed at anything significant in my life.  It's not part of my DNA, but apparently it is.  Now it is part of me as much as my birthdate or social security number.  It defines me.  I don't think I will ever escape it.
The world conditions us to live up or down to the names we take on, given by others or by circumstances, or even by ourselves. Like my brother self-proclaiming that he would forever after be known as "Pro-Boy," we are thought of differently after we take on a name.  Sometimes we act differently, too.  (I can vouch for Pro-Boy, anyway.)
And our culture values the accomplishment attached to names.  When I got my heart failure diagnosis, I remember feeling a panic:  What good is my name?  What had I done with my life?  In my one short life, how will they remember me? 
We get lost in that lie. The lie that our surface labels matter.  The lie that what matters is how the world remembers me and my legacy, my name.  I have even taught classes about leaving a legacy.  But what I should have been teaching is how to be invisible.  How to be a window for others to see God.  When they look at me, I want them to see the Savior.
Because His name is actually the only one that matters.
And the angel's name for the Coming Child is my favorite:  Emmanuel.  God with us.
It reminds me that He doesn't just give us His name and then send us into the intimidating unknown without Him.  Into life alone.
God with us, Emmanuel, always:
As a baby Messiah.
As a crucified Teacher.
As a resurrected Savior.
And ultimately as God within us, the Holy Spirit.  Like the peppermint syrup in a Starbucks Peppermint Mocha, intermingled and inseparable.  Changed forever because of His presence and His name.
Not just a label we wear, but a Spirit we become.  Not a name to stick on your shirt, but a name to sink into your soul.  Into who you are.  Just as we see the light and then become the Light, we must hear the name and then become it.  We must be affected by Him.
All our other names sit on the temporary outside of who we are.
But this one goes deeper.
So deep that the door of God's eternal presence will someday open with that One Name.  Advent is the first peek of that open door.  The name knowing, name adopting, name becoming begins here.
Advent is the anticipation of the God whose name sinks deep within.
My husband looked for years for the name we could claim to enter the Magic Castle. Turns out, when we finally got in, we borrowed a name from someone we didn't know, had never met, probably never will.  I can't even remember the name now.
It was a great evening, trying to figure out how some guy swallowed a balloon, or pulled my wedding ring from a sealed envelope.  But I didn't become a better magician (or even become a magician at all) by using the name of a member of the Academy of Magical Arts.  (I don't think my husband did either, actually.)
I wasn't affected.  I wasn't changed.  Maybe because the one whose name I adopted wasn't actually with me, and never will be.  Maybe because that name never got past the surface.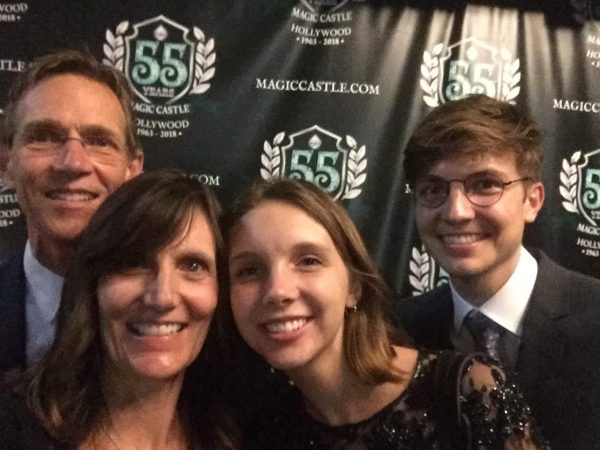 Please follow and like us: