We have (over)loaded the car: suitcases, dog crate, snacks, laptop. We have filled the gas tank for the 600-mile roundtrip.  We have adjusted the thermostat and locked the doors.  We are headed home.  Even as middle-aged empty nesters, my husband and I still say we are going "home" when we mean we are going to visit our parents.
One of my most satisfying moments as a mother comes when my own children, after having been gone for vacation, or camp, or college, walk into the house, breathe deeply, and plop down on the sofa. They have even said to me, "This just feels right."  My heart warms.  I want them to want home.
But sometimes I wonder if home feels foreign to them now.
Due to a massive construction project in our town, our house was demolished and our three-acre yard became a parking lot.  Needless to say, we had to move.  I worried that "home" for my kids would be gone.  They had grown up there, had nearly all their birthday parties, new dogs, litters of kittens, illnesses, science fair projects, sleepovers, scoldings, and Christmases, all in that physical place.  I didn't want that memory-laden location to become temporary or forgotten.  I didn't want it to seem that we had moved away from "home."
The truth is, this side of Forever, we are all sojourners, temporary residents.  On this earth, we stay only a short time.  Even when some of us live to be 110.  It is a brief visit, though we paint and pay taxes, insulate and insure, mow and mortgage.
We are all living away from home. And in so many ways, we know it.
As we suffer in an imperfect world, our sore souls and our weary bodies eventually recognize we don't belong here. We long to be pain-free, worry-free.  Tim Keller says we yearn for the Eden we were made for.  To be in Paradise.
But if we stop there, we are selling our souls short.
Just as Heaven is so much more than a new place, it is so much more than a new circumstance, too.  Home is not a Where or even a What.  It's a Who.
Heaven is Him.
A big part of why we work so hard to maintain traditions is to tie our children not to the home itself, but to us.  Just like with God.  He wants us to want Heaven, but not for the place.  For being with Him.
Still, in our deep circumstances and deep pain, sometimes our vision becomes clouded, and all we can desire is relief.  If I'm being honest, most days I long for the end of sin and disappointment and fatigue more than I long to be with God.
So am I in pursuit of the God of the universe… or the god of my universe?
Do I want Him or do I look forward more to the end of my trials, the end of my pain, the completion of my desires?  He is that, but so much more than our limited existence here can comprehend or explain or even measure.
Randy Alcorn puts it this way, "To be with God—to know him, to see him—is the central, irreducible draw of Heaven."
It will not be the golden streets or the mansion with many rooms.  It will not be our new bodies or our unburdened minds.  The draw will be to finally enjoy the complete presence of the One who loves us with abandon.  The One who sought us throughout history, the One who pursued us throughout our lives. Nothing else will much matter. The surroundings and circumstances will pale in comparison to the Who.
God's greatest gift to us is Himself.
God dug a hole to plant eternity in every heart and we yearn all our lives to fill that vacuum. It's what allows us to envision a better world.  We can taste it, and anything we experience here will always be incomplete.  The Holy Spirit dwelling in us makes us hunger for home, and more importantly, the God that makes Heaven our home.
What made me want to come home and my children want to come home, too?  Not the physical location or the house or the stuff inside.  It is that we are safe there.  And we are loved best there.  Just as in Heaven.  Our souls know that in order to be safe, we need God to be present.  Because only God can fully know us and completely love us.
Just as we moved away from the physical home that my children will recall in their childhood memories, my parents did as well.  When we visit my parents, we don't visit the home I grew up in.  After 40 years my parents moved from our family farm.  Now Americans move an average of 12 times in their lives.  But I lived all my growing-up life in one home, at one address.  My entire childhood played out in that farmhouse and the acreage surrounding it.
As I made my way to their house in town last weekend, I realized it wasn't the house I was going for. It wasn't even my mom's cooking or the thought that I might forget about my obligations and my heart failure for a few days.  I also realized I call that house "home," even though it is an address I still have to look up on my phone.
Recalling my childhood, the fifth grade spelling bee practice or the high school prom preparation, the physical surroundings are fuzzy.  The walls, even the circumstances, fade into yesterday.  But what shines clear is what still makes it home today:  the safety and the love.
The draw to home was who would be inside.
It was hearing my mother's hushed voice over coffee the next morning.
It was taking hold of my father's familiar hand as he welcomed me in.
Just like home in Heaven will be one day.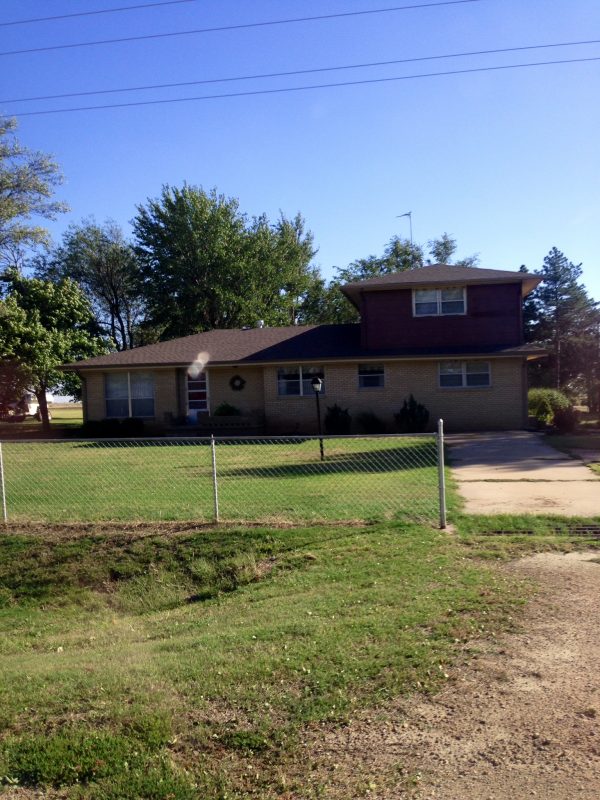 Please follow and like us: