Recently, while I was visiting my daddy in the small hospital in my hometown, I noticed the names of the longer-term patients posted outside their hospital room doors.  These patients were more than a room number; they had names.  I thought about how caring that was, to make patients feel more at home.  Reading the names on my way out late one evening, I was surprised to recognize one from my childhood:  my bus driver.
I was shocked first because to me she was 90 when I was in First Grade.  But also because I hadn't thought about her in decades.
That evening I became six years old again, and was taken back to our waiting time on the bus together. But more importantly, I was a grown, ailing woman who met another grown, ailing woman for the first time.  Peeking into the room, I didn't see my crusty bus driver.  I saw a fragile person smiling back at me. She seemed peaceful, and patient.  Her job was no longer transporting kids to school. It seemed her job was now waiting.
Sometimes on our unexpected path, our new job becomes waiting.  Just as it was for Jesus.
Henri Nouwen explained in A Spirituality of Waiting,that the last days of Jesus involved this waiting time.  Up until then, Jesus had been busy healing, touching, teaching.  Doing.  Once arrested, He found Himself waiting.  And, being fully human, that may have been His greatest agony.  But being fully God, this was also Christ's greatest lesson to us.
He had the power to end the nightmare.  But He waited.  Even in humiliation, even in pain.
And even more amazing, during that waiting, Jesus pointed to the Father before the Sanhedrin and before Pilate. By not condemning them, He witnessed to the soldiers, the thieves, the elders.  He even ministered to His own grieving mother.  Christ was active in the waiting.
God also expects us to be active in the waiting, when all we want is to sit alone in silence until our pain has passed.
When we moved to Arkansas, I noticed that people used "waiting for" and "waiting on" interchangeably. But they are different.  "Waiting for" is sitting around tapping your foot.  "Waiting on" uses the more dynamic French form of wait,  "to attend." It is where we get the titles for waiters in restaurants. It is actively serving, not passively counting the hours or days.
Likewise, in our desperation we should be waiting on God rather than waiting for God.
Waiting on God is a faithful attending.   It is acting as if you are on God's purposeful path, even if that path is one you didn't, wouldn't, choose.   Faithful attending is not passively anticipating a good result.  It is doing the hard work of waiting:  choosing courage and service and faith.  Like prison-waiting Paul:  praising and praying and proclaiming.
All the while, as Pierre Teilhard de Chardin says, "trusting in the slow work of God."  Just as Jesus had to do as He faced His mock trial.
Lent reminds us to welcome this faith-filled waiting.
Waiting on God grants us a unique and precious opportunity:  to demonstrate our devotion to God by focusing on Him rather than on our problem. During my waiting, a village helped form my vision of God:  prayer chains, friends dropping by with books and bible verses and blessings.  They kept my wait actively focused on Him. For a year and a half, a day never ended without a card, or a call, or a text.  All pointing to the God of hope, who became my only hope.
When we engage in faithful attending, in waiting on God, we start to see this God differently.
The God who waits for just a hint of faith.
The God holding His breath as we learn the truth about Whose we are.
The God whose faithful action always follows our own.
In the middle of my long wait, I made this journal entry:
I shouldn't spend my time waiting for a response from God. Just as with Abraham and Sarah, just as with Noah and Moses, His faithful action always follows our demonstrated faith in Him. This runs counter-intuitive to my "show me and then I'll believe" mentality.  I have been sitting around waiting for this blessing to fall in my lap, as if I somehow deserve it.  I'm beginning to realize He may very well be waiting for me. 
Soon after, I started my blog to share my journey.
Divinely Detoured:  Inspiration for the Path You Didn't Choose.
I've never been great at waiting, especially when I'm really going on something.  Like life.  But I have gotten better at it since my diagnosis. Because I have encountered a God in the waiting that I never knew before.
By seeing God differently in the active wait, we start to see others in waiting differently, too.  With His eyes.
After fighting heart failure for three years, when I saw my bus driver in that hospital room, I thought of her in a new light.  I could tell from her smile that she was doing more than just lying in that bed.
But I actually started to see her differently that day when I was six.  I had never looked at her, certainly never made eye contact. I always rushed out because I was more than a little afraid of her.  But the day I had to wait alone for my mom, I was given an opportunity to look at my bus driver, even if just at the back of her head, to see that she was someone's momma. And once long ago, she was probably a frightened little girl, too.
Like me, she was just anxious to get Home.
But for now, her job and mine is waiting.  Waiting on God.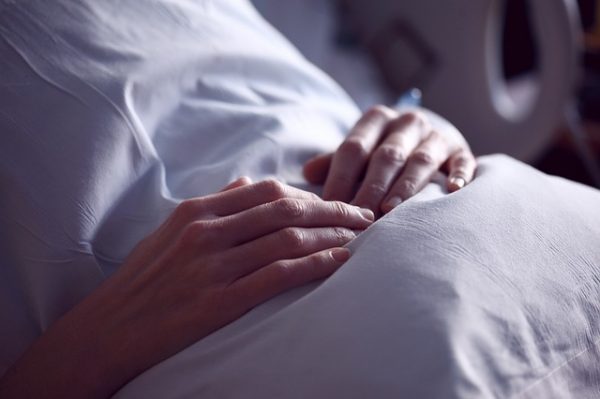 Please follow and like us: