Eons ago, my preschool boy crept to the end of our friend's modest diving board, muttering under his breath, then retreating. This went on for several attempts. Muttering, retreating, muttering, retreating. As his dad swam toward him in the pool, recognizable words began to take shape out of that four-year-old mouth, "I do, but I don't…I do, but I don't."
That deep-thinking little guy is all grown up now, but I'll bet he still whispers that phrase to himself when things seem insurmountable. I know his momma does.
HESITATING & FAITH
My journal entry this week:
Somehow, I have outlived my heart device. It needs to be replaced. In two weeks, I'll start three days of pre-op appointments in Cleveland. Then the fourth day, I'll have surgery. I'm not looking forward to going in while I'm at the high functioning place that I am now. Still, while I dread getting this scar opened up again, I never want to forget the miracle it is that I have to. There's not a doctor in Vegas who would have bet in my favor 6-1/2 years ago. But I also know there's a slew of prayer warriors who already have. Living apprehensive, but still grateful.
A scar is evidence of healing, a physical mark of grace. It's a sign of survival, a testimony of His touch. But we all know a scar is also proof of past pain, a reminder of a wreck or ruin.
It's both a step forward and a step back.
I do, but I don't.
BALANCING BOTH/AND
Sometimes in a faithful life, things still seem impossible. Sometimes with all we believe and all we have lived, we still hesitate to move forward. And having feet in both worlds like that can feel paralyzing, like my son on that diving board. Like the scar on my chest. We believe but we hurt, we know but we question.
Faith allows—no, it requires—residence in the both/and.
Otherwise it would be called certainty.
Free choice can exist only where there is doubt. Where there is certainty, there is nothing to choose; as soon as we understand a proof in Euclidian geometry, for instance, we simply accept it. Faith exists only where there is uncertainty. And so Jesus did not offer proofs.

– Gary Saul Morson
One of the most honest statements in Scripture is this, "I do believe, help my unbelief!" (Mark 9:24)
It's okay to hesitate in belief. In fact, it's a good thing. When we do, we weigh our options, we solidify our choice, we strengthen our faith. In the careful contending, our belief system becomes clearer, more defined.
While our faith can have this both/and nature, so can our lives. We can be both healed and yet still hurting. Because sometimes, healed hearts still come with a cross to bear. And it doesn't discount God's providence or goodness or attention. Sometimes, God doesn't remove our burden, but He instead scoops us up and carries us, cross and all.
Sometimes, God doesn't remove our burden, but He instead scoops us up and carries us, cross and all.
Click To Tweet
Confession: After all these years with heart failure, I still wake up surprised that I have this chronic, progressive disease. Despite the cloud-cover heart failure brings, it also has its shards of sunshine.
In some ways, though this is not resolved, things are getting easier. I know the routine, I understand the terms, I recognize the faces. We have broken-in recipes I can eat and a rest rhythm that works for my fatigue. We have culled and cultivated our lives.
But not every day is forward facing.
Because every day I deal with some version of my vanished plans and my altered life.
Like all who deal with unhealed illness, I live everyday with gratitude to still be alive, because each day is an undeserved, unpromised gift. I also live each day grieving that I have this disease at all. Still.
God's love has stretched across it all. The fear that once said I wouldn't see my children graduate or hold a grandchild in my arms. The fear that still says I will leave so much unlived and undone. The fear that I've wasted what has been a too-short life.
I do, but I don't.
So maybe lived faith is more a sliding continuum between certainty and doubt, and as long as that tab doesn't fall off either end, we're ok.
The opposite of faith is not doubt, but certainty. Certainty is missing the point entirely. Faith includes noticing the mess, the emptiness and discomfort, and letting it be there until some light returns.

– Anne Lamott
GRACE IN THE GRAY SPACE
When I was a young adult, Mom used to say, "Don't argue with Lori. You won't win." Recalling her words makes me sad now—I never wanted her to see me as someone who always had to be right. I never wanted anyone to think of me that way.
The truth is, we all go through our black-and-white periods. Where the world is simple, and answers come easy, nearly everything is a binary decision, and there are clear boundaries for right and wrong. This phase usually doesn't last long, but unfortunately, we are often most vocal in our black-and-white periods.
The older we get, the more we see the gray areas, not only on our heads, but in our world, in our politics, in our faith.
I'm learning that this gray space is the place of grace. And that gives me hope as I live with my own trembling, I-want-to-believe-it faith. That place of grace is like a vapor, that expands to fill whatever space necessary. Whether we have a little doubt or many doubt-filled days, grace can make up the difference, if we are honest enough to let Him in.
Not all questions are faithless. And sometimes, in fact, the only faithful response to truth is confusion.
WE'RE NOT ALL THE SAME
That day at the pool, my daughters were swimming, too. And while my son was struggling in the gray space along that diving board, his older sister ran across the board and jumped without hesitating. (Actually, his younger sister did, too.)
We all come to faith differently.
Gethsemane is the scene in the Easter story that always seemed most human-relatable to me…Let this cup pass, not my will but yours….Sort of an I don't, but I do. Jesus sweat drops of blood struggling with it. It was in that Garden, maybe for the first time, when I recognized the part of Jesus that was human, like me.
Perhaps hesitating questioners feel this dual-nature most. We are the crowd along the streets of Jerusalem cheering, "Hosanna! Hosanna!" but we are also the mob on Good Friday screaming, "Crucify him! Crucify him!"
I was raised by a mother who believed with every fiber of her being that God was real and that He listened and that He made a difference in her life. I married a man with the same spiritual DNA. But I'm a little bit different. I know myself. I know that when all this is over and I stand before God, part of me is going to say, "Well what do you know about that? It was all true." And I don't think He loves me any less because of that. There are some like my mom and my husband who know that they know that they know, and some more like me—we think we know that we know. And that's what faith is.
I've learned that faith doesn't look the same on everybody and it's not supposed to. Scripture carefully introduces us to all sorts of believers, some with hesitations and questions (Peter, Thomas, Jonah, Sarah), and others who believed without them (Mary, Noah, Joseph, Ruth).
Faith doesn't look the same on everybody and it's not supposed to.
Click To Tweet
The Spirit was intent on giving us a full picture of what faith is.
And He wanted us to see ourselves fully, too:
We see our duplicity and our honest striving; we know ourselves culpable and forgiven.

– Debra Dean Murphy
THE FATHER'S ARMS
For those of us who come to faith through questioning, and hesitating, and wondering, these words are pure downy comfort: The eternal God is your refuge, and his everlasting arms are under you. (Deuteronomy 33:27, NLT)
As for my boy on the diving board—he finally did jump. And then we couldn't get him to stop jumping when it was time to go home. Not because we lowered the board or encased him in an unsinkable suit, or drained the pool and made it into a ball pit. But because his father was there treading the unfamiliar water, arms ready. And those arms were under him before he hit the bottom. Every single time.
Come to think of it, that father caught each one of his children.
Because he loved them all the same.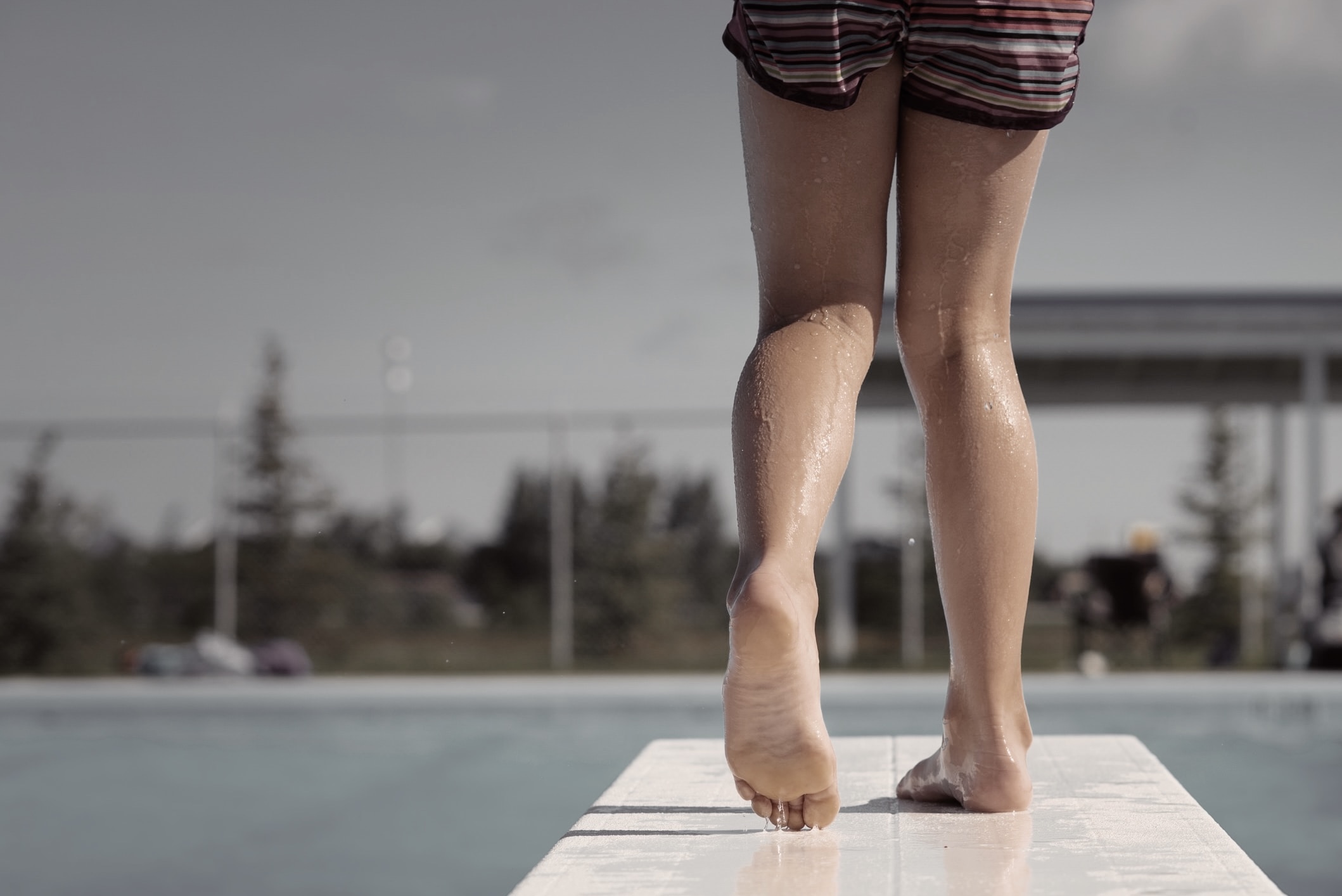 Please follow and like us: