I lost my wedding ring while visiting my daughter and son-in-law in Kansas City.  I detest losing things.  After three solid hours of combing through their small house (for four of us, twelve man-hours), I came to the realization that I may be leaving Kansas City without it.
Another mother my age had triplets my daughter's age.  They visited Kansas City one Spring Break about 20 years ago and were involved in a fatal traffic accident.  That mother went home without one of her five-year-old daughters.  I kept thinking about her as I searched for my ring.  And I felt uncomfortable for placing so much emphasis on this material object.
People over possessions, right? No contest.
Then why was I so intent on finding my ring?  It was fully insured.  I could have selected a new (more up-to-date) one or had one made to match it.  The other mom did not have that option.  Still, I wanted the ring I had lost.
I couldn't shake the feeling that it was more than being materialistic.
Later while I was in our attic I had that same feeling. I stumbled upon traces of our family history: needlepoint my grandmother stitched before she died at 95, my dad's rickety Institute of Nuclear Physics trunk, dresses my mother made for me with matching ones for my doll.
Things we may not want to see every day but we reserve the option:  a plaster cast sawed off a newly healed seven-year-old arm, weekly letters from 6 years of dating my husband, 3 full sets of baby teeth. Some of that sounds extreme, even to me.  But perhaps the notes and schoolwork from my preschoolers are the best:  the handwriting, shaky letters drawn instead of written, instantly bring back the exhaustion and joy of that crazy yet simple segment of life.
I'm a selective hoarder, a "keeper," really.  Most of the objects I treasure have no apparent value, except in the memories they help my foggy mind recall.  The feeling of being there, touching the objects my younger self touched.
Our treasures help us hold on as life slips through our aging fingers.
Tangible remnants of our memories keep them alive when our own memory fails us.   Objects elevate memories and help form our histories. And give our sometimes disjointed years a sense of continuity.  Things help us process grief and change and life fading away in yellowed versions of its former self.
It is why we see makeshift memorials along highways and why the Kindergarten planted a memory garden for the lost triplet.
It is why I still have framed prayer chains, every card and note, the poster made for me by my teen life group, a backscratcher given to me in the hospital.  Holding those items bring back the love and care from the hands that held us those harsh early days of my diagnosis.
Mementos help us remember events we can't relive or people we can't replace.
My husband's childhood home was demolished in a tornado, along with many treasures of his past. I still remember the heartache of watching other people haul off parts of my early life after my parents' farm auction.  But I also chuckle at the little league baseballs and softballs we now have in our bookcases, displayed in acrylic boxes as if ancient artifacts.
Like props in a play, they make the story more interesting, but we know possessions don't change the true plot.
Still we worry that our life story, in the end, didn't really amount to much.  Once shaken down, it can seem so empty.  So we cling to what we can touch.  Like a two-year-old at daycare.  Clutching the items tagged as "mine," I can lose the ability to detach from certain things.  Our possessions can siphon the devotion meant for something bigger, and more permanent. Jesus knew we ran that risk.  He warned us:
It's ok to store up treasures.  Just make sure they're the everlasting kind.  Because that treasure tells stories about your heart.
And that heart takes memory snapshots, as Mary did at Jesus' birth, treasures pondered all her life. (I like to think she kept the empty frankincense jar.)
It's not wrong to be a "keeper," to have these reminders.  These things that trigger our hearts and cause us to take snapshots for tomorrow. And to leave mementos to help others take their own snapshots of us.
We all want to be remembered one day, whether we die too soon of disease or disaster, or live deep into old age. To be remembered not so much as someone extraordinary, but as someone loved.  Etched on the souls of others.
Only then can our treasures have an everlasting nature.
I found my wedding ring. It was thrown in the trash after I wrapped it in a paper towel.  (I had memory flashes of digging through school cafeteria garbage for retainers.) Thankfully, I looked through my daughter's kitchen trashcan a third time before it was set out on the curb.
Hours in, I stopped and took in the scene that evening, exhausted from praying, searching, and staying up far too late with chronic illness.  I saw my grown children all desperately looking for the ring that existed long before they did. I knew I would always remember this night.  My heart took a memory snapshot.  After I found my ring, it would have a new memory attached.
I also knew someday these children, like me, like all my treasures, would be gone from this world. But the love that held us together would be etched on our souls.
I immediately realized what truly drove my "keeping."
And I also understood why the triplet's mother had come to mind.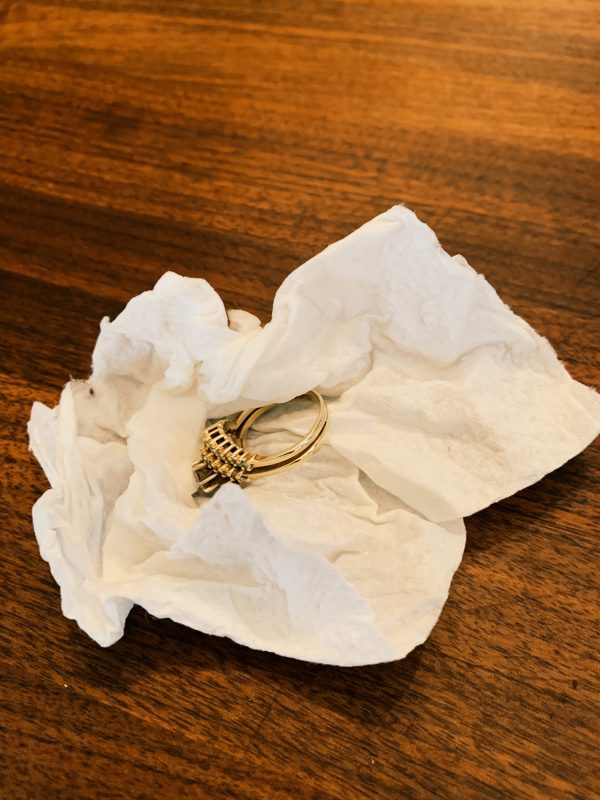 Please follow and like us: