The following is the conclusion to Part 1 that I shared  in my last post. I hope you heard part of your own story in my words as I described my strong, brave friend and her unexpected path.
But this is more than just an inspiring story of someone else's journey.
It's a way through and a way forward for all of us.
The redemption of any loss is living a better story on the far side of it. It's finding hope on the other side of the door.
The redemption of any loss is living a better story on the far side of it.
Click To Tweet
That's what Christ died to bring us.
That's what I pray you gain from this piece.
And that's what I want for the second half of 2020…for all of us.
*****
LESSON #2 – YOUR PHYSICAL CIRCUMSTANCES ARE ONLY PART OF THE STORY
Weeks have passed since I first visited my friend in the hospital. Her diagnosis is still the same. They have discontinued physical therapy due to lack of progress. She is waiting to be released.
Through it all, she continues to minister when this life isn't going according to her plan. As she waits for what exists for her outside of Door 108a, she accepts that she can't use her legs, but that doesn't stop her.
Her hundreds of friends have no words.
But she does.
Writing careful, lengthy letters to each young grandchild, highlighting their unique gifts and strengths. Difficult as it is becoming for her to type. She's not letting that door separate her from her legacy.
She posts on social media while she still can:
Morning is God's way of saying one more time, go make a difference, touch a heart, encourage a mind, inspire a soul, and enjoy the day.
Remember, when you're in a position to help someone, be glad and always do it because that's God answering someone else's prayers through you.
Two commandments are all we need to make a difference in this world… "Love the LORD your God with all your heart, mind, and strength, and love your neighbor as yourself." Are you 'in'?
The fragile woman in that hospital bed continues teaching us all how to live. Thoughtfully weaving a legacy that will long outlive us all. As God defines her circle of influence, she works within it. Her tent's door forever open to lives that will follow her. And her own soul forever secure.
Abraham also knew about living beyond his own physical life.
As Elisabeth Elliot wrote,
"God's story never ends in ashes."
As part of His continuing legacy, ours can never end that way, either. Regardless of how hopeless it looks this side of Heaven.
The final chapter in the life of Abraham ends the same way his life began. In Genesis 12, God began with the promise to bless Abraham. Chapter 25 tells of Abraham's death, and at the end of this passage, we see those blessings continued in Abraham's son, Isaac.
My friend and Abraham knew that what they were experiencing physically was only part of the story, and God's plan extends far beyond what we can see or even what we can personally live out. Each of our stories reaches deep into Eternity. Part of it here, as we leave our legacy in others, and part of it with God as our soul continues on.
Abraham and my friend both experienced that real hope is not something you wish for, but Someone you believe in. Our physical lives panning out the way we had desired and planned pales in comparison to the One who will be there to catch us when this quick life is over.
Our physical lives panning out the way we had desired and planned pales in comparison to the One who will be there to catch us when this quick life is over.
Click To Tweet
Several weeks later as I was visiting again, the nurse came in with a wheelchair to transport my friend for medical testing. As I stepped to the other side of Door 108a, I looked back at her deteriorating body being lifted into the chair.
I realized, it is what it is.
And I felt an unusual, almost inappropriate excitement, sensing that God has always had His focus on what it will be.
LESSON #3 – WHAT YOU BELIEVE REFLECTS WHAT YOU BECOME, BUT NOT ALWAYS WHERE YOU'LL END UP
Medical science is often enough to give glimpses of hope, even in the harshest diagnosis. Hoping for that cure is not denying God's power to intervene. And yet, living with an eye beyond it is not denying His power, either.
Faith hewn in the hard rock quarries of life determines what you become, but not always where you'll end up. That is God's business. As he had lived, so also Abraham died—a man of faith. That's what he became. But where he ended up was something of another matter.
Faith hewn in the hard rock quarries of life determines what you become, but not always where you'll end up. That is God's business.
Click To Tweet
Abraham became the father of our faith but the physical reality of his life may not have looked like he had envisioned. Abraham was promised the whole land of Canaan; at his death all he owned was a cave. Abraham was promised that he would be the father of a multitude; at his death all of his sons but Isaac had been sent away.
During his life, he saw only the beginning of the promises God had given him fulfilled, but he trusted that He who began a good work in him would see them to completion. And he left in people a legacy that outlived generations of physical lives.
"By faith Abraham, when called to go to a place he would later receive as his inheritance, obeyed and went, even though he did not know where he was going. By faith he made his home in the Promised Land like a stranger in a foreign country; he lived in tents, as did Isaac and Jacob, who were heirs with him of the same promise. For he was looking forward to the city with foundations, whose architect and builder is God." (Hebrews 11:8–10, NIV).
I know my friend had hoped to see old age and travel with her husband, to see her grandchildren grown and married, to see her great grandchildren born and thrive. She has much left on her agenda.
And yet, there is victory in this story.
All those years of believing and teaching and mentoring and telling clocked in for work when the diagnosis came in. This faith-driven woman looked the situation in the eye and proclaimed God in control and God as sovereign and God as caregiver. She became what she had so long professed.
She continues. She will be released in a few weeks from the rehab hospital to her home now remodeled to accommodate a wheelchair she never saw coming. Her beautiful wood floors transitioned for wider openings, her carefully-decorated bedroom outfitted with a hospital bed.
Each visit with her becomes easier, and yet harder at the same time. Like Abraham on his promise-filled journey with God, she takes it one day at a time, one door at a time, one Divine appointment at a time. I offer to help type the letters for her. I give her a devo book, I drop off fruit. Sometimes I just provide time and my presence because words still seem too small.
Despite the unknown, I am determined to not let doors separate us. I have so much to learn from this giant of faith and no door, not the door of disease, or the door to her now unfamiliar home, or even the door of fear will separate our worlds.
While it is my personality to want to see all the way to the end of the hallway and behind every door, my friend has an uncanny ability to accept God's provision for each day. She continues teaching me. Even in this unfathomable trial.
I hear her words each time I open her door, "It is what it is."
And now, each time I smile.
Because in my heart I hear God add, "But it's obviously not what it seems."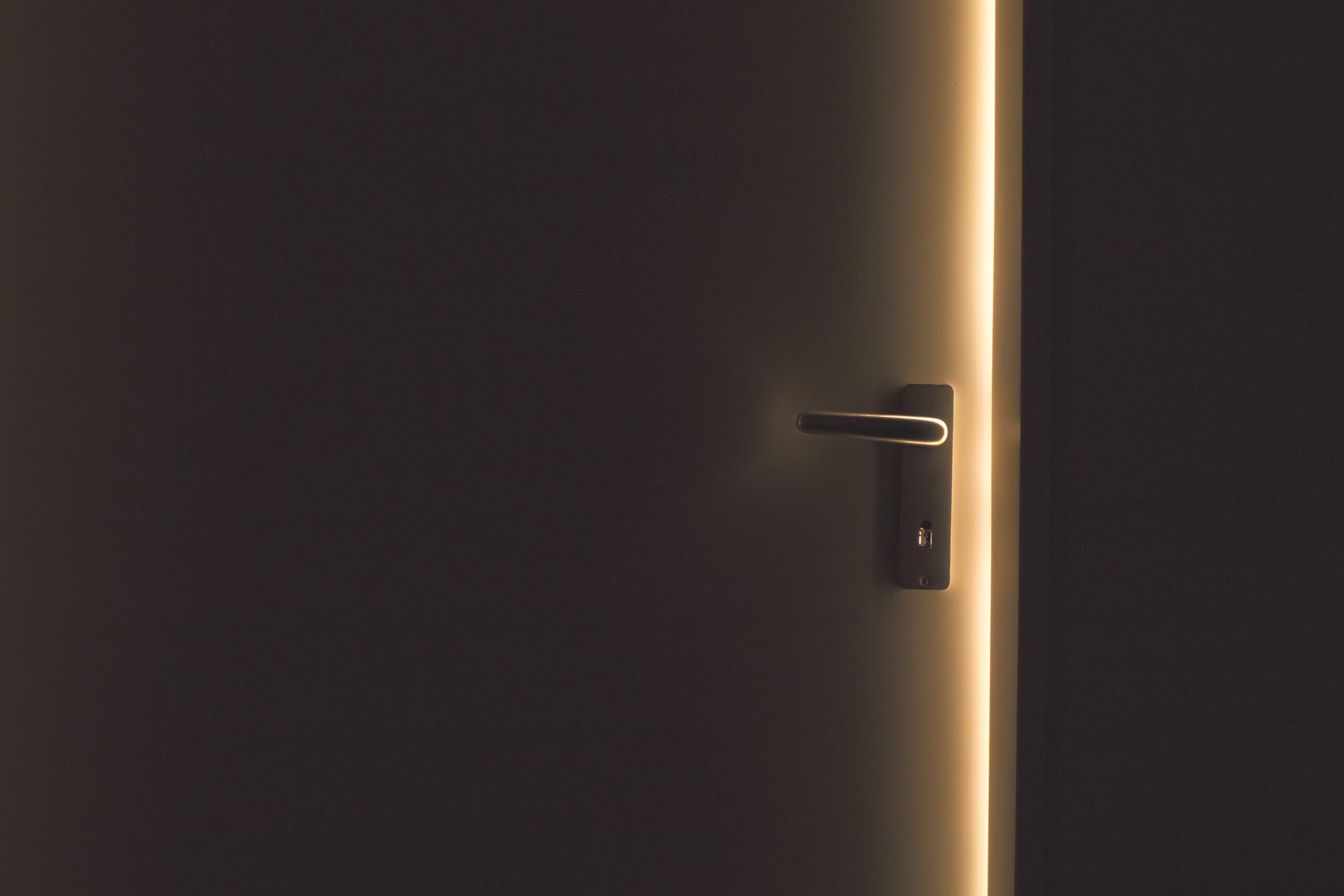 Please follow and like us: