I fumbled for my bag and squeezed toward the doors, then exited the stuffed bus.  The T, Boston's public transit system, was overwhelmed this day.  Too many of us clueless, anxious visitors trying to navigate a tricky system of lines and stops.  But my husband left the Airbnb six hours earlier, so I was going solo to find the finish line.
The Boston Marathon is a big deal.  Even for me, who has no interest in running outside of my husband's passion, I could feel it:  a former Olympic trial race that gathers the greatest marathon runners in the world.  I was in the midst of great athletic ability.
Relieved to be out and walking again, I left the bus a good distance from the marathon course.  The nearest stops were closed for crowd control.  Several security checkpoints reminded everyone of the grim reality we live in, especially here, since the bombing six years ago.
From the screening area, I caught a glimpse of the course.  Waves of runners coming by this point, many miles still from the end.  Some were walking, some grimacing, but others cheering and clapping, almost dancing.  Was it a difference in age? Training? Ability?
I pondered this as I waited through the long security line…and became 13 years old again.
Wearing a royal blue and white Harper Bearcubs track jersey, I tapped metal spikes toward the starting line.  My first meet to run the 880:  the half-mile, the second longest distance in junior high track.  I was in lane 3.  After the starting pistol fired, it seemed everyone was in slow motion. I had trained to keep a steady pace, but my competitive instincts kicked in, and I sprinted out ahead of the pack. Before I knew it, I had nearly half a lap on the closest runner.  I could hear cheers from the stands.  This was not a place I had experienced before at an athletic event:  I was pretty sure they were cheering for me.
My glory didn't last long.
I had started the race too fast.
I came in last.
As my husband would say, I bonked.  Just like those runners struggling in the marathon. Running out of fuel for your body, your brain, and eventually your spirit, you hit the wall.  Weakness, tunnel vision, disorientation, and even depression can shortly follow.  I ran ahead and ruined the race.
In my battle with heart failure, I have often run ahead of God as well.
Early on, I wanted answers and statistics.  I soon found that my form of this disease has few of either.  My local cardiologist told me,  "We may never know what happened here. If you had a heart attack, it was a whopper. We do know that you are in for a very long battle. Any quick change won't be a good one."
I knew I needed to find my pace.
I ached not seeing the course ahead of me, feeling suspended in doubt and uncertainty.  I asked my doctor if I should be conserving energy or making hay while the sun shines.  How do I play the rest of my hand?  He looked me in the eyes and said, "Make hay."
So I sometimes take the laps too fast and ignore God's timing.
Many in the Bible started too fast, ran out ahead of God, or His plan, His tempo, His timing.
Peter's clumsy slash at protecting Jesus from an arrest that would eventually free us all;
David assuming to build the temple that would only materialize under his son;
The parable's wayward son wanting his inheritance before the father's time.
And then there was Moses.  He bonked, too.
Even he sometimes rushed ahead of God's pace. Seeking immediate justice for his people, Moses killed the hostile Egyptian.   Ultimately, he would wait forty years until it was God's time to free the Israelites.
In marathon racing, it is common to have pacers to help runners stay on track for certain target times.  The pacer is an experienced runner who knows the course. As long as the runner stays with the pacer, they should finish the race in their desired time.  The real danger early in the race is to get too far ahead, to overrun your pacer.  If you do, the pace will be ruined.
Sometimes in our haste, in our good intentions, in our self-reliance, we can get way out ahead of God.  We can pass our Pacer.  And when we do, we hit the wall.  The good news is, Jesus has run this race before.  He knows the difficulty, and He knows the best pace.  As runners, our job is to follow.
And for the times we get too far ahead of Him, our good God, the Prodigal's Parent, always runs toward us.
Within hours of my first hospital stay, as we were first hearing the words "heart failure" and "cardiomyopathy," I asked the doctor if I could go home before the weekend.  It was Friday morning.  I was naively running way ahead of God.
Chronic illness would scramble my rhythm, rearrange my priorities, and hand me a new pace.
I had no idea what plan God had laid out for us, what roads my husband and I would travel over the coming months and years. I was trying to speed through the event. What I didn't realize is I was taking the most faith-efficient route, God's pace, by staying in that hospital bed.
And it would take years for me to understand that you have to accept His pace to get to His peace.
Most days, my energy comes in uneven, unpredictable increments.  So when people tell me to pace myself, that doesn't usually work.  I can't see the end, or the entire course.  Only He can.  Yet I struggle to be content with the unfamiliar territory ahead of me.  And I can become frustrated with His pace.  Sometimes I still bonk.
I am mid-race on this disease. I still need a Pacer.  Like the device in my chest that keeps my heart in a normal, steady rhythm.  Just as with God, it paces me 99% of the time to keep my heart on track.
As I eventually made my way out of the security checkpoint and toward the marathon finish line, I searched for my husband in his bright orange singlet.
I checked the GPS app that was tracking his chip and realized he was right where he should be, confirming that he was disciplined and following his Pacer.
And unlike a naïve junior high runner I once knew, he would finish the race strong.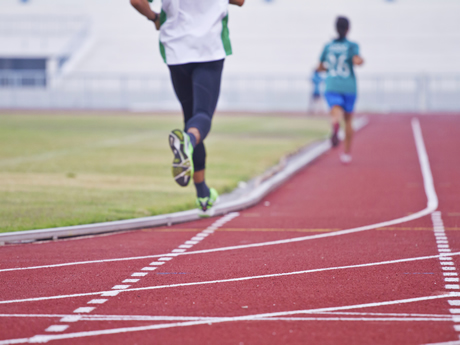 Please follow and like us: