Although a new calendar doesn't technically usher in a new season, it sure feels like it does.
We buy the latest agenda planner (if you're still paper-only like me), we make resolutions or claim our "word" for the year. We try to turn a new leaf or start a new habit. We look forward to a different (i.e., better) period of life. We long for the next season. All the while knowing that our bodies are not immortal, and time only moves in one direction.
So as we step into a new year, it's fitting that seasons of life are on my mind lately.
My favorite paintings in the National Gallery of Art in DC include a series by Thomas Cole from 1840 called "Voyage of Life." Cole gave us a brilliant allegory of the human condition, the four seasons of life, depicted through a voyager on a river.
CHILDHOOD | spring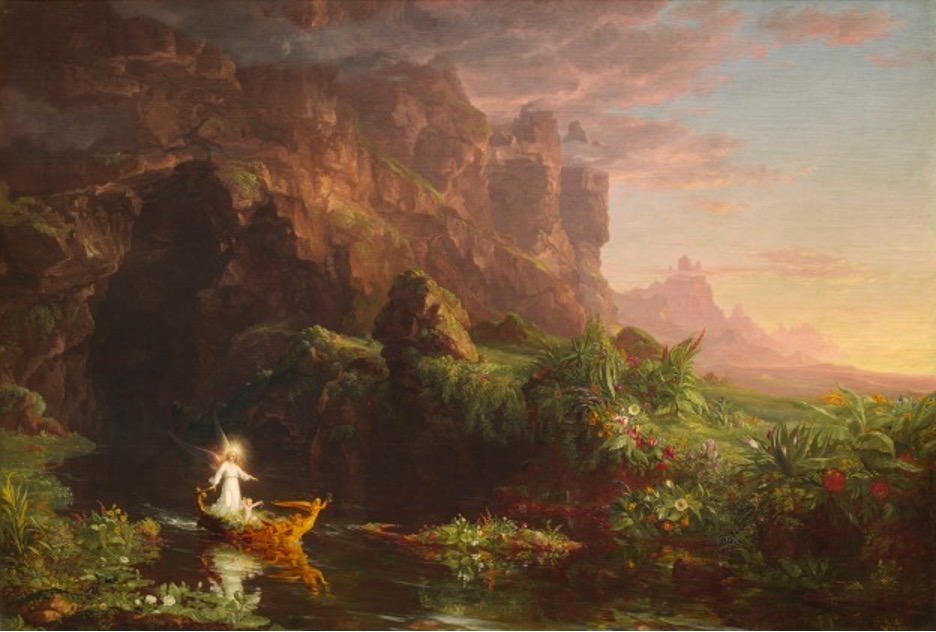 In the first painting called Childhood, it is spring. An infant on a boat is unknowingly guarded by an onboard angel as his boat floats through a lush and tranquil Eden-like environment. Dawn is up ahead. The painting exudes oblivious protection, along with joy and wonder, the characteristic emotions of childhood.
YOUTH | summer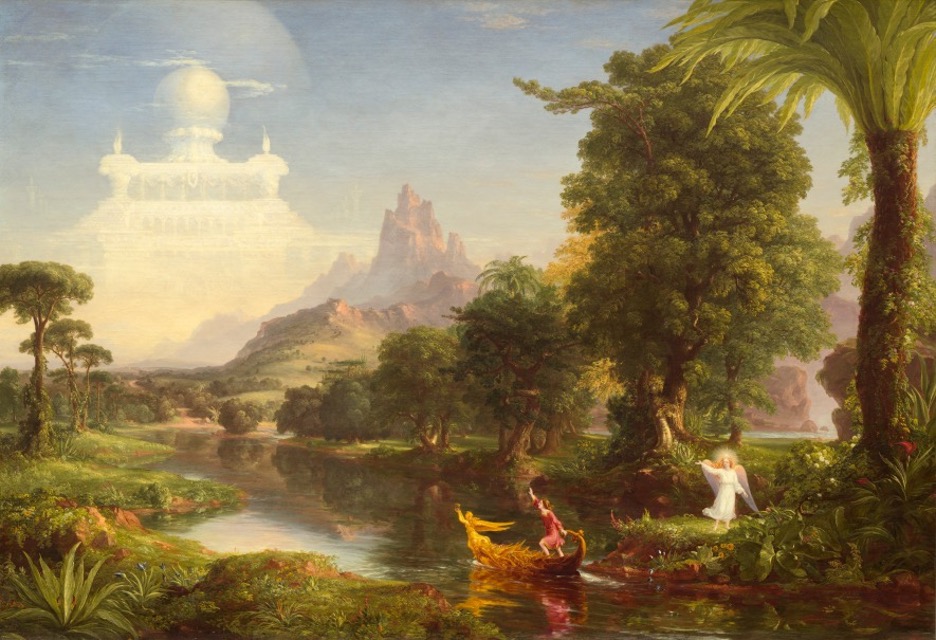 Moving into Cole's second painting, Youth, we encounter summer. The voyager is an energetic, excited young boy now. Motioning from the shore, the angel encourages him to go ahead down the river and choose a life for himself. The boy takes hold of the boat's tiller. Beyond the lofty trees and towering mountains, the painting shows a castle in the sky. The boy steers toward it.
MANHOOD | autumn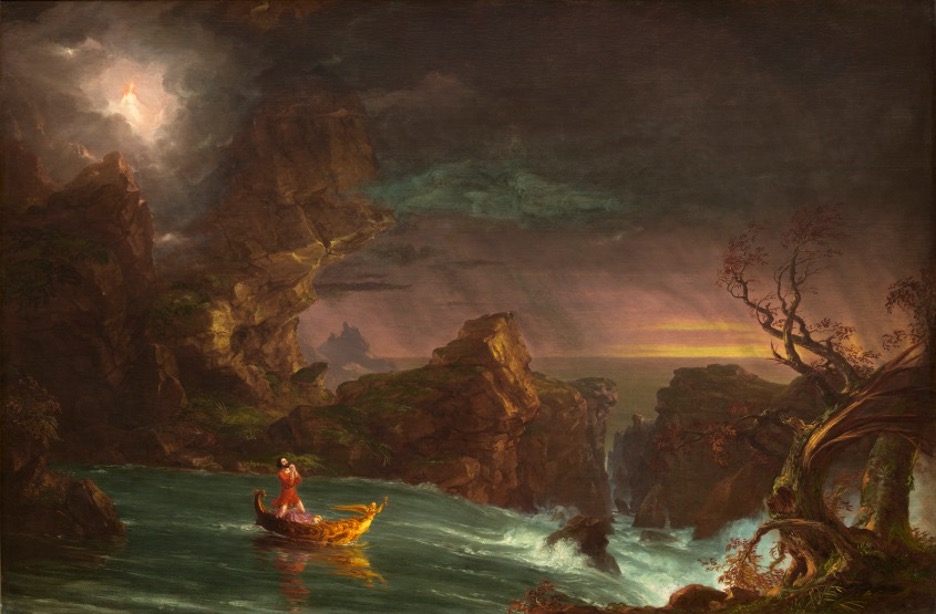 Entering an autumn landscape with wind-beaten trees, a grown man replaces the once-young traveler in Manhood. The boat is damaged, the tiller is gone. The river is a white water rush with unforgiving rocks, dangerous whirlpools, and surging currents. Within the dark, stormy sky, the angel is not absent, just harder to find. The luxuriant foliage of the previous paintings is only a memory now. Realizing he is not in control, the man prays fervently to survive the storms.
OLD AGE | winter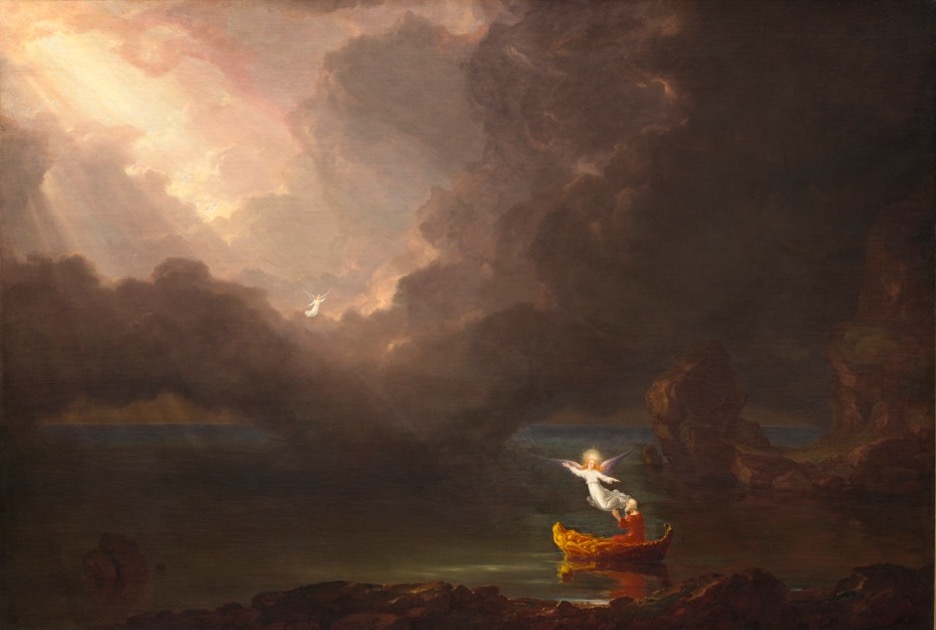 In Old Age, the final painting, the river has calmed. The landscape is less defined. The weathered boat shows that the man is nearing the end. His journey is over. An angel once again comes near the now gray-haired traveler. For the first time, the voyager experiences the angel's full, recognized presence. Joy returns. The weary man is focused on the glimpse of immortality up ahead.
*****
I suppose for those of us in one of the later frames, the applications are obvious.
A gift from my husband many years pre-illness, a set of these prints hangs near my bedroom closet. I walk by them every day. I've always loved so much about the art's symbolism:
How the river, like life, goes from calm to rushed to turbulent, to calm again.
How our surroundings are so lush and promising in the beginning, then become more rocky and treacherous, and finally fade in importance.
How at first we are oblivious to our protection, then we try to take control of it ourselves, only to realize in the end where the real control always was.
But the part that takes center stage for me now is the part the angel plays. Cole used the angel to stand in for God's presence.
Though at first we don't bother seeing Him and then we may even be convinced He has abandoned us, He never has, all through the voyage of life.
In every season, in every painting, in every new year, despite the delight or difficulty,

God is there.

His love stretches across every frame in the voyage of life.
Seven years ago, my current season of life started. I moved to the brink of Cole's last painting a little earlier than I had hoped (or planned). I didn't realize it at the time. And I certainly didn't see God in the frame I found myself in. Sometimes we just don't know what to do with the story we're living. I sure didn't that dark week in late 2015.
Perspective provided by the past several years has helped me realize that we are all traveling a similar voyage of life within God's Eternal Narrative. We all move from season to season, frame to frame, just like Thomas Cole's paintings, just like my calendar pages. But the beautiful part we may have trouble recognizing is this:
God never leaves the scene of our lives.
Even in seasons we have difficulty finding Him,
He's always there.
So I am rolling out a new series full of voices who have been on a unique, but similar journey: The Seasons Series.Traveling in parallel streams, these believers have found God to be present (and oh, so faithful) in every season of life. I am honored to host these amazing writers on my website. I know you will be blessed to learn from them, too.
Joy in Every Season by Vicki Bentley
A New Season Beyond the Fairy Tale by Lindsey Bell
Please follow and like us: